Are you bothered by HBO Max error codes 905, 100, 321, and 420? Wondering how to get rid of this error code? Many HBO Max users experience HBO Max error codes. Due to these error codes, HBO users cannot access any services. In this article from MiniTool Partition Wizard, we'll tell you the detailed steps to fix it.
HBO Max is a popular video streaming app with an amazing library of movies, TV shows, and Max originals. However, many people encounter error codes 905, 100, 321, and 420 on the HBO Max app.
Why are you getting an error message on HBO Max? Here are some common causes of these error codes in the HBO Max app.
HBO Max is experiencing service outages in your area.
Use an older version of the HBO Max app.
Use HBO Max outside the US or stream Video Using a VPN.
The HBO Max app is corrupted by the bug.
Stream HBO Max video over a weak or unstable internet connection.
Well, you have known the possible reasons for these error codes. Please keep reading to know how to fix them.
Way 1: Check HBO Max Server Status
The first thing you can do is check to see if the HBO streaming service is down in your area. You can use Downdetector to see. If the HBO Max servers are down, please wait until an HBO service engineer resolves the issue.
Way 2: Update or Reinstall HBO Max
Occasionally, the HBO Max installation files on the app get corrupted by viruses. In this case, the application may fail and throw a lot of HBO Max error codes. To fix this, you need to uninstall the app from your device and reinstall it to get rid of the error.
Way 3: Disable VPN/ Web Proxy
If you are using any VPN or web proxy, this may be the reason for the error code. Therefore, you need to disable VPN and web proxy to avoid such issues. After turning off the VPN, you may need to wait about 10 minutes for the HBO Max app to detect your location.
Way 4: Clear HBO Max Cache
If you are streaming on a browser, you can try deleting the old cache on your web browser, such as Chrome, Firefox, Edge, etc. Here is Chrome as an example.
Step 1: Open Chrome on your computer. Then click the three-dots icon on the right corner of the window.
Step 2: Then navigate to More tools > Clear browsing data.
Step 3: Check the Cookies and other site data and Cached images and files box, and then click the Clear data button.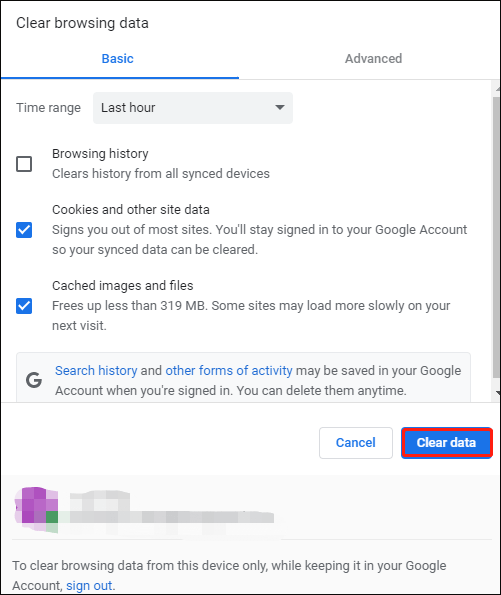 If you are streaming on a mobile, you should go to its Settings > Apps > HBO Max and clear its cache.
Way 5: Fix Your Internet Connection
One of the most obvious reasons for these errors is a poor internet connection. So, if you're on Wi-Fi, check other devices connected to it to see if they have internet issues.
If you conclude that you are having problems with the Internet on all devices, restart your router, and if the problem persists, contact your ISP.
If the device you're streaming on has internet issues, fix slow internet and increase its speed.
Bottom Line
In the above article, we conclude the guide on how to fix HBO Max error codes 905, 100, 321, 420. Hope the several methods can help you. If you have other methods, please share them with us.