GPT partition can be lost due to damaged or lost GUID partition table. Then how to make GUID partition table recovery and GPT partition recovery? If you don't know, this article will show you how to recover GPT partition table and GPT partition with a professional partition manager.
Some of my GPT partitions got lost, and I know there must be something wrong with the partition table. Is there a good method for GUID partition table recovery? Important files are saved in these partitions, so I badly need a solution. Thanks a lot.
Like this user, some people may encounter GUID partition table damaged or lost issue. GUID partition table can get damaged or corrupted due to improper or interrupted formatting or virus attack, which could lead to partition loss issue.
Some users who are not computer savvy may don't know how to recover GUID partition table and even don't know what GUID partition table is. So now I will give you a brief introduction of GUID partition table at first.
What Is GUID Partition Table
GUID Partition Table (GPT), developed by Intel in the late 1990's, is a standard for the layout of the partition table on a physical storage device like a hard disk drive or solid-state drive, using globally unique identifiers (GUID).
It was introduced as a part of the Unified Extensible Firmware Interface (UEFI) standard. GUID partition table is created to replace MBR (Master Boot Record) partition table and uses 32 bits to save logical block address and size.
Nowadays, many people use GUID partition table disk as it supports large drives and Windows allows up to 128 partitions on a GPT drive, while MBR only support disks up to 2 TB in size and only four primary partitions or 3 primary partition and one extended partition can be created on an MBR disk.
See: MBR VS GPT (Focus on Difference and How to Convert Safely)
As for a GPT disk, partition table is vital as it is responsible to display the partitions to users. However, meanwhile it is also susceptible to corruption. If the partition table becomes somehow corrupted or lost, it'll lead to partition loss, which is very annoying.
Luckily, professional partition recovery software can help fix your damaged or lost GUID partition table so as to recover lost partitions. If users do not know which GPT partition recovery software to choose, try using MiniTool Partition Wizard as it is professional partition table recovery software.
How to Do GUID Partition Table Recovery with MiniTool Partition Wizard
MiniTool Partition Wizard is an all-in-one partition manager, which can not only complete basic partition management like create, format, resize, extend and merge partition but also provide high-end features like copy disk, convert NTFS to FAT, change cluster size, partition recovery and so on.
MiniTool Partition Wizard is able to recover lost/deleted partition via repairing its partition table. It is highly recommended to use MiniTool Partition Wizard to complete GUID partition table recovery as it is easy to use, and safe enough to ensure data security.
Well then, how does this professional partition recovery software help complete GPT partition recovery with ease? A demonstration will be given in the following content.
Note: Before partition or partition table recovery, users should remember not to create a new partition in the unallocated space or free space released by lost partitions, because it may make important files overwritten.
Step 1. Get MiniTool Partition Wizard Pro Edition by clicking the following button. Install in on your computer and launch it to get the main interface.
Step 2. Select the disk that you need to do GPT partition recovery operations and click Partition Recovery from the left pane.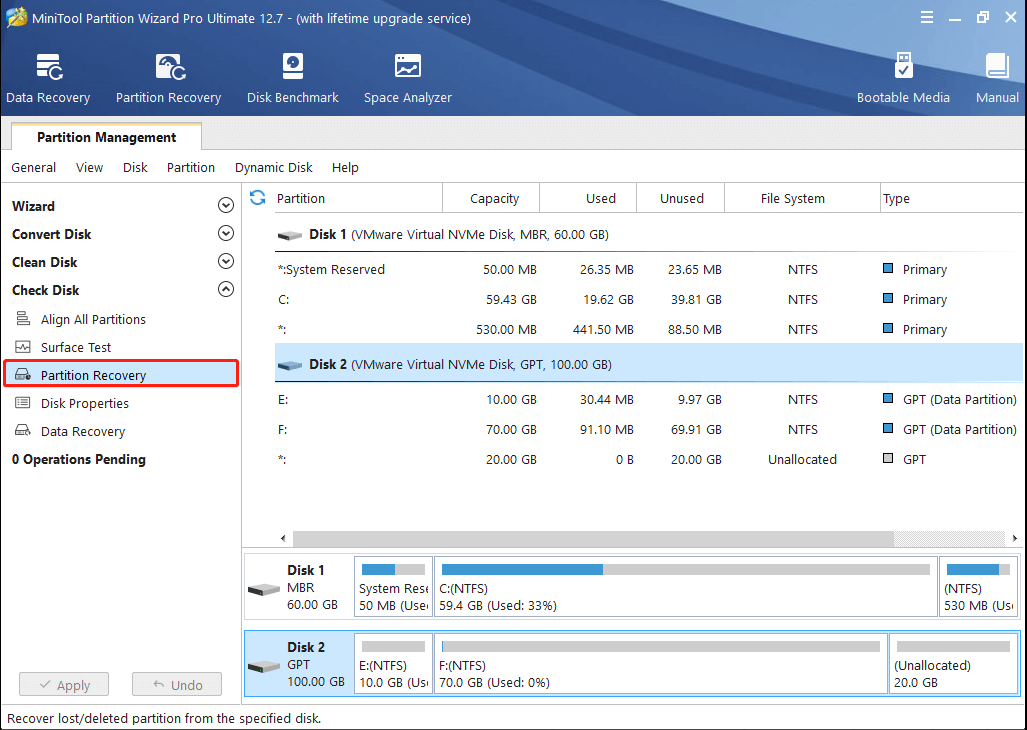 Step 3. Then, set a scanning range for the selected disk and click Next.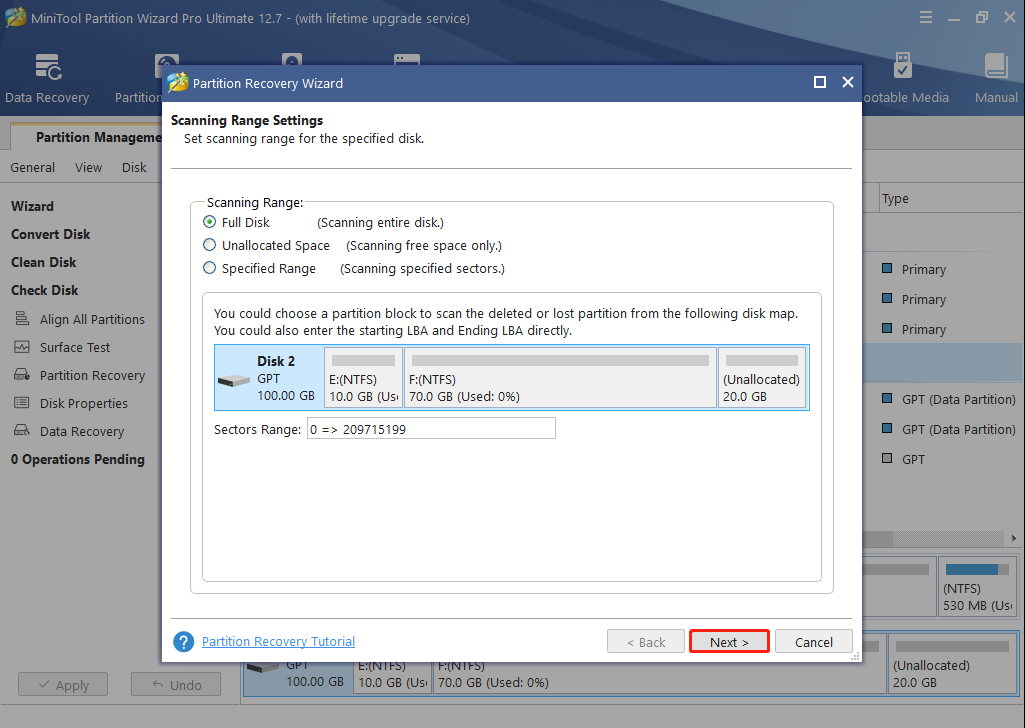 Step 4. Next, set scanning method for the specified scanning range and click Next. After this operation, the GPT partition recovery software will start scanning the range until all partitions (both existing partitions and lost/deleted partitions) are listed.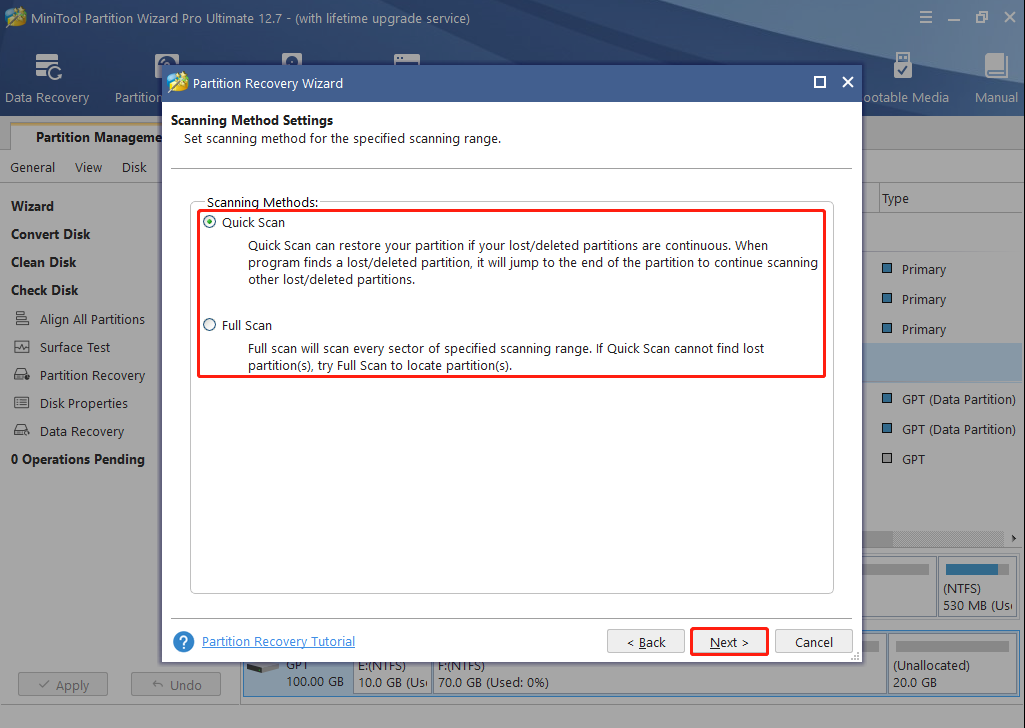 Step 5. At this time, please check all needed partitions and click Finish. Since unchecked partitions will be lost, users need to check both existing partitions and lost partitions.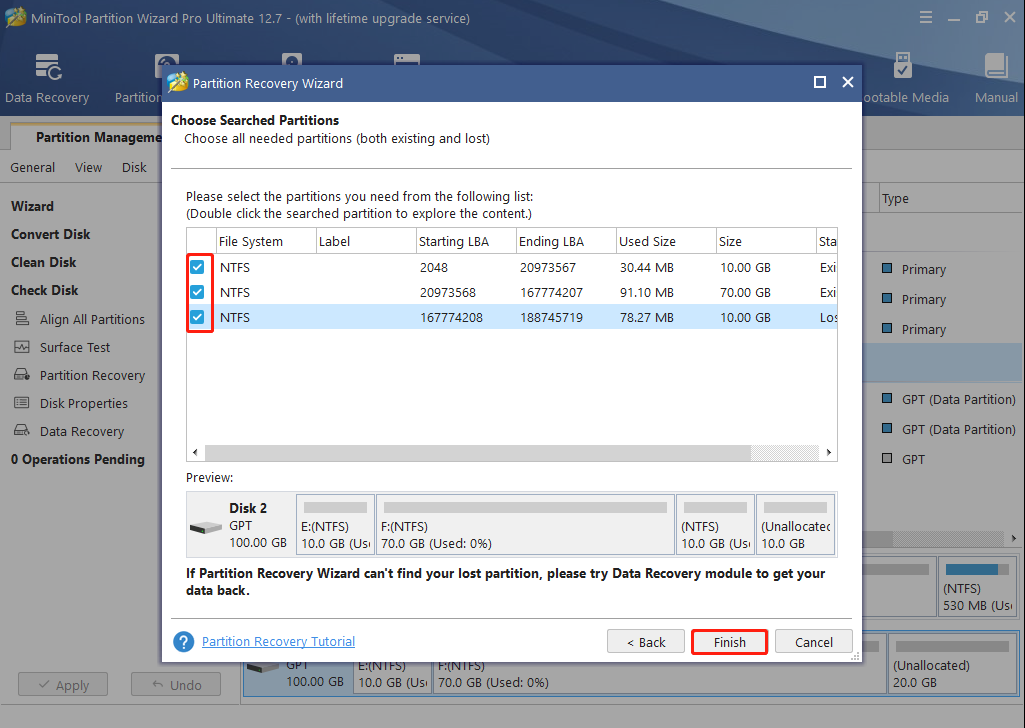 Step 6. Now we can see the recovered partition is with no drive letter. If users want to make it visible, please appoint it with a drive letter via MiniTool Partition Wizard's Change Drive Letterfeature.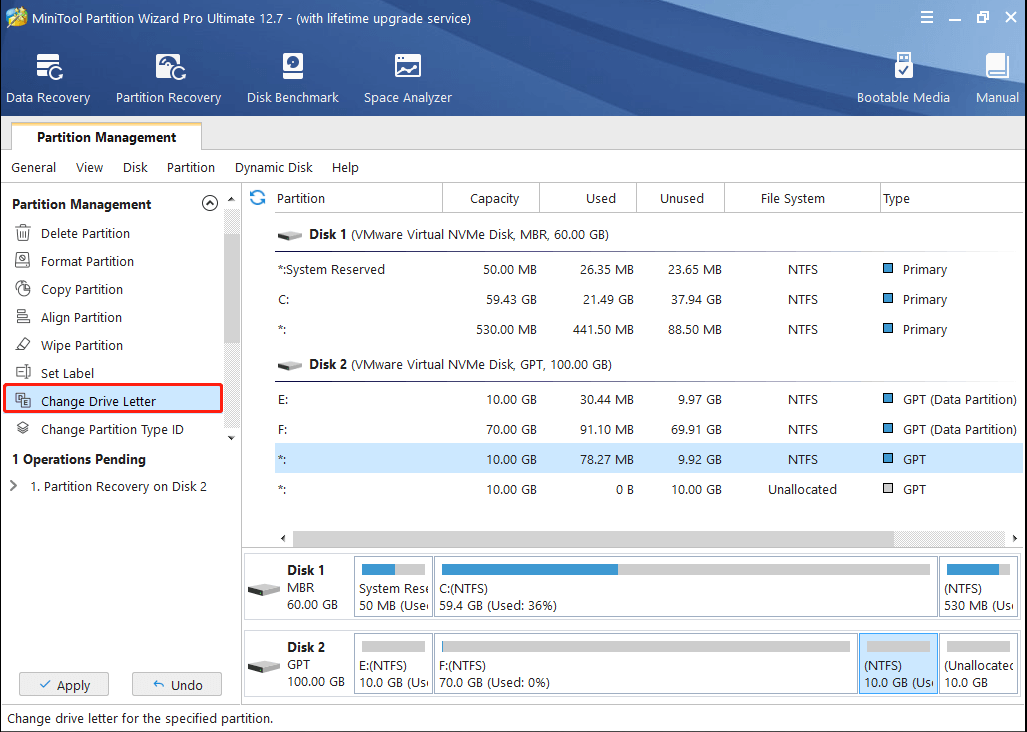 Step 7. At last, click Apply button to apply all changes.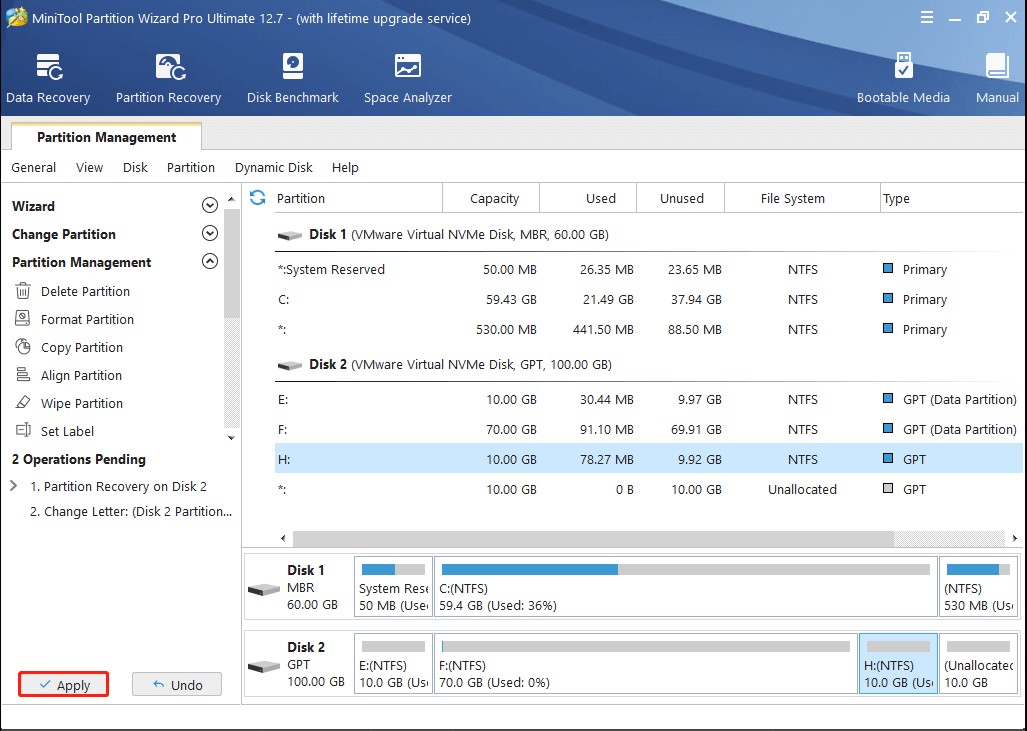 After these operations we can say GUID partition table recovery has been completed. If users also need to recover lost GPT partitions or fix damaged partition table, try taking this solution.
"MiniTool Partition Wizard helped me successfully find lost partitions on GPT disk via GUID partition table recovery. I would like to share this post with more friends who want to recover GPT partition or GUID partition table."Click to Tweet
Verdict
After reading this post, you may find it is not very complicated to complete GUID partition recovery with MiniTool Partition Wizard. If you want to recover GPT partition table or recover lost GPT partition, you may try to use this partition recovery software.
If you have any question about GUID partition table recovery or how to recover GPT partition, you may leave us a message in the following comment zone. We are glad to answer your questions and resolve your issues. If you need any help when using MiniTool software, you can contact us via [email protected].