If you are experiencing Garry's Mode crashing issue, don't miss this article. Here, MiniTool Partition Wizard displays 6 feasible solutions to the crashing issue in Garry's Mod and provides detailed instructions.
Garry's Mod, abbreviated as GMod, is a popular sandbox game first released in 2006. Developed by Facepunch Studios and published by Valve, this game supports both single-player and multiplayer modes and is available on Microsoft Windows, Mac OS X, and Linux.
Since its release, several problems with the game have been reported, and Garry's Mod crashing is one of them. Although the game developer has released many game patches to handle these annoying issues, many Windows players are still reporting the crashing issue.
What can you do if your GMod keeps crashing? Don't stress. Below are some feasible solutions and you can work your way down the list until the problem is fixed effectively.
Let's start our troubleshooting.
Method 1: Launch GMod with Administrator Privileges
Firstly, you can try launching the game as an administrator. After all, lack of administrator privileges is a common reason for game crashes. You just need to right-click the shortcut icon or the executable file of the game and choose Run as administrator.
If the crashing issue appears again, you can jump to the next method. But if the issue is fixed, you can follow the steps below to make the game always run with administrator privileges:
Step 1: Right the shortcut icon of GMod and choose Properties.
Step 2: Switch to the Compatibility tab and check Run this program as an administrator.
Step 3: Click Apply and OK to save changes.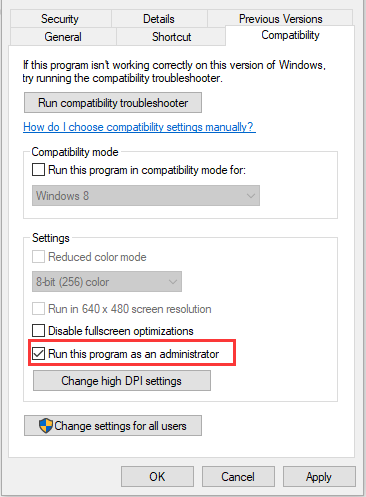 Method 2: Disable Discord Overlay
Discord Overlay is another known reason for Garry's Mod crashing issue. If you have Discord installed on your computer and are using Discord Overlay, you can try disabling this feature to fix the problem.
Note: If you don't have Discord, please ignore this method and move on to the next one.
Step 1: Open your Discord.
Step 2: Click the Gear icon at the upper left corner of the screen to open the USER SETTINGS menu.
Step 3: Click Overlay under the APP SETTINGS part and then toggle off the button next to Enable in-game overlay in the right pane.
Method 3: Verify Integrity of The Game Files
Besides, if certain critical game files are missing or damaged, you might also encounter Garry's Mod crashing. To fix the problem, you can verify the integrity of the game files in Steam. Here's what you need to do:
Open Steam and click LIBRARY.
Right-click Garry's Mod from the displayed games and choose Properties.
Switch to the LOCAL FILES tab and click VERIFY INTEGRITY OF GAME FILES.
Method 4: Disable Steam Cloud Synchronization for GMod
Steam Could is a useful feature that helps users to back up their game data conveniently in Steam. However, some users find that this feature could also lead to GMod crashing. So, disabling the feature may help you fix the problem.
To do that, you should:
Step 1: Launch Steam and open LIBRARY.
Step 2: Right-click Garry's Mod and choose Properties.
Step 3: Under the UPDATES tab, uncheck Enable Steam Cloud synchronization for Garry's Mod in the Steam Cloud section and click OK to apply the change.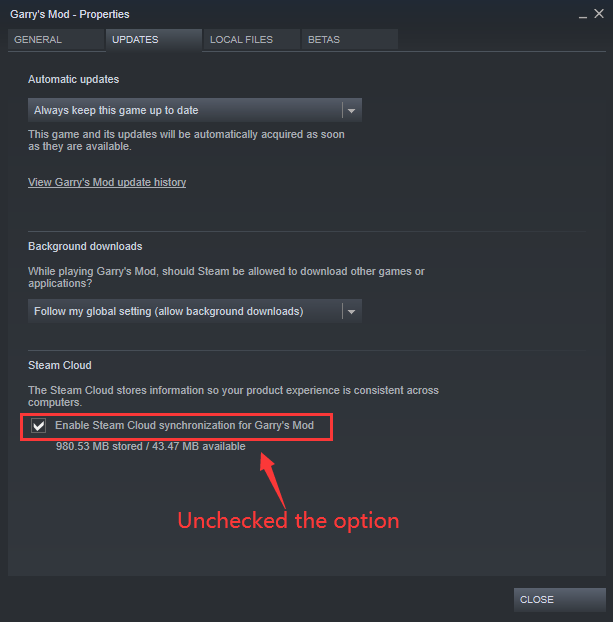 Method 5: Disable Automatic Downloads from The Server
Also, some users recommend disabling the automatic downloads of custom files from game servers. If the above methods don't work for you, then you can try this one. Just follow the instructions below:
Step 1: Run your Garry's Mod, either from its shortcut icon or Steam.
Step 2: Go to OPTIONS > Multiplayer.
Step 3: Expand the list under "When a game server tries to download custom content to your computer" and choose Do not download any custom files.
Step 4: Click Apply and OK to save the changes you've made.
After that, you can restart the game to check if the crashing issue is resolved.
Method 6: Reinstall the Game
If Garry's Mod keeps crashing after trying the above fixes, perhaps there are some problems with the game installation and you need to perform a clean reinstall for the game. Just completely remove the game from your computer and download the latest version of the game from the official website or Steam. After properly installing the latest version, you should be able to play the game without the crashing issue.