Gmail is a free email service developed by Google. As the storage capacity of Gmail is limited, you might need to clean it up regularly. But how to empty Gmail trash and delete emails permanently? You use Gmail empty trash now button. Let's see more detailed information from this post provided by MiniTool Partition Wizard.
Email is short for Electronic mail, a method of exchanging messages between people using electronic devices. It is commonly used by a lot of users during daily life and work. As one of the most popular email service, Gmail has over 1.5 billion users. Users can receive and send emails free with this service. But it has storage capacity limitation.
As of 2018, Gmail can store emails total in 15 GB, and paid plans are available for up to 30TB. Whether you're using Gmail account for business or yourself, Google handles your email messages in the same way. And it won't delete messages from your inbox automatically, even if your Gmail storage space is running out of space or your messages were received long time ago.
To take advantages of the storage, you should delete the useless spams regularly. These unwanted emails are not important and some of them even pose as privacy alarms. That's why you need to delete them from trash. However, do you know how to empty trash in Gmail?
Let's see it in the following contents.
How to Empty Gmail Trash on PC
In Gmail, the trash is the location where the unwanted emails are stored after being deleted from the inbox. After 30 days, the mails you deleted will disappear automatically from the trash. But if you're dealing with a huge number of spams, you'd better delete them manually and regularly.
How to empty trash in Gmail on PC? Let's see the detailed steps.
Step 1: Open Gmail and log in to your account.
Step 2: Select Trash in the left navigation pane. If you don't see it in the list, click More option and then choose it. Alternatively, you can type trash in the search filed and then select lable: trash.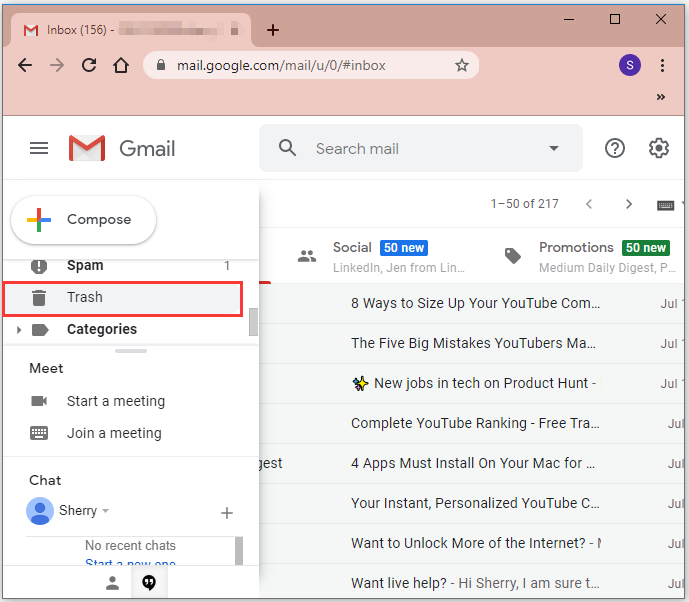 Step 3: Make sure there are no messages that you might need to use later in the Trash box. Then click Gmail Empty Trash now button.
Tip: You can search specific email by inputting "in: trash" followed by other items you want to search in the search field. For example, if you want to search emails from Amy, you can type "in: trash from: Amy" in the search filed.
Step 4: In the pop-up window which asks you to confirm deleting messages, click OK to confirm the operation.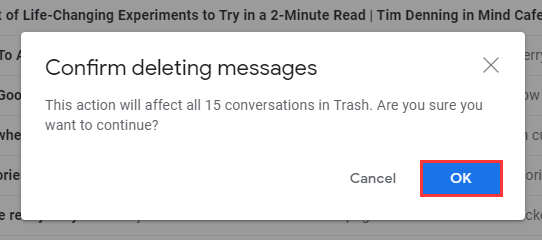 Tip: To delete spam, you can select Spam label from the left navigation panel. Then click Delete all spam messages now.
Now you have emptied the trash in Gmail.
If you just want to delete individual emails without pressing the Gmail Empty Trash button, you can click the message in Trash box to open it. Then click Delete forever button. To delete multiple emails, you can check them in the Trash box and then click Delete forever to delete emails permanently.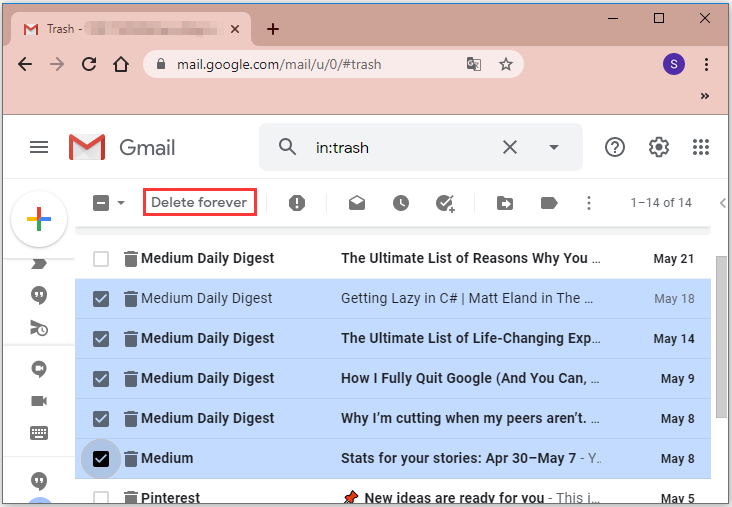 How to Recovered Deleted Files from Trash
Some users are looking for the way to restore accidently deleted emails. As you know, when you delete some files from Inbox, they will be kept by Trash for 30 days. As long as you don't delete them from the Trash, you can restore them to the Inbox.
You just need to navigate to Trash label and check the emails you want to restore. Then click the folder icon and select Move to: Inbox.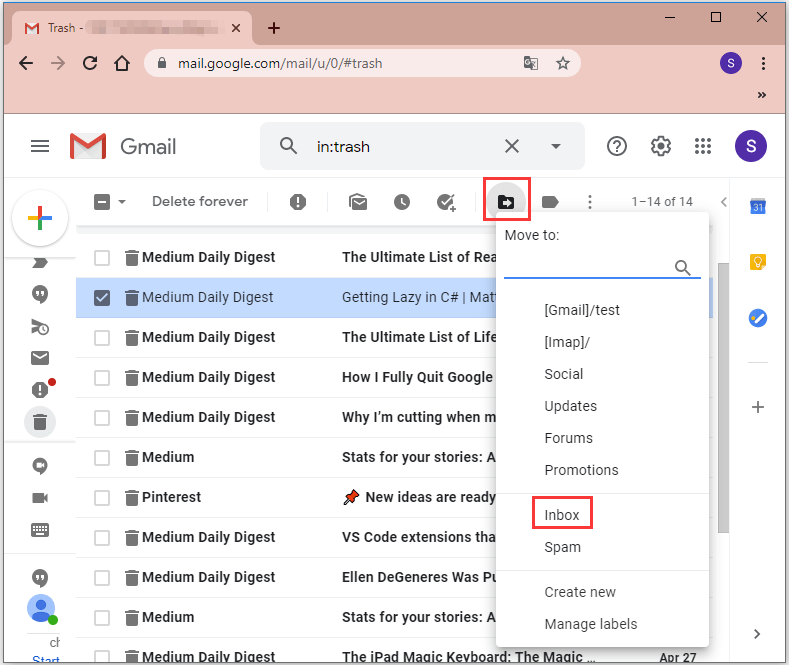 How to empty Gmail trash and delete emails permanently? How to restore deleted emails? If you are looking for these answers, this post might be helpful for you.