If you need to create multiple accounts on a single website, you can read this post. MiniTool Partition Wizard provides a comprehensive guide to Gmail address tricks, allowing you to create multiple accounts with a single Gmail account and easily manage your Gmail.
Gmail is a free email service provided by Google, which is one of the most widely used consumer email services. Many people around the world use it to send and receive emails.
If you are one of them, you can read this post to learn more Gmail tricks. No matter if you are the one who wants to create more accounts via Gmail on one website or manage your Gmail easier, you can get some useful guides here.
How to Create Unlimited Accounts via one Gmail Address?
For some reasons, you may need to create more accounts on a website using one Gmail address. It is very easy to do it. Here's the tutorial:
Step 1. Use the Gmail Address Tricks to Create Different Email Address
To create unlimited accounts via one Gmail address, you just need to use some Gmail address tricks. You can create your accounts using one of two Gmail address tricks. One Gmail address trick is "Gmail + trick", and the other is "Gmail dot trick".
Trick 1. Use the Gmail + Trick
The "Gmail + trick" can also be wrote as "Gmail plus trick". This is a useful way to help you create unlimited accounts via a Gmail address.
All you need to do is add a plus (+) and any combination of words or numbers after the letters before the @ symbol. For example, if your Gmail address is [email protected], you can create accounts with the following Gmail address:
Trick 2. Use the Gmail Dot Trick
Another Gmail address trick you can use to create unlimited accounts is the "Gmail dot trick". According to Google, dots don't matter in a Gmail address. Gmail will omit the dots before sending the email.
So, if you want to use this method to create unlimited accounts, you just need to add one or more dots (.) in between your email address before the @ symbol. For example, if your Gmail address is [email protected], you can create your accounts with the Gmail address like these:
Tips:
You can also use Gmail dot trick generator to generate these Gmail addresses. There are many free Gmail dot trick generator on the website.
No matter if you send an email to the first, second, third, or sixth email address above, you will receive the email at the Gmail address [email protected].
Step 2. Use the Newly Created Gmail Address to Register Unlimited Accounts
After you have used the Gmail address tricks to create one more Gmail address, you can use them to create unlimited accounts. Here's the guide:
Click Sign Up or Create account on the website you want to create unlimited accounts.
Fill in the information boxes.
Fill in the one of the newly created Gmail addresses in the Email box.
Next, click the Sign up or CREATE ACCOUNT button.
Wait for a few seconds and log in to your Gmail account. Here, you will find a verification link to activate your account on the platform.
Once done, you can create a account successfully.
How to Make Gmail Email Management Easier?
If you have already used Gmail address tricks to create many accounts, you will receive many emails from the different accounts. Here's a helpful tip for making Gmail email management easier. Here's how to do it:
Access your Gmail account.
Click the Filter icon on the Search box.
Type the account's Gmail address you want to check in the To box.
Once done, click Search Then all the emails that are sent to this Gmail address will show up in the results.: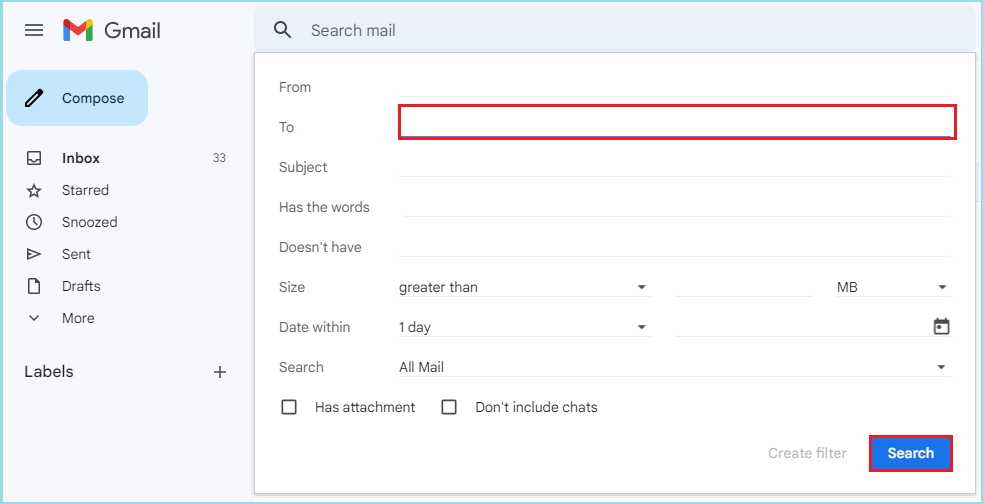 Bottom Line
This post shows how to use "Gmail + trick" and "Gmail dot trick" to create unlimited accounts on one website. If you also have this needs, you can just have a try.
MiniTool Partition Wizard is an all-in-one partition manager and can be used for data recovery and disk diagnosis. If you are interested in MiniTool Partition Wizard and want to know more about it, you can visit MiniTool Partition Wizard's official website by clicking the hyperlink.