Genshin Impact is a popular online game showing up in 2020. It keeps releasing updates monthly, mainly for character event wishes. This post from the MiniTool Partition Wizard website introduces the Genshin Impact next update as well as how to get the Genshin Impact update.
Genshin Impact is an action role-playing game developed by miHoYo. Nowadays, it is available on Microsoft Windows, Android, iOS, PlayStation 4, and PlayStation 5. miHoYo is also planning to release it on Nintendo Switch.
Since its first release, miHoYo keeps releasing updates for bug fixes, new characters, new equipment, improvements, and character event wishes. Sometimes it may also bring new areas on the map. Nowadays, Genshin Impact is usually updated monthly.
When Is the Next Genshin Impact Update (Version 2.8)
On May 30, 2022, Genshin Impact update 2.7 was released to the public. It comes with new characters Yelan and Kuki Shinobu. In addition to them, the Event Wish also boosts the drop rate for Arataki Itto (Geo, 5-star character).
According to miHoYo, the Event Wish of 2.7 will end on July 12, which indicates that the next Genshin Impact update (version 2.8) may come on July 13.
The Genshin Impact 2.8 livestream date which usually introduces the changes in the next Genshin Impact update has not been announced officially. But users predict that the livestream can be expected at the beginning of July since the livestreams usually happen about 12 days before the next update.
As for the Event Wish of Genshin Impact 2.8, there are rumors saying that Kazuha, Klee, and Yoimiya could return. Let's see in the coming 2.8 livestream.
You can get 300 Primogems by watching the livestream from miHoYo where three coupon codes are available.
How to Get Genshin Impact Update
Genshin Impact updates are usually forced updates. When there is an available update, you will receive a message while launching the game. If you don't install the update, you cannot access the game successfully.
To release a new update, the Genshin Impact servers will be ongoing maintenance for about 5 hours. miHoYo will provide users with 300 Primogems for maintenance compensation (60 Primogems per hour when servers are down).
The Genshin Impact update file usually has a large size, so you'd better install the update over a Wi-Fi connection. Besides, make sure your device has enough space to install the update file.
Now, let's see how to update Genshin Impact on different devices.
Tips:
The Genshin Impact update usually takes a long time. Therefore, please take note of the update time and schedule your game time properly.
On PC
If you are playing Genshin Impact on Microsoft Windows, you can follow the steps below to get the Genshin Impact update.
Step 1: Close Genshin Impact completely.
Step 2: Run the Genshin Impact Launcher.
Step 3: You will receive a Launcher Update window. Just click the Update button to start downloading the required resources.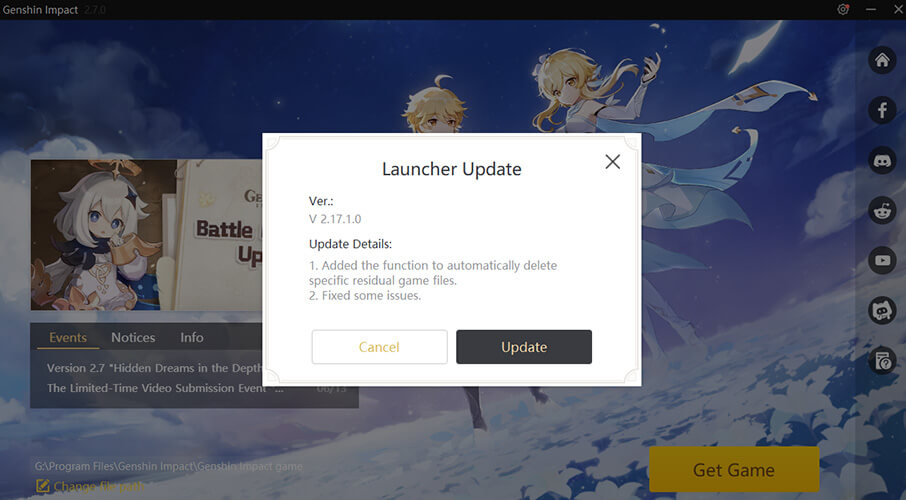 Step 4: Wait patiently until the downloading process is finished. When you see the message "updated successfully, click the Open Launcher button.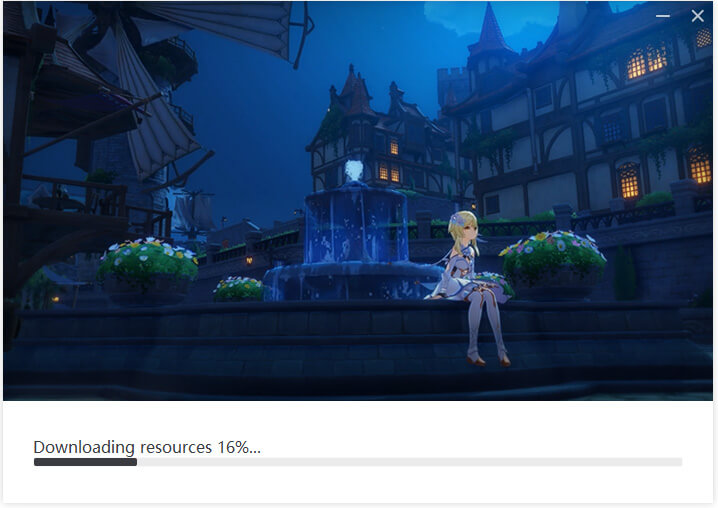 Step 5: Click the Get Game button. If there is not enough storage space on the current location, you can click the Change file path button to select another destination.
Tips:
The Genshin Impact update package on Microsoft Windows is usually larger than 30 GB.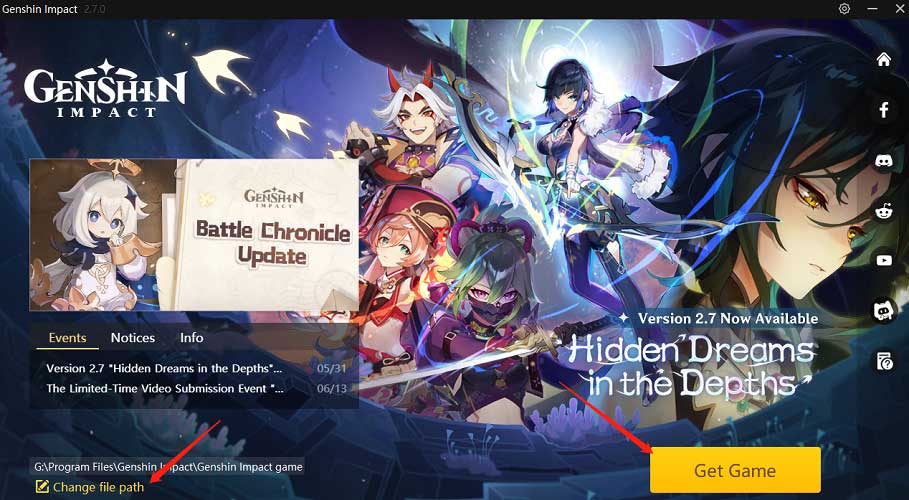 After that, the update package will start downloading and then installing.
On iOS or Android
The update file size on a mobile device is usually larger than 15 GB. Make sure there is enough free space on your device in advance.
To update Genshin Impact on an iOS device, you need to go to the App Store and tap the Update button for the game.
On an Android device, you just need to run the game and follow the on-screen instructions.
On PS4 or PS5
On PS4 or PS5, you can get the Genshin Impact update by highlighting Genshin Impact from the Home Screen. Then press the OPTIONS button on your controller and select Check for Update.