Is Genshin Impact available on Steam? How to play Genshin Impact on Steam? This post from MiniTool Partition Wizard tells you all about Genshin Impact Steam. I wish this post can help you.
Is Genshin Impact on Steam?
As I mentioned in a previous post, Genshin Impact is not currently available to Steam users. To play this game on PC, you should download it from the Genshin Impact official website or Epic Games.
Genshin Impact is a free-to-play action role-playing game developed by miHoYo. This game features an anime-style open-world environment and an action-based battle system using elemental magic and character-switching.
You can play this game on Windows PC, Android and iOS mobile devices, and PS4/5 consoles. But unfortunately, Genshin Impact isn't officially available on Steam, the biggest PC game distribution platform.
Many people may want to play Genshin Impact from Steam. And they want to know some information about Genshin Impact Steam. So far, miHoYo has registered as a developer on Steam and released its previous game Honkai Impact 3rd.
So, it's possible that miHoYo will release Genshin Impact on Steam later. But so far, miHoYo didn't announce that it would release Genshin Impact on Steam, and Steam users may need to wait for a long time.
How to Play Genshin Impact on Steam
Although Genshin Impact is not available on Steam, you can still add Genshin Impact to your Steam library by using the "add a non-Steam game" option. This feature allows you to run practically any game on the platform while gaining access to chat and unique controller setups. Here is the guide:
Step 1: Download Genshin Impact from its official website and install it on your PC. to get the detailed steps, please read this post: How to Download and Install Genshin Impact on PC, PS, and Mobile. Before you install the game on your PC, please make sure your PC meets the following Genshin Impact minimum requirements:
OS: Windows 7 SP1 64-bit, Windows 8.1 64-bit, or Windows 10 64-bit
CPU: Intel Core i7 equivalent or higher
RAM: 16 GB RAM
GPU: NVIDIA GeForce GTX 1060 6 GB and higher
DirectX version: 11
Storage: 30 GB of space
Step 2: Add Genshin Impact into Steam library.
Launch Steam and log into your account.
Click on "Games" in the top lefthand corner and then select the "Add a Non-Steam Game to My Library" option.
Locate Genshin Impact from the folder screen and then click the tick box.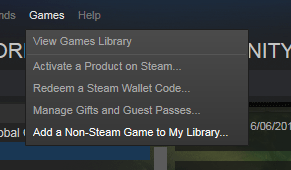 In this way, you can select Genshin Impact from your Steam Library to launch it. But please note that this method only adds a shortcut of the game into the Steam client and it will not allow you to download updates for the game through Steam.
Bottom Line
Do you know other information about Genshin Impact Steam? Please leave a comment in the following zone for sharing. I will appreciate that very much.