Some users have reported that Garmin Express is not working or they cannot install Garmin Express on the computer. If you are experiencing the same problem, don't worry. In this guide developed by MiniTool Partition Wizard, you will learn about 5 feasible methods to fix the issue.
Garmin Express is a free desktop application for both Windows and macOS, and it is useful in updating and managing your Garmin (formerly known as ProNav) devices. This application can help you manage your content, update software, maps, Golf course, and marine charts, and so on.
But recently, many Windows users complain that they can't install Garmin Express or Garmin Express won't launch at all. What can you do if you are facing the Garmin Express not working problem?
Don't worry. Here are some possible solutions and may help you get rid of the problem. Let's check them out one by one.
Fix 1: Make Sure the System Requirements Are Met
At first, if you can't install Garmin Express on your Windows computer, perhaps the system requirements of the application are not satisfied. Just check the system requirements below:
Operating System: Windows 7 SP1 or newer, Microsoft .NET 4.5.2.
Display: 1024 x 768 display and USB port.
RAM: 1 GB.
Hard Disk Space: You may require up to 20 GB of free space.
High-speed Internet: at least 20 Mbps.
Now, you can check your PC specs and prepare with the requirements. If some components don't meet the requirements, update them immediately. If all the requirements are satisfied, you can move on to the next solution.
Fix 2: Update Windows and The Application
You should also make sure the application you are trying to install is the latest version. If you cannot launch the installed Garmin Express, try updating it. Once you find that there are any available updates on the official website, don't' hesitate to download the latest version and reinstall it.
Of course, you need to attach the same importance to your Windows update, as the new updates may contain bug fixes for the software issue. You just need to :
Press Windows + I to open Settings.
Navigate to Update & Security > Windows Update.
Click Check for updates in the right pane and install any available updated according to the onscreen instructions.
Fix 3: Use Compatibility Mode
If you encounter Garmin Express not working issue, perhaps your current version of Windows doesn't support the application. In this case, you can run the program or the installer in compatibility mode.
Step 1: Right-click the installer or launcher of Garmin Express and choose Properties.
Step 2: Switch to the Compatibility tab, check Run this program in compatibility mode for, and choose a Windows version from the list. If needed, you can also check the Run this program as an administrator option.
Step 3: Click Apply and OK to save changes.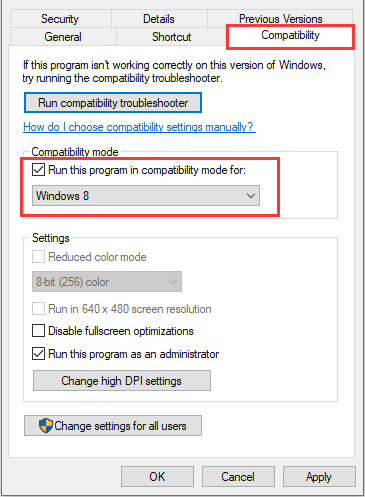 After that, launch the program/installer to run/install Garmin Express again to check if the problem has been resolved.
Fix 4: Install the Latest .NET Framework
The "Garmin Express not working" issue might also have something to do with .NET Framework. To fix the problem, you need to install the latest .NET framework required by the software.
Here's what you should do:
Step 1: Open Control Panel and go to Programs > Programs and Features.
Step 2: Click Turn Windows features on or off in the left pane.
Step 3: In the pop-up window, uncheck all the boxes of the items containing .NET Framework to turn them off and click OK.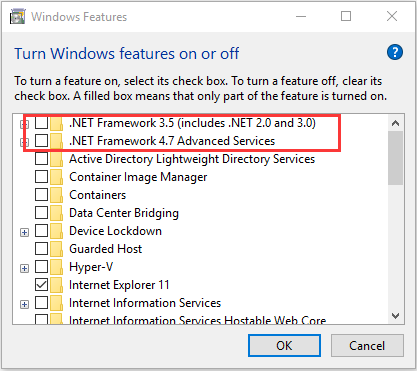 Step 4: Now, go to the official download page of .NET Framework and choose the latest version to download. Then, install it according to the onscreen instructions.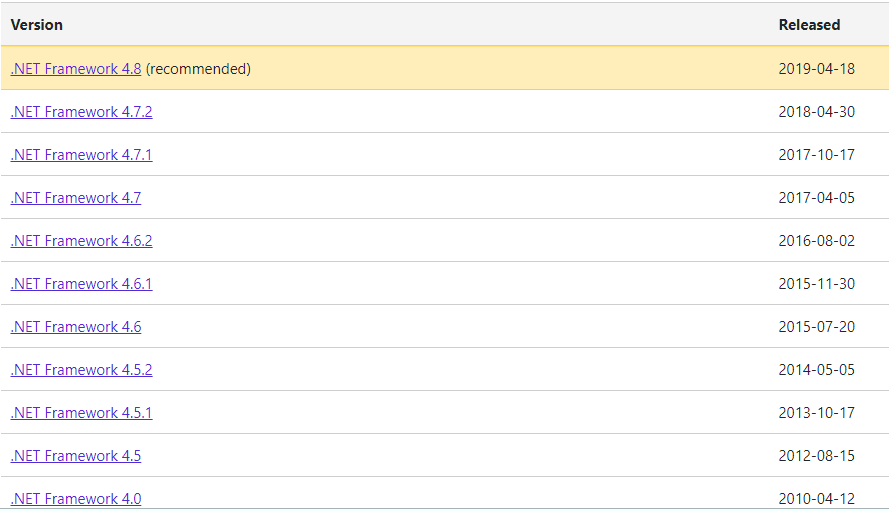 Fix 5: Remove Corrupted Configuration Files of Garmin
If Garmin Express won't launch on your Windows computer, perhaps its configuration files are corrupted. You can delete these configuration files to let the program regenerate new configuration information to fix the problem.
Step 1: Press Windows + R to open the Run window.
Step 2: Input %localappdata% to open the Local folder in File Explorer quickly.
Step 3: Find the Garmin folder named with _or_its_subsid and delete it.
Once it's done, restart your computer. Now, your Garmin Express should work properly again.