Are you facing the problem Fallout 4 Script Extender not working on Windows 10? You might not know the specific reason for this error, but don't be worried. Fortunately, here are 4 solutions to F4SE not working which are provided by MiniTool Software.
The Fallout 4 Script Extender, or F4SE for short, is a mod resource that expands the scripting capabilities of Fallout 4.
However, some Fallout 4 users report that their F4SE not working on Windows 10. The reasons for this problem could be various. You can try the following solutions if you are facing the same problem.
Solution 1: Run Compatibility Troubleshooter
Sometimes, Fallout 4 Script Extender might not be compatible with your operating system, which finally leads to F4SE not working. It's a useful way to run compatibility troubleshooter for the application to fix the issue.
Step 1: Navigate to the installation folder of Fallout 4 and enter it.
Tip: By default, you can find the Fallout 4 installation folder in C:Program Files (x86)SteamSteamAppscommon.
Step 2: Right-click f4se_loader.exe and select Properties.
Step 3: Choose Compatibility tab and click Run compatibility troubleshooter.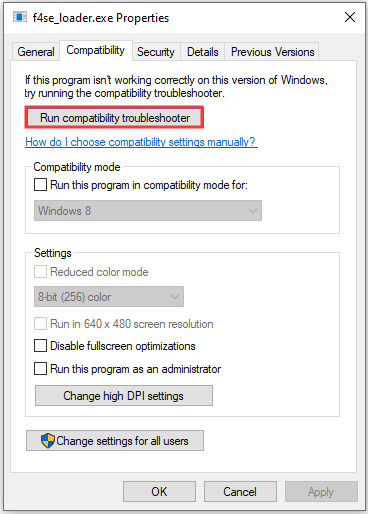 Step 4: Then Windows will automatically determine the best settings for your computer. In the pop-up window, select Try recommended settings.
Step 5: Click Test this program. If the issue has been solved, click Apply to save the changes.
Solution 2: Update the F4SE Application
Game developers mostly don't support third-party modding facilities for their games. So, they try to prevent those applications like F4SE in every update of the game.
When you encounter F4SE not working, you should update it.
Step 1: Download the latest version of F4SE from the website.
Step 2: Extract the following files from the folder you download and copy them to your Fallout 4 installation folder. Remember to choose Replace all files when asked while copying:
f4se_1_10_138.dll (you can check the version from the numbers)
f4_loader.exe
f4se_steam_loader.dll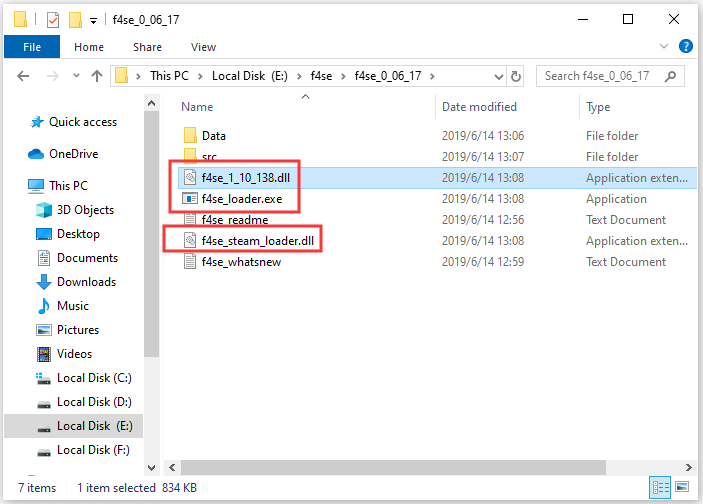 Then, you can launch the game by running the f4se_loader.exe that you just copied to the folder to check if Fallout 4 Script Extender not working has been solved.
Solution 3: Delete Plugins
Some corrupted or outdated plugins used by F4SE could lead to F4SE not working. You can delete all files in Plugins folder to fix the problem.
Tip: When you deleted these plugins files, they will be automatically replaced with new files by the application later.
Step 1: Press Win + E to open File Explorer.
Step 2: Navigate to C:Program Files (x86)SteamSteamAppscommonFallout 4DataF4SEPlugins.
Tip: If you install Fallout 4 to another location, you need to find the Plugins folder manually.
Step 3: Delete everything in the folder.
Step 4: Now download and install Fallout 4 Script Extender with the steps mentioned in Solution 2.
Solution 4: Grant Access in Firewall
Your Windows Firewall may prevent some game servers. If you cannot fix Fallout 4 Script Extender not working with the solutions above, you can try granting access in Firewall.
Step 1: Press Win + I to open Settings.
Step 2: Select Update &Security. In the right pane, click Windows Security. In the right pane, select Firewall and Network Protection.
Step 3: In the pop-up window, choose Allow an app throng firewall.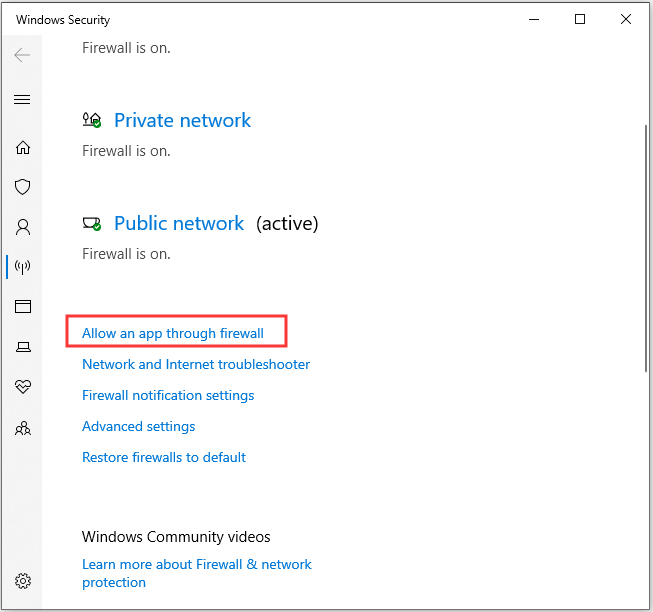 Step 4: Click Change Settings. Then check both Private and Public for Fallout 4.
Step 5: Click OK.
Then run F4SE and check if the problem has been solved.