Many people don't know how to extend mirrored volume as Windows built-in tool Disk Management do not have such a feature. In this article, I will show you the key information of mirrored volume as well as introduce you a perfect dynamic disk manager to extend dynamic mirrored volume and resize dynamic volume at ease.
What Is Mirrored Volume?
A mirrored volume also can be referred to as RAID 1. It is a fault-tolerant dynamic volume that provides data redundancy by using two copies of volume. All data written into mirrored volume will be written in two mirrors which lie in the separate physical disks.
Because of its perfect fault tolerance, it is widely used on those computers which require higher data safety, such as server computer. As is well known, server computer often stores a large number of important and commonly used data. Once these data are lost, server users will bear great losses.
Using a mirrored volume can keep data safe, but it also slows down data transferring speed as the data must always be written twice. And it also costs more, since mirrored volume requires twice as much disk storage than simple volumes require. However, the cost of an extra hard drive is usually well worth considering the security of important files and data on the disk.
The Precondition for Creating Mirrored Volume
How can we create mirrored volume? If we want to create mirrored volume with high fault tolerance on our computers, we should meet two conditions:
1. The disk is dynamic disk: As mirrored volume is one type of dynamic volumes, we must convert basic disk to dynamic disk at first if we want to create mirrored volume. The method for converting basic disk to dynamic disk is very easy. We right-click the basic disk which needs to be converted in Windows built-in Disk Management tool, and then select Convert to Dynamic Disk… in the shortcut menu to enter the wizard. At this time, we only need to operate according to prompts.
2. At least 2 disks are needed: when dynamic mirrored volume stores data, it needs to write data in two different disks simultaneously, which is used to offer fault tolerance. When data in one disk are damaged, we can restore them through the same data in the other disk. This feature of mirrored volume requires that the spaces constituting mirrored volume must come from 2 different disks with the same capacity. Therefore, if users want to create a dynamic mirrored volume, they at least need 2 disks.
After meeting the above two conditions simultaneously, we can create mirrored volume on our computer easily.
Extend Dynamic Mirrored Volume with MiniTool Partition Wizard
Using dynamic mirrored volume with extremely high fault tolerance is a good choice for sake of data loss. However, when users operate dynamic mirrored volume on their computer, they may meet many problems. For example, when storing important data, they cannot store these important data because of space shortage of mirrored volume. Well then, what should they do if mirrored volume is badly in need of space?
The answer is very simple, namely extending dynamic mirrored volumes. I suggest using MiniTool Partition Wizard, a perfect dynamic disk manager, to extend mirrored volumes of dynamic disk. That is because the latest edition of MiniTool Partition Wizard is not only compatible with dynamic disk perfectly but also can help users manage any type of dynamic volume perfectly, such as simple volume, spanned volume, striped volume, and RAID-5 volume. You may read the following contents to learn how to extend mirrored volume on dynamic disk.
Note: To extend mirrored volume, there must be some unallocated space before or behind the volume that needs to be extended on two disks, otherwise, you need to shrink volume or delete volume to generate.
Step 1. Download MiniTool Partition Wizard Pro Edition, install it on your computer and get it registered.
Step 2. In this interface, right-click the mirrored volume which needs to be extended. And then select Move/Resize Volume.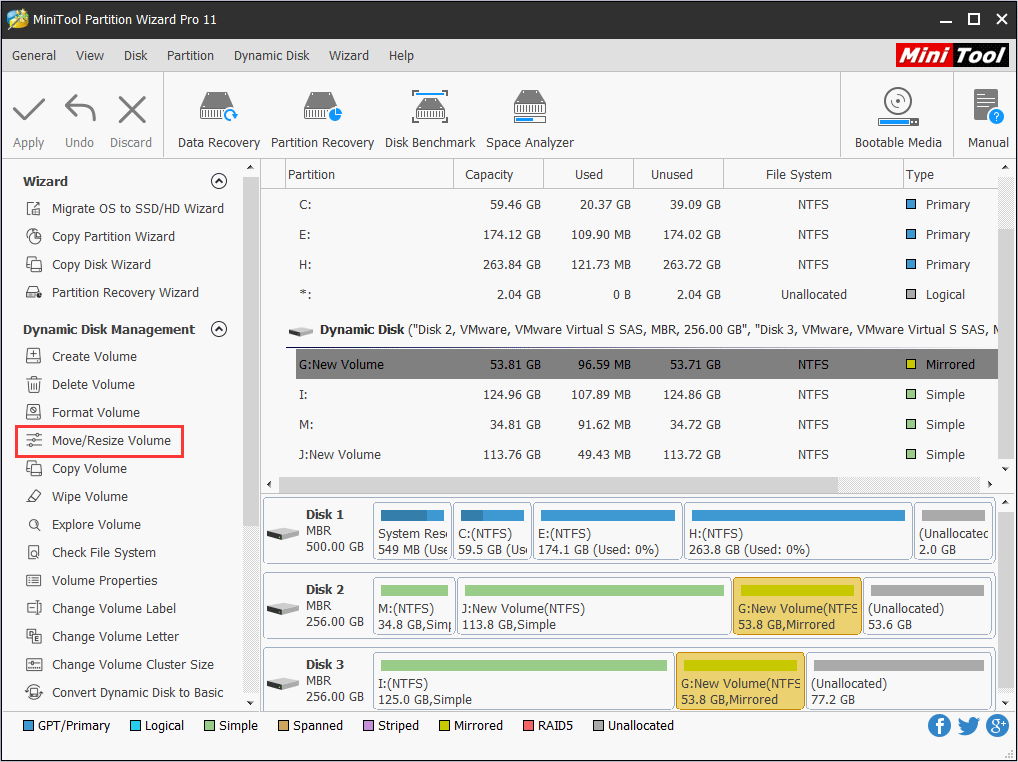 Step 3. At this page, you can extend mirrored volume by dragging triangles on both sides of the partition handle to change volume size or inputting exact values. After finishing settings, click OK to go back to the main interface.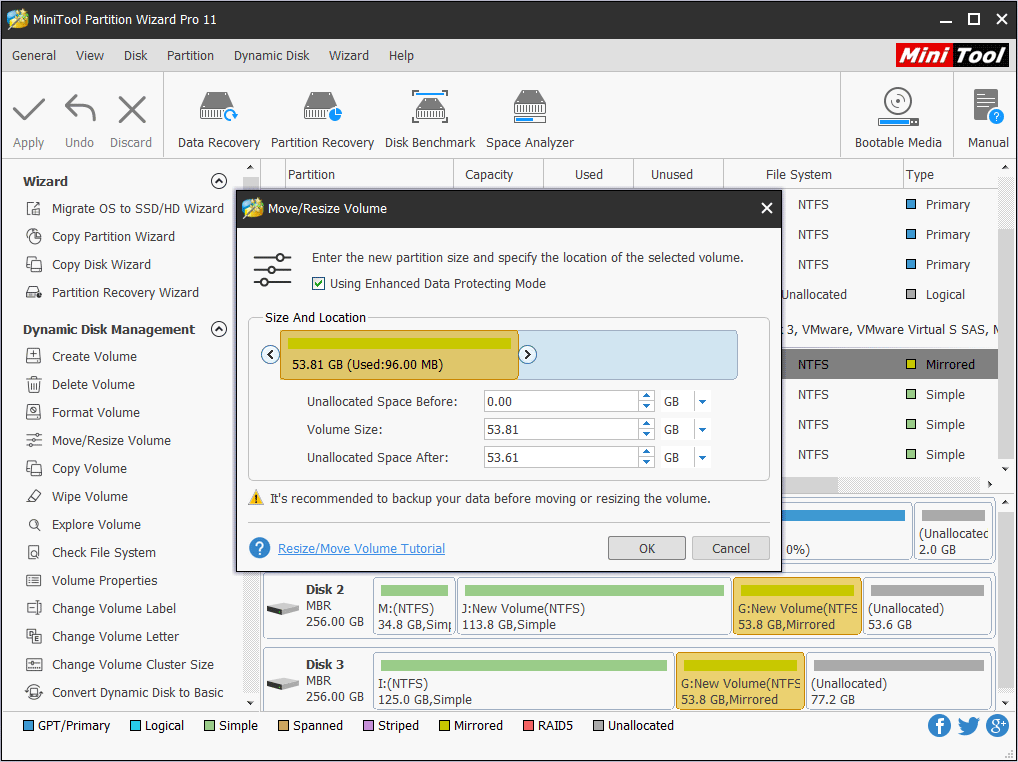 Step 4. Then click Apply to perform all operations.
Step 5. When performing operations, this dynamic disk manager requires restarting the computer. Click Restart Now. After finishing restart, you will find the mirrored volume has been extended successfully.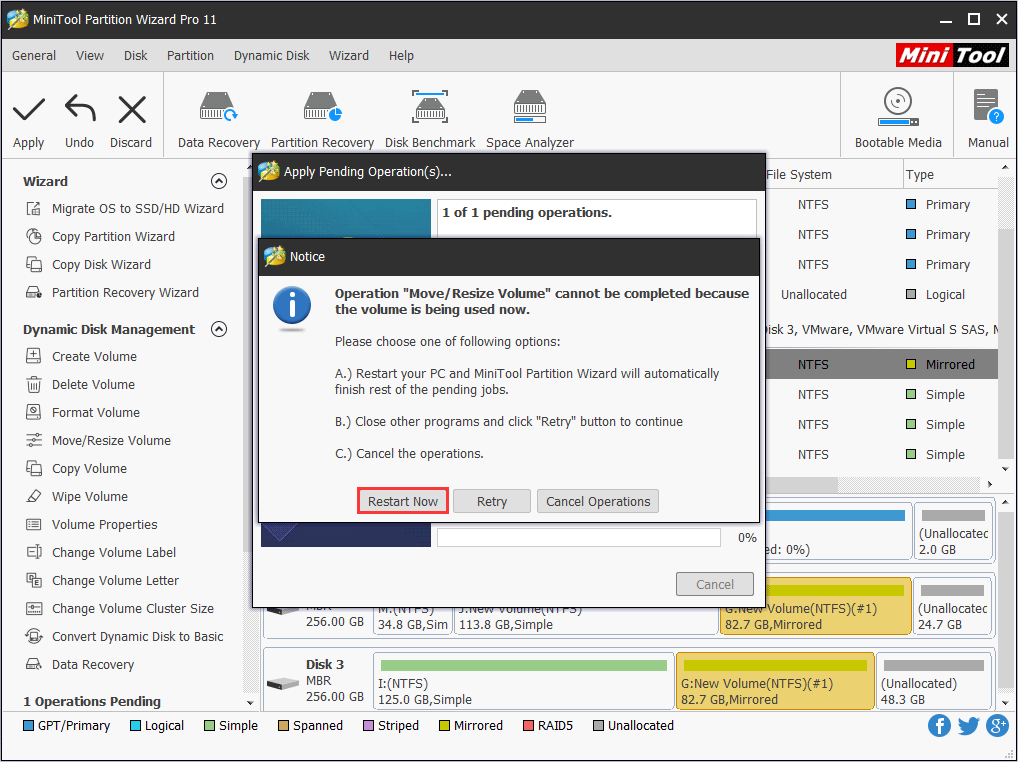 Although dynamic mirrored volume has extremely high fault tolerance, it is still not perfect. Dynamic mirrored volume does not have any promotion in performance, and fault tolerance is acquired at the price of losing disk space. Therefore, you must pay much attention to using it. If you require higher data safety but don't want to use mirrored volume, you may make dynamic volume copy to back up important files and data.
"MiniTool Partition Wizard helped me successfully extend dynamic mirrored volumes in just a few clicks. People who have the same issue on extending dynamic volumes may refer to this post."Click to Tweet
Bottom Line
As you can see, with the assistance of MiniTool Partition Wizard, mirrored volume can be extended in an effortless way. With this professional dynamic disk manager, it is not difficult for us to extend dynamic partition at all.
If you have encountered any issue when you extend mirrored volume, you can leave a message on the following comment zone. We will reply as soon as possible. If you need any help when using MiniTool software, you can contact us via [email protected].