For game lovers, low FPS issues are quite annoying as they lead to a bad gaming experience. To solve the problem, users need to take some measures to increase FPS. In this post, MiniTool Partition Wizard provides a tutorial on Escape from Tarkov FPS boost.
Escape from Tarkov is a multiplayer first-person shooter video game released for Microsoft Windows a few years ago. In such a game, FPS (Frames Per Second) is quite important. When you get a low FPS during the gameplay, you will be unable to play Escape from Tarkov smoothly.
Don't worry if you are bothered by Escape from Tarkov low FPS, here are some tips for you and you can follow them to increase FPS in Escape from Tarkov.
Tip 1: Turn off Fullscreen Optimizations and Change High DPI Settings
Some players have made Escape from Tarkov FPS boost by disabling fullscreen optimizations and changing high DPI settings. You can also have a try.
Step 1: Right-click the shortcut for Escape from Tarkov on the desktop and select Properties.
Step 2: Select the Compatibility tab and check Disable fullscreen optimizations under the Settings section.
Step 3: Check the Change high DPI settings button. In the pop-up window, check the option Override high DPI scaling behavior. Then click the drop-down menu for Scaling performed by: and select Application.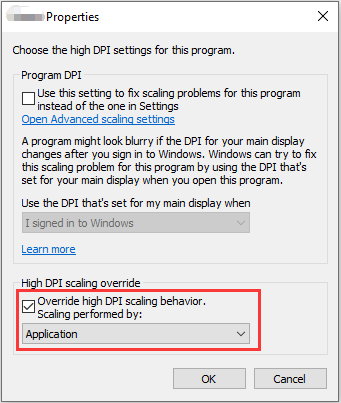 Step 4: Click OK. Then click Apply and OK to save the changed settings.
Tip 2: Keep Your Graphics Card Driver Updated
An outdated or corrupted graphics card driver might be one of the reasons for low PFS in Escape from Tarkov. To fix the problem, you can try updating your graphics card driver, and here are the steps.
Step 1: Right-click the Start button and select Device Manager.
Step 2: Double-click Display adapters to expand the category. Then right-click the graphics card and select Update driver.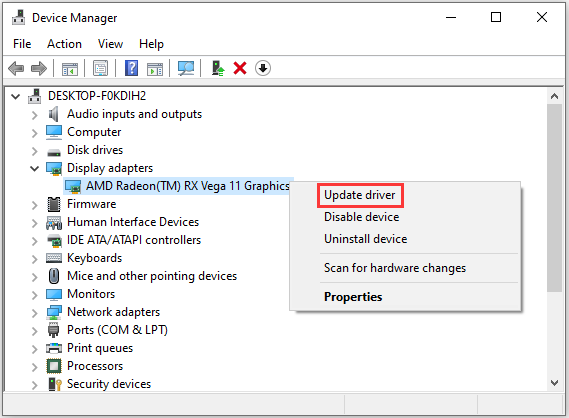 Step 3: In the pop-up window, select Search automatically for updated driver software. Then follow the onscreen instructions to finish the operation.
Tip 3: Change Power Options
Changing the power options to high performance could also help you increase FPS in Escape from Tarkov. The processor temperature may increase by some degrees during the process. Therefore, you can skip this method if your CPU doesn't come with a powerful cooler.
Step 1: Open Control Panel.
Step 2: Navigate to Hardware and Sound > Power Options.
Step 3: In the Power Options window, select High performance under the Preferred plans. Then check Change plan settings.
Step 4: In the following window, click Change advanced power settings.
Step 5: Expand the category of Processor power management. Then set the Minimum processor state and Maximum processor state to 100%.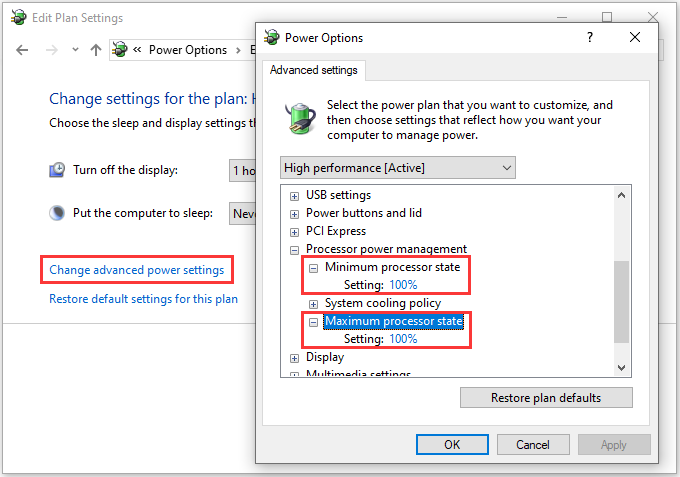 Tip: 4: Close Background Processes
If you are running too many programs in the background while playing the game, you might also encounter low FPS in Escape from Tarkov. To solve the problem, you can try closing unnecessary background processes.
Step 1: Press Shift + Ctrl + Esc to open Task Manager.
Step 2: Under the Processes tab, right-click each background process and select End task.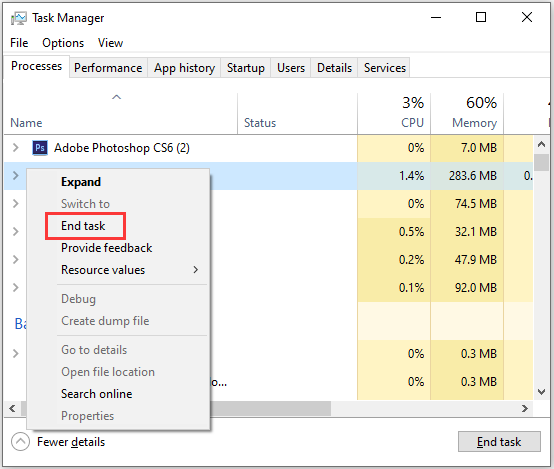 You can also change the priority for the game. You just need to go to the Details tab after opening Task Manager. Then right-click the EscapeFromTarkov.exe and select Set priority > High.
Then you can restart your game and check if its FPS has been improved.
Tip 5: Move Your Game Files to an SSD
HDD and SSD are two types of hard drives. Usually, an SSD runs much faster than an HDD. If you are using an HDD on your computer while you encounter the low FPS in Escape from Tarkov, you can try installing the game on an SSD or moving the game files to an SSD to solve the problem.