Are you troubled by the error SU 30638 0 while trying to update your PS4 console? Are you looking for some methods to solve it? In this post, MiniTool Partition Wizard introduces multiple feasible solutions. You can have a try.
PlayStation 4 (PS4) is a popular video game console that is provided by Sony Interactive Entertainment. It enables you to play various interesting games for entertainment. In addition, the developers release certain updates for your PS4 regularly to solve issues and improve its performance.
However, sometimes you may fail to install the latest system software with the error SU 30638 0. The error always comes out with the message saying: System software update could not be started.
If you have no idea how to fix the PS4 error SU-30638-0, you can follow the full guide below.
Solution 1: Check the PlayStation Network Server Status
When you run into the PS4 error SU-30638-0, it is recommended to check the PSN (PlayStation Network) service status first.
If there are any outages displayed on this page, you have nothing to do but wait until the developers repair them; If every service is working properly, then you need to solve the error in other ways.
Solution 2: Power Cycle Your PS4 Console
Usually, performing a power cycle can help you repair plenty of issues that are related to your console. Therefore, you can try to power cycle your PS4 when the PlayStation error SU 30638 0 happens.
Step 1: Press and hold the Power button to turn off your console completely.  
Step 2: Remove the power cable from the PS4 console and then wait several minutes.
Step 3: Connect the power cable back and turn on your console.
Step 4: Go to Settings > System Software Update to try to update your system software again and check if the error is fixed.
Solution 3: Update System Software in Safe Mode
Another way that may help you avoid the PS4 error SU-30638-0 is to update the latest system software in Safe Mode.
Step 1: Make sure your console is connecting to a stable Internet. Then turn off your console.
Step 2: Press and hold the Power button for about seven seconds until you hear the second beep.
Step 3: Connect your controller to the console with a USB cable and press the PlayStation button on your controller to boot your console into Safe Mode.
Step 4: In Safe Mode, select option 3: Update System Software. Then select Update using the Internet and confirm again to carry out the operation.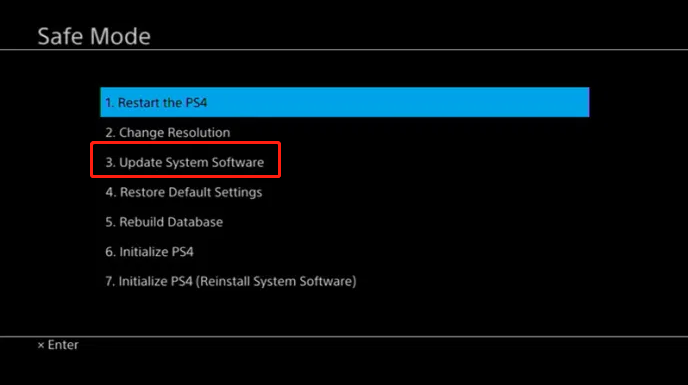 Solution 4: Remove All the External Storage Devices
Sometimes, the external storage devices you connected to your PS4 console may interrupt the update process and lead to the PlayStation error SU 30638 0. In this case, we recommend you remove all your PS4 external storage devices. Then restart your console and try the system software update once again.
If the error persists after the operation, you can go on with the next method.
Solution 5: Rebuild Your PS4 Database
The PS4 error SU 30638 0 might be caused due to a corrupted database as well. On this occasion, you can try to rebuild the PS4 database to fix the error. To do this, you just need to start your PS4 console in Safe Mode and then select Rebuild Database.
You can learn more about how to fix PS4 corrupted database from this article: [Complete Guide] How to Fix PS4 Corrupted Data/Database Error.
Don't worry when you get into trouble with the annoying PS4 error SU 30638 0. All these solutions mentioned in this post are available. You can try them one by one until you fix the error. If you have any other great solutions to this error, please leave a message to share with us in our comment zone below.