Are you bothered by Destiny 2 error code buffalo? Why does this error appear? How to solve the problem? Here, MiniTool Partition Wizard provides some fixes and you can have a try.
Destiny 2 is a free online multiplayer first person shooter video game developed by Bungie. The game is available on various platforms, including PlayStation 4, Xbox One, Microsoft Windows, and Google Stadia. And in late 2020, it will be released on PlayStation 5 and Xbox Series X platforms.
Error code buffalo is one of the Destiny 2 codes. It usually happens when players try to access the game and it comes with the following error message:
You must restart the application using Blizzard's Battle.net app in order to play Destiny 2.
For more information, visit help.bungie.net and search for error code: buffalo
If you're bothered by the same problem on Windows PC, you can try the following methods to solve it.
Fix 1: Delete Cvars.xml File
Any easy way which might be helpful to fix error code buffalo Destiny 2 is to delete a certain file named cvar.xml. Some users have solved it and you should also have a try.
Step 1: Press Win + R to invoke Run window. Then type %APPDATA% in the box and click OK to open Roaming folder in File Explorer quickly.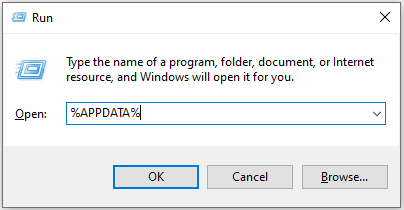 Step 2: Go to Bungie > DestinyPC > Prefs folder.
Step 3: In Prefs folder, scroll down to find cvar.xml file and then delete it.
After deleting the involved file, you can exit File Explorer and restart Destiny 2. If you still encounter error code buffalo, please keep trying the next fix.
Fix 2: Sign in to Your Account After Signing out
As you know, Destiny 2 needs to be launched from the Blizzard Battle.net client. If there is something wrong with the client, you would be unable to play the game properly and even encounter error code buffalo. Some users have solved the problem by logging out of the Battle.net client and then logging back in. you should also have a try.
Fix 3: Log out of Other Device
A Destiny account is only allowed to log in to one device at the same time. If you have already signed in to your Destiny account on other device, you will be unable to play the game on the current PC.
Therefore, you need to log out of the account on other device. If you are not sure which computer is logged in, you might need to change the password and check the option "Log out of all logged-in devices".
Fix 4: Disable Antivirus Programs Temporarily
Some antivirus or internet protection software might conflict with the network connection of Destiny, which leads to Destiny 2 error code buffalo eventually.
In this case, you need to disable your antivirus program temporarily or add the game to the exception or whitelist. Then you can launch Destiny 2 again and check if this works.
Fix 5: Set LAN Settings to Automatic
If you are using a static IP, you can try changing it to automatic configuration to fix Destiny 2 error code buffalo. In some cases, the game can't work properly even with protocols like IPv6. Here is the tutorial.
Step 1: Open Run window, type inetcpl.cpl and press Enter to open Internet Properties.
Step 2: In Internet Properties, switch to Connections tab and select LAN settings.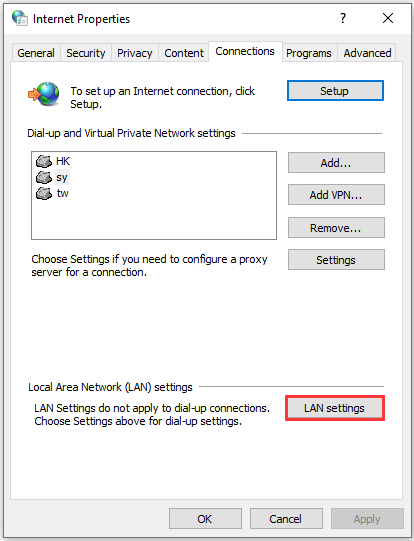 Step 3: In the pop-up window, check Automatically detect settings and click OK. When you go back to Internet Properties, click Apply and OK to save the changes you have made.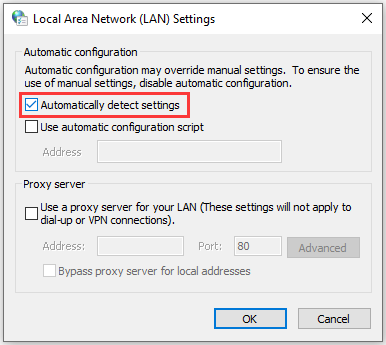 If you have tried all the solutions above but still encounter Destiny 2 error code buffalo, you can use a VPN or keep trying to connect to the server. Hope these solutions could be helpful for you!