The "Elden Ring network status check failed" error may occur while you are trying to play the game. Do you know how to fix it? Here, this post from MiniTool Partition Wizard introduces some effective solutions that may help you solve the error. 
Elden Ring is a new action role-playing video game that is developed by FromSoftware and published by Bandai Namco Entertainment. The game is so attractive that not only you but also many other players enjoy playing it.
However, if you attempt to play Elden Ring at the moment when too many players crowd into the game, you may receive the error message "Elden Ring network status check failed Elden Ring network status check failed" on the screen. That's because its servers are overloaded.
How to fix Elden Ring network status check failed error? There are some solutions available for you.
Solution 1: Check Elden Ring's Server Status
When the "network status check failed Elden Ring" issue appears, you should visit Elden Ring's official Twitter and check if its servers are running properly before trying any repair. Sometimes, certain problems with the game server may lead to some conflicts and game connectivity issues.
If any errors are reported officially, you have to wait until the developers fix them; if everything is OK, then you can move on to the next solutions.
Solution 2: Check Your Internet Connection
Elden Ring requires a great and high-speed Internet connection. Therefore, when you meet the "Elden Ring network status check failed" issue, it's recommended to check the Internet connection first. To quickly and simply improve your Internet connection, you can try to restart your Wi-Fi router.
If the Internet connection is stable but the issue still exists, you should try out other methods.
Solution 3: Stop Background Downloads and Uploads
In some cases, if there are many downloads and uploads running in the background, your Internet will slow down and some of the processes may affect the game connectivity to the servers. Hence, when it comes to the Elden Ring network status check failed fix, you can try to stop the background downloads and uploads.
Once you have a clean background, you are likely to play Elden Ring normally.
Solution 4: Verify the Integrity of the Elden Ring Game Files
The corrupted or missing game files may also cause the "Elden Ring network status check failed" issue. In this case, you need to verify the integrity of the game files. Follow the steps below.
Step 1: Launch the Steam client on your computer. Then select the LIBRARY.
Step 2: Right-click Elden Ring and then click Properties.
Step 3: Go to the LOCAL FILES tab and select Verify integrity of game files. Then Steam will replace the missing game files and corrupted files with new ones.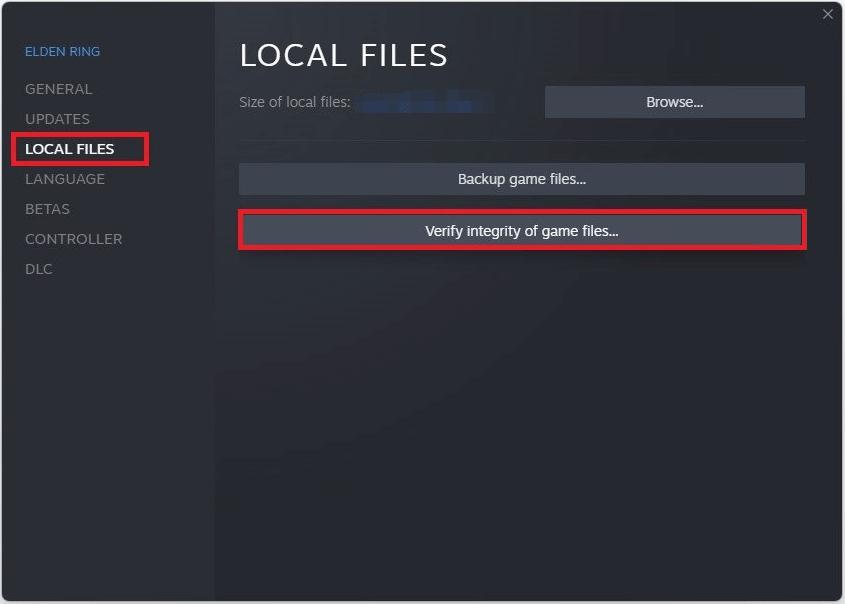 Solution 5: Update Elden Ring
Another possible Elden Ring network status check failed fix is to update Elden Ring. The developers will always release some updates to repair bugs and improve gaming performance. Therefore, we recommend you check for the game updates when you meet the issue.
Related reading: How to Update Games on Steam [Automatically/Manually]
Solution 6: Reinstall Elden Ring
Sometimes, the "Elden Ring network status check failed" issue may happen if there is something wrong with the game installation. On this occasion, you'd better uninstall and then install Elden Ring back to your computer. This way may help you get rid of the error.
How to fix Elden Ring network status check failed issue? All these solutions mentioned in this post are feasible. You can try them one by one until you solve the issue. If you have any other problems with the issue, you can leave a message in our comment part below.