Some users received an error message while launching games: Easy Anti Cheat not installed. What is Easy Anti Cheat? Why does this error happen? How to solve it? Don't worry. You can figure it out in this post provided by MiniTool Partition Wizard.
Are you bothered by the launch error "Easy Anti Cheat not installed"? Do you know what Easy Anti Cheat is? How to fix the error and makes your game run properly? Let's see these questions one by one.
Easy Anti Cheat is a service designed with anti-cheating methods and limitations. A lot of games are protected by this service, such as Apex Legends, For Honor, Fortnite, Dead by Daylight, the Division 2, etc.
Install Easy Anti Cheat Manually
Usually, the Easy Anti Cheat service is installed automatically with a game that requires the service. If you have uninstalled the Public Test Server (PTS) for the game and then launched the game, you might receive the error message "Easy Anti Cheat is not installed".
To solve the problem, you can try reinstalling the service manually.
It is easy to operate, and you just need to navigate to the installation folder of the game which you can't launch due to the "Easy Anti Cheat not installed" error, find the Easy Anti Cheat installer, and run it. For example, to fix Fortnite Easy Anti Cheat not installed, you should:
Step 1: Press Win + E to open File Explorer quickly.
Step 2: Navigate to the installation folder of Fortnite and find the Easy Anti Cheat installer. By default, it's in C:\Program Files\EpicGames\Fortnite\FortniteGame\Binaries\Win64\EasyAntiCheat.
Step 3: Right-click the EasyAntiCheat_Setup.exe file and select Run as administrator. Then click the Install Easy Anti Cheat button.
Wait until the process is finished and you can run Fortnite to check if Fortnite Easy Anti Cheat not installed error disappears.
Advanced Troubleshooting methods
In addition to installing the Easy Anti Cheat service, you might also need to perform some advanced operations to fix the error related to Easy Anti Cheat.
Check Your Antivirus Program
Antivirus programs can protect your computer from being attacked by viruses and malware. However, some antivirus programs might stop the Easy Anti Cheat service from running properly. When you get the error "Easy Anti Cheat not installed", you need also check whether it is caused by your antivirus program.
You can disable your antivirus program temporarily or add Easy Anti Cheat service to the white list to check for that. By the way, Easy Anti Cheat is working with some anti-virus companies to get the service whitelisted permanently, and you can use these antivirus programs. You can click here to get the list.
Update Your Graphics Card
You should also keep your graphics card up-to-date. And here is how to update it via Device Manager, a built-in utility in Windows.
Step 1: Right-click the Start button and select Device Manager.
Step 2: Double-click the Display adapters category to expand it. Then right-click your graphics card and select Update driver.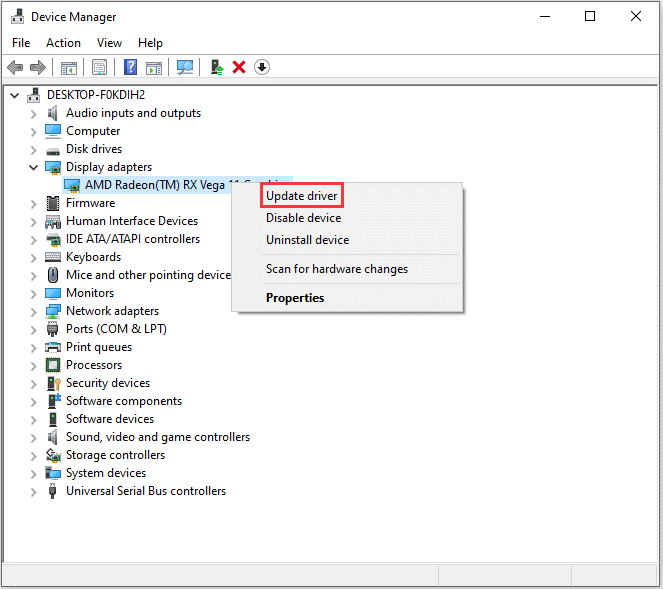 Step 3: In the pop-up window, select Search automatically for updated driver software and follow the on-screen instructions to finish the operation.
Alternatively, you can visit the official website of the manufacturer to download the latest driver or use a professional and reliable third-party driver updater tool to update your graphics card driver.
If you are playing an Epic game, you might also see another error message "Error: An application using Easy Anti-Cheat is already running!". In this case, you can try closing all the Epic services in the Task Manager and then launch your game. Easy Anti Cheat is an Epic product and might be already running in the background.