If you are going to perform aDS4Windows download process, this post is what you need. Here, MiniTool Partition Wizard tells you the prerequisites that your PC should meet before starting the DS4 Windows download process and links for 32 and 64 bit PCs.
What Is DS4Windows
DS4Windows is an open source application that helps you obtain the best experience while using supported gamepads on your computer. It comes with an automatic profilling system so that you can configure for each specific game or controller.
It's worth noting that DS4Windows allows you to create as many game profiles as you want. With DS4Windows, not only can you map the controller to any game, but also you can modify it as your keyboard + mouse.
It can be concluded that DS4Windows is a must-have program for PlayStation 4 and PC gamers who like using DualShock 4 when they play games on Windows devices. DS4 Windows supports PlayStation controllers ranging from DualShock 3/4 to PS5 DualSense and Nintendo Switch Pro, Joycons, and even fake DS4 replica's. DS4Windows is regarded as the best free gamepad input mapper or virtual emulator.
Further reading:
Supported gamepads are the real and physical controllers that can be used with DS4Windows. They include DS4 v.1, DS4 v.2, Sony Wireless Adapter, Razer Raiju, Hori PS4 Mini controller, PS4 Fun Controller, Razer Raiju Tournament Edition, Razer Raiju Ultimate, Steel Play Metaltech P4 gamepad (wired), Hori Fighting Commander, Nacon Revolution Unlimited Pro, Nacon Revolution Pro v3, Nacon Revolution Infinite, Astro C40, Specialist PS4 controllers, SnakeByte Game: Pad, Switch Pro, Switch JoyCon, DualSense, Gioteck VX4, and DS3.
What Does DS4Windows Do
DS4Windows can help you emulate and connect your controller to Windows. Additionally, it also enables you to remap and rebind keys/buttons to anything (like keyboard, mouse, joysticks, lightbar, rumble/vibration, and motion sensors) you want. Apart from that, DS4Windows has the following features.
Utilize X360-like input to use the DS4 in more games and have rumble.
Use the same app for mapping a DS4, DualSense, Switch Pro, and JoyCon.
Use the touchpad as a mouse or for more actions.
Use sixaxis movement for just as many actions.
Use profiles to quickly switch between configurations for your controllers.
Control the lightbar: turn it off, dynamically change by battery level, and more.
Map the buttons and sticks to other 360 controls or keyboard actions or macros.
Switch profiles automatically when a certain program is launched.
Hold an action to access a new whole set of controls.
Assign a deadzone to both analog sticks, the triggers, and the sixaxis.
Get a reading of how the sticks and sixaxis is working.
Get updates automatically.
What should you prepare before start the DS4Windows download process? The section below will show you the details and offer the link to get DS4Windows download.
How to Download DS4Windows
To get the DS4Windows download, you should ensure that your PC meets the requirements below.
Windows 10 or newer
Microsoft .NET 6 Runtimeor higher for desktop apps (needed to unzip the driver)
Visual C++ 2015-2019 Redistribute. x64 or x86
ViGEmBus driver (DS4Windows will install it for you)
Microsoft 360 Driver (link inside DS4Windows)
Sony DualShock 4or other supported controllers
With PlayStation Configuration Supportand Xbox Configuration Support options in Steam disabled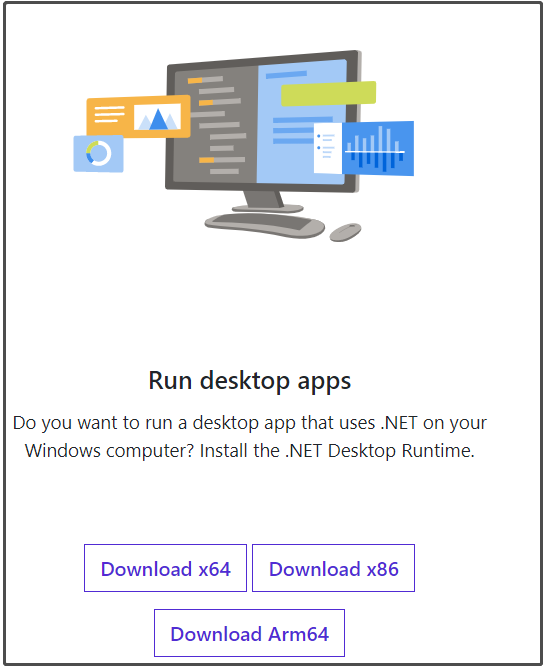 After ensuring that your PC meets the above requirements, start the DS4 Windows download process by clicking the links below.
Once you get the DS4 Windows download, you can install it using the steps below.
Step 1: Extract the DS4 Windows download package on your computer.
Step 2: Find and double-click the DS4Windows.exe file to run DS4Windows.
Step 3: If you launch DS4Windows for the first time, you will be asked where to save its user data (settings and profiles) as shown in the picture below. If you choose AppData, the user data will be stored inside a special folder reserved to your Windows users. When you select Program Folder, user data is stored inside the folder in which DS4Windows.exe is located.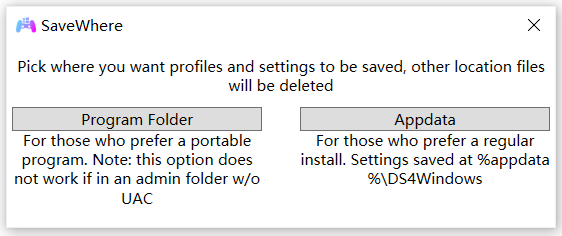 Step 4: Then you will be asked to install some drivers. ViGEmBus is required, while HidHide and FakerInput are optional. After installing drivers, click Finish to end the process.
Tips:
ViGEmBus allows DS4Windows to create virtual Xbox/DS4 controllers. With HidHide installed, you won't encounter double controller input issue as your real controller can be hidden by the driver.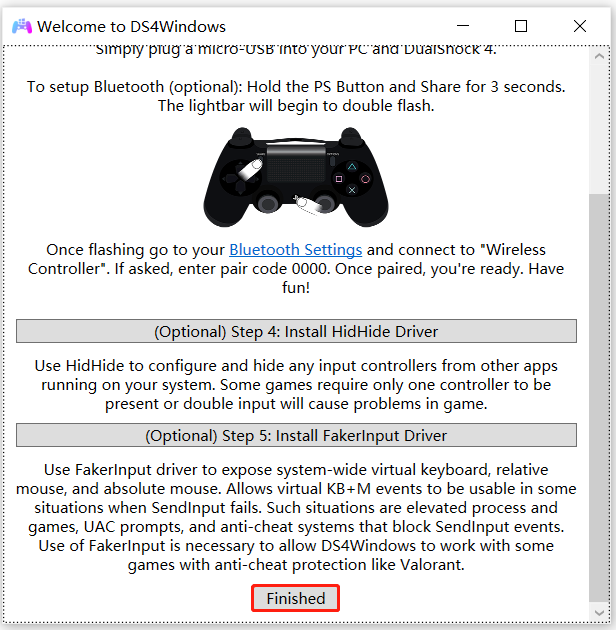 Step 5: If everything is OK, your controller will appear under the Controllers tab.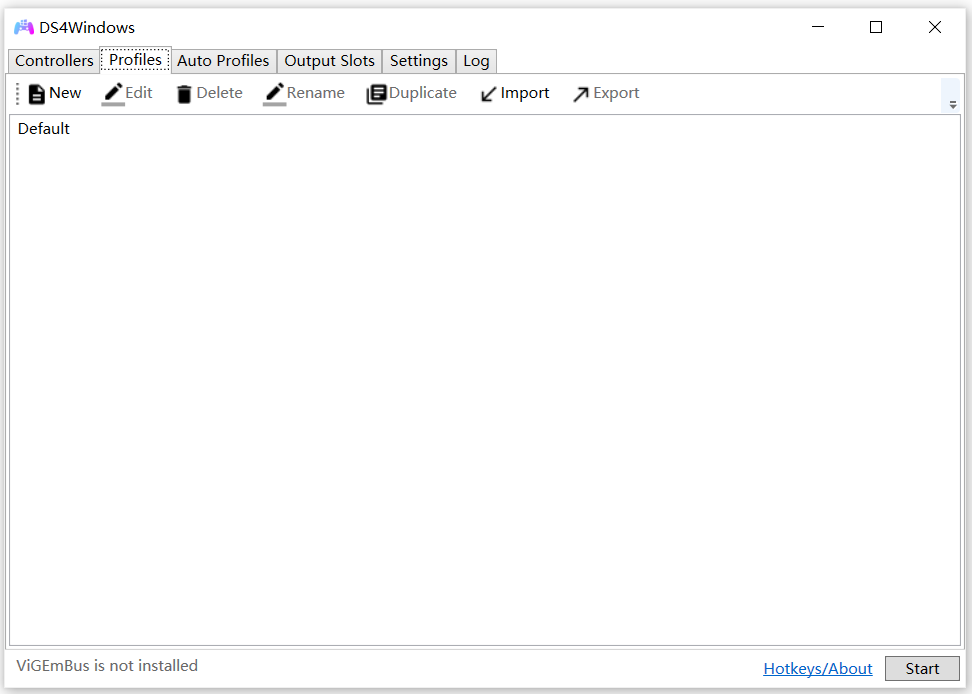 After getting the DS4Windows download by referring to the steps above, you can enjoy games better on your computer. To reach the purpose, you can also visit the  MiniTool website where tips to optimize Windows 10 for gaming, SSD or HDD for gaming, and other tutorials to help you get good game experience on PC are provided.
As for managing hard drive for better gameplay, MiniTool Partition Wizard offers you ultimate solutions. For instance, it enables you to extend/move/resize partition to increase disk space for the game to be installed.