Have you gotten stuck in "diskette drive 0 seek failure" when trying to boot your computer? What brings about this error? What does "diskette drive" in the error mean? How to fix this error? Read the post now in which MiniTool answers all the above questions.
Diskette Drive 0 Seek Failure
Computer users receive diskette drive 0 seek failure error when they try to boot their computers and some of them cannot figure out the meaning of this error. Here I would like to make a brief explanation.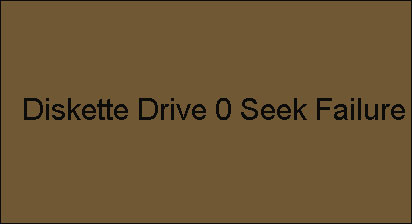 Firstly, what is diskette drive? Diskette drive, also known as floppy disk drive, is commonly the A: or B: drive on IBM compatible computers. The drive allows users to read and write information to floppy disk drivers but it has long been obsolete and very few manufacturers still include it in their products.
So, when you suddenly receive disk drive 0 seek failure during the botting process, it means that your computer attempts to find a diskette drive on your computer but fails to find or access on.
However, not all computer is equipped with the floppy disk drive, and therefore we need to discuss diskette drive 0 seek failure from two cases:
If your computer does have a floppy disk drive, the culprit behind the error could be dust build-up or a loose connection. If you do not know how to clean up the drive, please ask help for some professionals.
If your computer does not have a floppy disk drive, the error indicates that the drive has been set among the boot order devices. Recall whether you have changed the BIOS settings recently. If not, take the following situations into consideration.
You have changed the hardware in your computer, like adding RAM, removing CMOS battery (keeping your BIOS settings alive or unchanged), etc.
Your CMOS battery might have died. Once that happens, your BIOS loses power and is reverted to factory settings which include an enabled diskette drive.
Based on the second case (your computer does not have a floppy disk drive) for diskette drive 0 seek failure, I have two workarounds to help you get rid of the issue. Let's see what they are.
Fix 1: Disable Diskette Drive in BIOS Settings
This fix will stop your computer from trying to boot from the floppy drive. The guideline is below.
Step 1: Power off your computer and then power on it and press F2 or F10 to enter BIOS.
Step 2: On the BIOS window, scroll down until you see Standard CMOS Features and then select it and hit the Enter key.
Step 3: On the new window, find and select Drive A and then hit the Enter key.
Note: For laptops, the floppy disk drive may be marked as Legacy Diskette A: in the Main tab; for some computers, it might be marked as Floppy Drive A: or Legacy Diskette A:.
Step 4: Select None and hit Enter. After that, hit F10 > Y (yes) > Enter to save and execute the changes.
Your computer will be restarted automatically and "diskette drive 0 seek failure" should be fixed.
Note: This way is also for the computer with floppy disk drive if the owner of the device does not need the drive anymore.
Fix 2: Replace the CMOS Battery
If the died CMOS battery leads to diskette drive 0 seek failure, you need to replace it immediately.
Step 1: Prepare a new CMOS battery.
Step 2: Open your computer to expose the motherboard.
Step 3: Replace the old battery with a new one and the follow then steps mentioned in Fix 1 to disable the floppy disk drive.
Now, you can try to restart your computer and the error should disappear.