Sometimes you may need to run the DirectX 9 due to some reasons. In this post, MiniTool provides a detailed guides for DirectX 9 download on Windows 11/10/8/7 PCs. It also introduces the definition and system requirements of the DirectX 9.0C download.
Usually, DirectX is preinstalled on Windows PCs by default. You can also download and install it manually. However, Microsoft has released different versions of DirectX such as DirectX 12 ultimate and DirectX 11/10/9. Sometimes, you may need to use the previous DirectX version when running certain apps or programs.
As you might know, Windows 11/10/8 comes with DirectX 12/11 by default, which do not include DirectX 9 or previous versions. If you want to download DirectX 9 for them, you can refer to the following guide.
What Is DirectX 9
The DirectX 9, also known as Microsoft DirectX End-User Runtime Web Installer, was released in 2002 for Windows 98, Windows XP and now is supported by all subsequent Windows versions. It is a part of core Windows technology that can drive multimedia and games on Windows. It comes with security and performance updates that can be used by apps using the DirectX APIs.
Although DirecX 9.0 C is a relatively old version, some apps and programs still require it to function properly. Without the DirectX 9 version installed on PC, you may enter some errors like "The program can't start because d3dx9_35.dll is missing from your computer". In this case, you can manually download DirectX 9 for your PC.
Where to get the DirectX 9.0 free download package? How to install it for Windows 11/10/8/7? Let's keep reading.
Can You Still Download DirectX 9
IS DirectX 9.0 C version still used? Of course, the answer is "Yes". DirectX 9 is now available for almost all Windows version. Before you start the DirectX 9.0C download, we recommend you check if your PC meets the minimum system requirements. If you don't know how to check the system specs, read this guide.
Operating System: Windows 98/ME/XP/Server 2003, Windows 11/10/8/7
Processor: Pentium 233 MHz
RAM: At least 64MB
Hard disk space: at least 1.5GB
Other: CD-ROM drive
How to Download & Install DirectX 9 for Windows 11/10/8/7
Now, let's see how to get the DirectX 9.0 downloaded and installed on Windows 11/10/8/7 PCs.
Tips:
There are many different websites that can download DirectX 9.0, but we recommend you download it from the answers.microsoft.com website. It provides the Microsoft DirectX End-User Runtime package that includes the DirectX 9 installer. Of course, you can directly download DirectX 9 package from a trusted third-party source.
Step 1.Click here to open the DirectX 9 download page, select a different language from the drop-down menu if you need and click on Download. This downloading process may take you a while to complete, so please wait it patiently.

Step 2. Once downloaded, extract the zipped package, double click the DirectX.sdk file to run it.
Step 3. In the License terms window, click on Yes to continue and tick the I accept the agreement option and click on Next.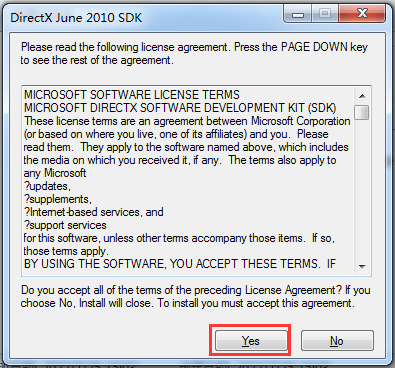 Step 4. In the DirectX Setup window, click on Next to start installing the DirectX 9.0C app.
Step 5. Wait for the DirectX installation process to complete and click on Finish.