DirecTV Now is an American satellite service provider, which has thousands of users. It is usually considered as the go-to service for using satellite broadcasting.
However, some users experienced various issues including the video not playing or the screen stuck with full buffering when they use DirecTV Now in Chrome.
Here are some reasons for DirecTV Now not working on Chrome.
Multiple opened tabs
Incorrect Time
Corrupt data in cache
Something wrong with your extensions and ad-blockers
In the following contents, you will know why your DirecTV Now doesn't work and how to fix it.
Solution 1: Close Multiple Opened Tabs
There are some cases where DirecTV Now didn't stream properly when the website was open in more than one tab. That's because the backed server of the video platform can only keep track of one running instance at any certain time.
If you are facing the same situation, you need to close any extra tabs that you are using and try using the DirecTV Now service again.
Solution 2: Correct Time in Your Computer
DirecTV Now notes down the time in your local computer and uses it at the backed servers. If the time is incorrect, the program DirecTV Now may conflict with its mechanics which leads to DirecTV Now not working.
Follow the steps below to correct time in your computer.
Step 1: Press Win + I to open Settings. Then select Time & Language.
Step 2: Choose Date & time in the left panel. Check if your date and time are set correctly.
If they arecorrect, just ignore the following steps and try the next solution.
If not, turn off Set time automaticallyand Set time zone automatically.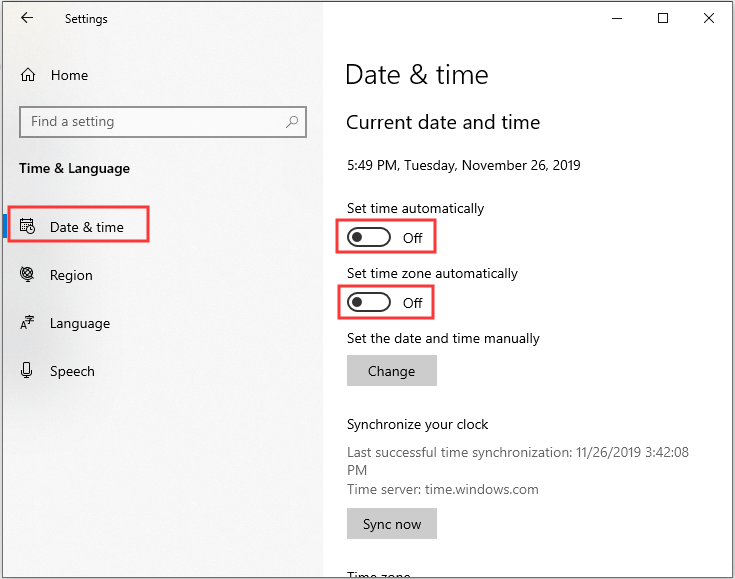 Step 3: Select Change under the option Set the date and time manually. Then in the pop-up window, set the time and select the appropriate time zone.
Step 4: Click Change to save the changes you have made.
Then you can restart your Chrome and check if DirecTV Now not working has been fixed.
Solution 3: Clear Cache and Temporary Data
The website makes use of Google Chrome's cache where they store temporary data. If the data in cache get corrupted, DirecTV Now not working on Chrome will happen sometimes. You can clear cache to remove the issue.
Step 1: Input chrome://settings in the address bar of Google Chrome and press Enter to open Settings.
Step 2: Scroll down to the bottom of Settings and click Advanced.
Step 3: Under Privacy and Security section, click Clear browsing data.
Step 4: Choose All time in Time range. Then check all the options and click Clear data.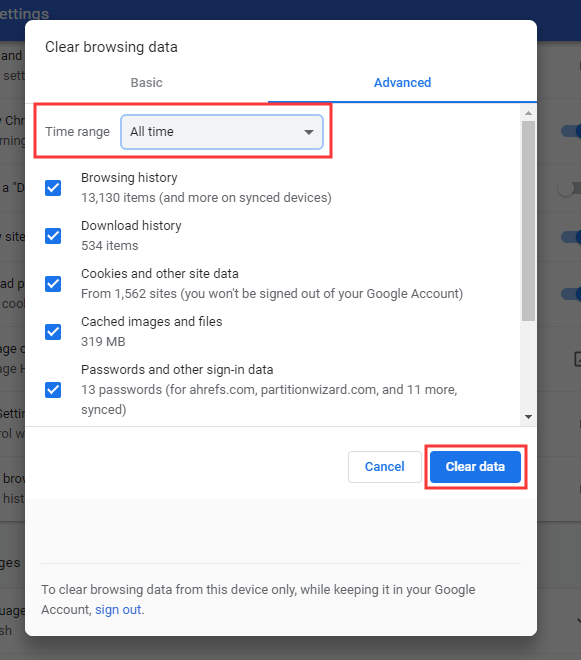 Solution 4: Disable All Extensions
A huge number of users are using extensions like Ad-blockers to improve the experience when they open DirecTV Now. However, there are several cases where the extensions conflict with each other and block videos from being displayed on the screen.
If you are facing DirecTV Now not working on Chrome, you can try disabling all the extensions and see if this solution solves the problem.
To disable extensions in Chrome, you need to type chrome://extensions in the address bar and hit Enter. Then toggle off all the extensions.
Once it's done, restart your browser and check whether DirecTV Now not working on Chrome has been solved.