If you are using a Dell laptop, you may see the Dell Digital Delivery service. What is Dell Digital Delivery? Where and how to get it? Now, let's explore the answers together with MiniTool.
Dell Digital Delivery Overview
Before you download the Dell Digital Delivery service, let's figure out the following several questions.
What Is Dell Digital Delivery
What is Dell Digital Delivery services? It provides you with an easy way to buy software when you purchase a laptop. With this service, you can download and install available software titles automatically once you connect to the Internet. That is to say, you can enjoy the customized software Dell stands for, and get right back to work without the wait.
Main Benefits of Dell Digital Delivery Services
The Dell Digital Delivery service has many simplified and efficient features. Here we summarize the main benefits of this service as follows:
Automatic installation: With the Dell Digital Delivery downloaded, you don't have to manage your login credentials, wait for emails, find license information, visit websites, or use DVDs. This service can automatically do these works once your laptop is connected to the internet.
Track capability: Dell Digital Delivery keeps track of your purchases and automates the process whether you reinstall an application or do a full system restoration. So, you don't have to use the CD/DVD if you need to reinstall this software someday.
Encrypted and private: This software works by linking the information of your computer's hardware to the Dell software license database over a private and encrypted channel. So, your personal information will never be public or shared with third parties.
Environmentally friendly: Since an online restore capability comes with your purchase, you don't have to use the CD/DVD media or printed documentation for software purchased.
How Does Dell Digital Delivery Work
As mentioned above, this software is automatically downloaded and installed from the Internet when you purchase a laptop. So, an internet connection is required for the service to download your software. Here's how does Dell Digital Delivery work.
When your laptop is powered on for the first time, you will be guided through the regular computer setup like connecting to the internet. Here you can choose "select software" titles with your new computer order on Dell.com.
Once connected to the internet, the Dell Digital Delivery app will run and the software you purchased will be downloaded and installed by dell automatically.
Also, you can choose "Download Now", "Remind Me Later", or "Do Not Download" when the Dell service is launched. Here you can select one according to your preferences.
Minimum System Requirements
To get the Dell Digital Delivery downloaded and installed smoothly, you need to meet the minimum system requirements below:
Operating System: Windows 10/8.1/7
Processor: 1GHz processor or faster
RAM: at least 512MB
Hard disk: at least 512MB
Resolution: 800x600
Screen colors: 256 colors
An active Internet connection
How to Download and Install Dell Digital Delivery
The Dell Digital Delivery software is pre-installed on most Dell systems. However, sometimes you may need to reinstall the application if you reinstall Windows 10. Make sure your laptop is connected to an active internet connection and follow the guide below to install the software.
Note: The software that is purchased independently of a Dell platform is available through Dell Digital Locker, not through Dell Digital Delivery.
Step 1. Click here to open the Dell support website, and then enter your Service Tag in the box and click on Search. If you don't know how to find the Dell service tap on your laptop, this post can help you.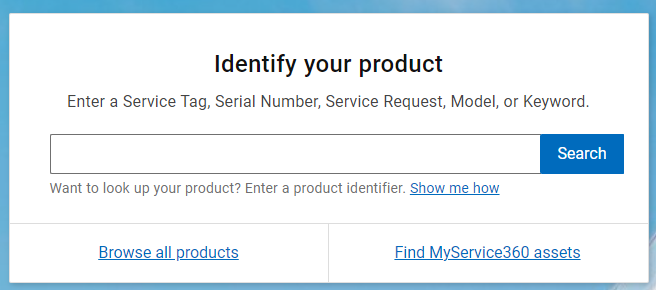 Step 2. Go to the Drivers & Downloads tab, and expand the Find drivers category

Step 3. Type Dell Digital Delivery in the search box and press Enter and click on Download.
Step 4. Find the location of the downloaded package, double click the executable file to run it, and click on Yes when a User Account Control prompt appears.
Step 5. Click on Install in the Dell Update Package window. Then wait for the installation to complete.
Well, if you want to uninstall this application later, you can right-click the Start menu and select Apps and Features, select Dell Digital Delivery from the list of programs and click on Uninstall.