Do you want to maximize the battery life of your Dell laptop? Dell Power Manager is what you need. If you don't know how to download & install the Dell Power Manager service, get the answer from the post of MiniTool.
Dell Power Manager Overview
Before you download Dell Power Manager, it's important to figure out some questions related to the software.
What Is Dell Power Manager
What does Dell Power Manager do? It is a great battery optimization tool that allows users to maximize their system's battery life by configuring the battery settings according to their preferences. Dell Power Manager provides users with many simplified and efficient power management features for Dell laptops.
Here we summarize the main benefits of Dell Command Power Manager as follows:
Check battery health information: It is the major benefit of the Dell power management tool. Depending on your system capabilities, it can show up the health information of the battery to six. In addition, you can edit battery settings or create customed battery settings.
Set advanced charge mode: You can control the battery charging mode to prolong its life effectively.
Reduce power consumption: The Dell battery manager can reduce power consumption via the Peak Shift feature. It can automatically switch the system to battery power during certain times of the day, and even when the system is plugged into a direct power source.
Control thermal: Dell Command Power Manager can control your processor and cool fan settings to optimize performance, and reduce surface temperature and fan noise.
Conserve battery charge: It Battery Extender feature can save the power energy by impacting the CPU power level, adjusting screen brightness and keyboard backlight level, and muting the audio.
What Laptops Does Dell Power Manager Support
A lot of people are confused about whether the Dell Power Manager service can support laptops other than Dell. Unfortunately, the answer is "negative". The Dell power management utility was designed to only support Dell Inspiron laptops, Vostro laptops, and XPS laptops exclusively running on Windows 10.
In addition, Dell Command Power Manager also supports alter notifications related to battery, power adapter, USB Type-C devices, and protocol incompatibility depending on your hardware configurations.
Dell Power Manager System Requirements
Before you download Dell Power Manager, make sure that your laptop meets the minimum system requirements.
Operating System: Windows 10 version 14393.0 or higher (x64)
Framework: Microsoft .NET Framework 4.6.1 to be installed on your system
Laptops: Dell Inspiron, XPS, Vostro, Latitude, Precision Mobile, and Tablets
Dell Power Manager Download & Install & Use Guide
The Dell battery manager tool has been removed from the My Dell app since the 2021 May update. That is to say, you can't get the Dell Power Manager download package from the My Dell app. Now, you need to download it from Microsoft Windows Store, and then download a driver package from the Dell Support website to complete the setup.
If you don't know how to download Dell Power Manager, follow the step-by-step guide below:
Step 1. Type store in the Windows Search box, and then select Microsoft Store from the top result and sign in to your Microsoft account.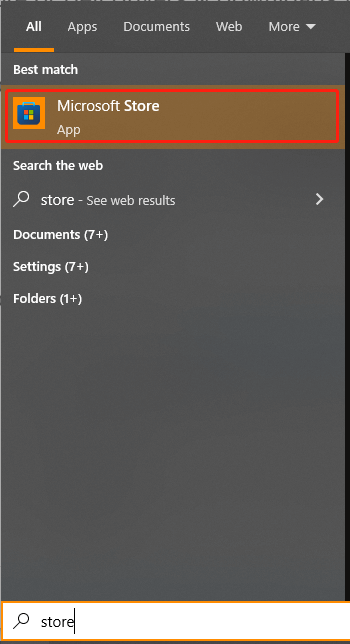 Step 2. In the Microsoft Store window, type Dell power in the Search field and select the Dell Power Manager app from the listed result.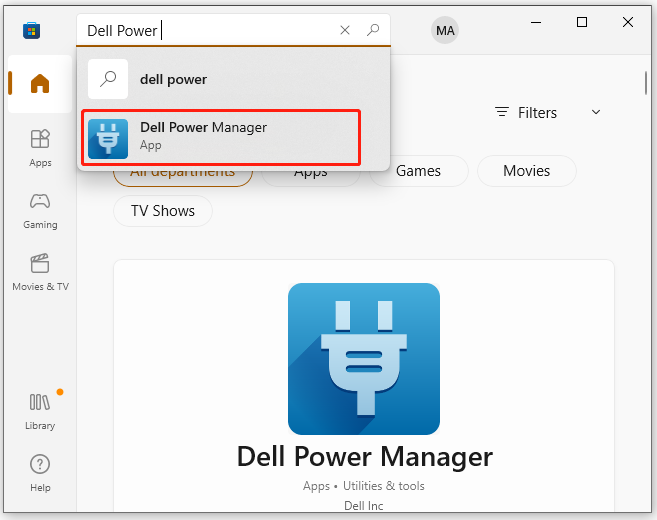 Step 3. Click on Install on the Dell Power Manager page. Wait for the installation to complete and click on Launch.
Step 4. You need to download a driver for the Dell power management software, or you won't be able to use everything. Click here to open the Dell support website, scroll down and click on Download, and select a location to save the package.
Step 5. Double click the installer file to run it and follow the on-screen instructions to complete the installation.
Of course, if you want to uninstall the Dell battery manager later, right-click the Start menu and select Apps and Features, select Dell Power Manager from the list of programs and click on Uninstall.