What is csc.exe? Is it safe? How to fix csc.exe errors in Windows? If you have these questions, please do not miss this post. This article from MiniTool Partition Wizard introduces csc exe and offers 3 ways to fix csc.exe errors in Windows 10.
What Is Csc.exe & Is It Safe?
A genuine csc.exe file is a software component of the Microsoft .NET Framework from Microsoft Corporation. The csc.exe executable is located in either of the following folders:
C:WindowsMicrosoft.NETFramework\csc.exe
C:Program FilesCOMODOCOMODO System-CleanerCSC.exe
Csc.exe is a legitimate Windows file, however, some malware masquerades as csc.exe and can wreak havoc in your computer without being detected by your antivirus software.
One way to determine if the csc.exe process is malware is to look at the file location. If the csc.exe executable is not in one of the two legitimate locations above, then it is likely malware.
In addition to this file possibly being a virus, it may cause errors.
What Causes a Csc.exe Error?
There are various causes for csc exe errors, it may be;
Incorrect installation changes on the Visual C# Command Line Compiler or Microsoft Visual Studio .NET due to an update or system reconfiguration.
Incorrect changes in system files can cause csc.exe errors.
Incorrect user changes to system settings may cause csc.exe errors.
Accidental changes to the Csc.exe file can cause csc.exe errors.
Corruption of the Visual C# Command Line Compiler or its support files.
Well, based on these reasons, there are 3 ways on how to fix csc exe errors. Please keep reading.
How to Fix Csc.exe Errors in Windows 10?
Way 1. Check If Csc.exe
To make sure the CSC.exe file is working, open Task Manager and check where the CSC.exe process is executing. The steps are as follows:
Step 1: Open the Task Manager window by pressing the Ctrl + Alt + Delete keys.
Step 2: Click on the Task Manager option to launch the program.
Step 3: In the Processes tab, find csc.exe and right-click it, and then select the Properties option.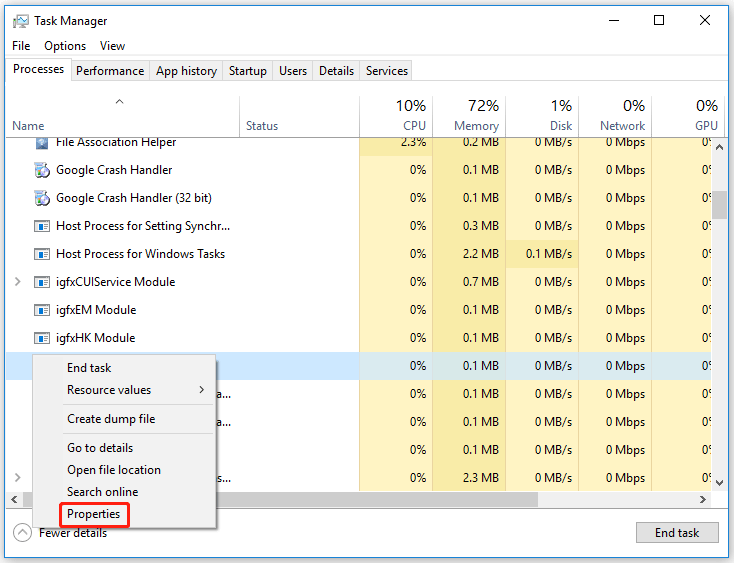 Step 4: If this file exists in the c:windows or c:windowssystem32 path location, then it must be a bad program. The file size is usually 48 kilobytes.
Way 2. Perform Windows Update
To fix the csc exe error, you can perform Windows Update to solve it. Here is the guide:
 Step 1: Type Update into the search dialog box. And when the Check for updates result appears, click it.
Step 2: Go to the right menu and click on Download and install.
Step 3: Restart your computer after the update is done installing.
Way 3. Replace csc.exe
In many cases, replacing a corrupt or missing csc.exe file on your system can help you fix your csc exe error.
To do this, you need to download and install the .NET Framework SDK from the Microsoft website. The SDK installs a C# compiler in the form of a file named csc.exe.
and replace the old csc.exe file with its new one in the default folder.
Now follow the steps to re-register the csc.exe file.
Step 1: Press the Win + R key to open the Run dialog box. Then type cmd in the box press Enter.
Step 2: Type regsvr32csc.exe in the Command Prompt window and then press Enter.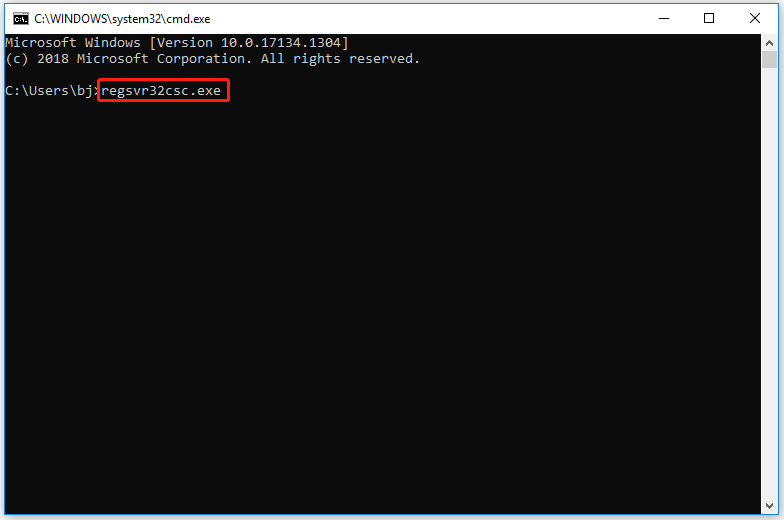 Step 3: Complete the process by rebooting the system.
Bottom Line
There are 3 ways to fix the csc exe errors in Windows 10 in this article. Try them one by one until the error gets solved. Or, if you have other solutions, you can share them in the following comment zone.