Do you use Cricut Design Space on Windows PC? Have you ever encountered Cricut Design Space not working issue? In this post, MiniTool Partition Wizard offers 4 ways to troubleshoot this problem.
Cricut Design Space Not Working
Design Space is a companion app that works with Cricut Maker and Cricut Explore family smart cutting machines. Compatible with desktop, mobile PC tablets and phones, this web-based program allows you to browse thousands of images, ready-to-make projects, and fonts in the Cricut Library, or design your own project from scratch.
But if you want to cut Knife Blade projects, you must use Design Space software on a desktop or laptop.
Cricut Design Space includes the following features:
Choose from over 60,000 images, fonts, and ready-to-make projects—or use your own images and fonts for FREE
Upload and edit most image types (.jpg, .gif., .png, .bmp, .svg, and .dxf)
Sign in with your Cricut ID to access your images and projects and for easy checkout when making purchases on cricut.com or in Design Space
Bluetooth® wireless capability (wireless Bluetooth adapter may be required, sold separately)
App syncs across all your devices, so you can design whenever inspired
This software is very useful, but as with other software, it will also encounter some running problems. Some people report that they meet Cricut Design Space not working issue. If you are using the Windows desktop version, you can try the following methods to solve the problem.
Fix 1. Check Whether Your PC Meets the Minimum Requirements
For Windows OS, the minimum requirements are as follows:
OS: Windows 8 or later
CPU: Intel Dual-Core or equivalent AMD processor
RAM: 4GB
Storage: 2 GB free disk space
Display: Minimum 1024px x 768px screen resolution
An available USB port or Bluetooth connection
Broadband connection: Minimum 2 – 3 Mbps for download and minimum 1 – 2 Mbps for upload
How to Check PC Full Specs Windows 10 in 5 Ways
Fix 2. Check Internet Connection
Although Cricut Design Space offers offline mode, but if you want to design your project better, you need to connection networking. In this case, a good internet connection is required. If your Cricut Design Space is lagging or freezing, you should check the internet.
11 Tips to Troubleshoot Internet Connection Problems Win 10
Fix 3. Close the Program and Clear the Browser Cache
Design Space is web-based program. Therefore, some measures that troubleshoot browser can also solve the Cricut Design Space not working issue. Please follow the steps below:
Click on the Cricut Design Space icon in your system tray and select Exit.
Right-click on your Taskbar and select Task Manager.
In the Task Manager window, in the Processes tab, scan the list for any Cricut Taskbar Application process.
Right-click on these processes and choose End task.
Launch Google Chrome.
Then, press Ctrl + H to open up the History.
Click on Clear Browsing Data from the left pane.
Under the Basic tab, check all the three items and then choose Time range.
Click on Clear data.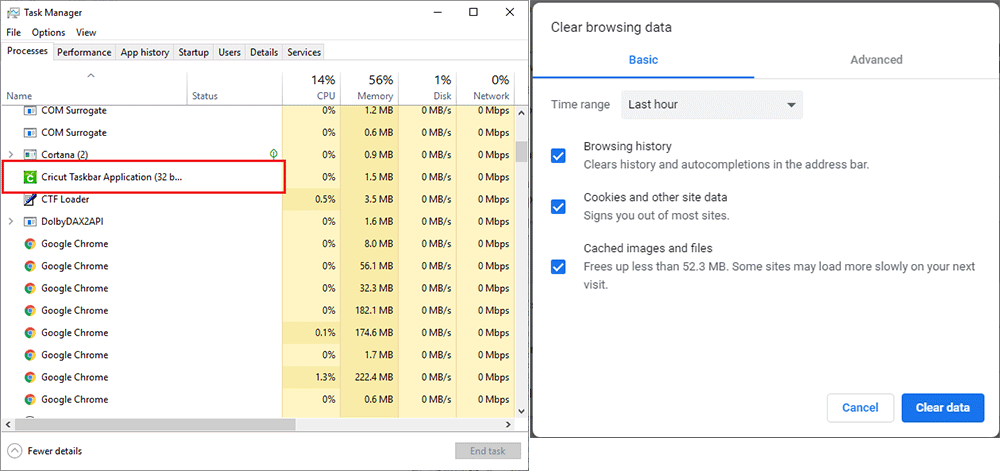 Fix 4. Clear DNS Cache
DNS (Domain Name System,) is a distributed database on the Internet that maps domain names and IP addresses to each other, enabling users to access the Internet more conveniently without having to remember the IP number string that can be directly read by the machine.
Clearing the DNS cache can not only solve the website not opening, but also can improve the domain name resolution speed effectively. Here is the guide:
Right-click on the Start menu and choose Command Prompt (Admin)from the menu.
Type in the command ipconfig /flushdnsin the Command prompt window.
Wait for the process to be completed and then exit the window.