Do you want to get ChatGPT Writer for Google Chrome? Now, you come to the right place. This post of MiniTool will explain the definition and provide a full ChatGPT Writer download/install/login guide.
ChatGPT is an advanced AI chatbot that was initially released by OpenAI on November 30. Since its release, this app has gotten hundreds of millions of downloads around the world. Various topics related to the app are heatedly discussed on Google, such as ChatGPT with Gmail, ChatGPT for Bing, ChatGPT can't log in, and the one discussed here.
Recently, a great many people are discussing how to enable ChatGPT Writer for Google Chrome. The following part illustrates a complete ChatGPT Writer download/install/login guide on Google. Let's keep reading.
What Is ChatGPT Writer
What is ChatGPT Writer? It is a free Chrome extension that can be used to create and write entire emails and messages using ChatGPT AI. This is to say, you can integrate ChatGPT with a Gmail account on Google and use it to write emails. More importantly, all sites are supported and improved support for Gmail.
In addition, ChatGPT almost wins all other AI tools in the market due to its highest-quality responses. It is compatible with all Chromium-based browsers such as Chrome, Brave, and Edge. It is 100% free of charge and supports a wide quantity of languages.
ChatGPT Writer Download/Install for Google
Now, I believe that you already have an overall understanding of the ChatGPT Writer extension. Let's see how to install ChatGPT Writer on Chrome.
Step 1. Open your Google Chrome, and then type https://chatgptwriter.ai/ in the URL search box and hit Enter.
Step 2. On the official ChatGPT Writer free download page, click on Download Free Extension. Then you will be redirected to the Chrome web store.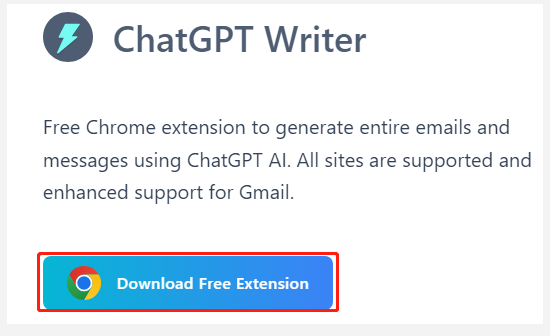 Step 3. Click on Add to Chrome and then on Add extension in the pop-up ChatGPT Writer install window.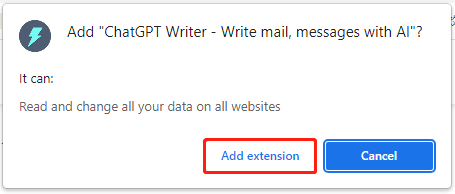 Step 4. If you want to uninstall ChatGPT Writer from Chrome someday, you can open the browser, click on the Three-dot icon and select Settings > Extensions. Then click on Remove under the ChatGPT Writer extension and confirm the option. Or, you can toggle off the switch to disable the Writer.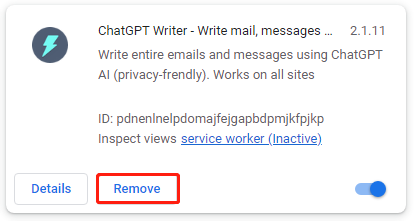 ChatGPT Writer Sign up/Log in
To use ChatGPT Writer on Chrome, you need a Google/Gmail account first and log in to it. How to log in to ChatGPT Writer on Google Chrome? If you are unclear about this operation, you can refer to the quick guide below:
Step 1. Open the ChatGPT Writer on Chrome and click on Sign in from the upper right corner.

Step 2. Enter your Email or Phone and click on Next to continue.
Step 3. Enter your password and click the Continue button. Once logged on, you can use ChatGPT Writer on Chrome such as writing emails.
Further reading: Are you troubled by file system corruption or low disk space on Windows? don't worry. MiniTool Partition Wizard can help you fix them easily by checking file system errors, extending/resizing partitions, analyzing disk space, upgrading to a larger hard disk, etc.
MiniTool Partition Wizard FreeClick to Download100%Clean & Safe