Summary :
Avast is popular antivirus program. But some people still want to get rid of it for some reasons. However, they find that they can't uninstall Avast. In this post, MiniTool Partition Wizard offers 4 ways to solve this problem.
Quick Navigation :
Can't Uninstall Avast
Avast (Anti-Virus-Advanced-Set) is the antivirus software first released in 1988 by AVAST Software a.s. (formerly known as ALWIL Software a.s.) located in Prague, Czech Republic. As of December 10, 2009, 100 million users have registered to use it; as of September 2010, the number of registered users worldwide exceeded 130 million.
Although this software is very popular, some people still don't want to use it. Some people may think the Avast free version can't meet their demands and they want to uninstall it. Some people may just install this software mistakenly and they want to uninstall it.
However, when they want to uninstall Avast on their PC, they find they can't uninstall Avast. After searching various forums, I find that the "can't uninstall Avast" issue occurs in the following situations:
1. Avast Antivirus doesn't show in the list of apps on the PC.
In my PC, I installed Avast anivirus before many days. Now I want to uninstall it from my PC. When I see it to uninstall from control panel but there is no icon of Avast antivirus though there is an icon in my toolbar...

--- answers.microsoft.com
2. Uninstalling Avast Antivirus requires administrator rights while the user has already gotten the admin right.
I'm having trouble removing Avast free antivirus from my laptop...I have tried to remove it with Administrator and it won't go away it says I don't have the correct authority to remove it from my laptop yet it is my computer and it's under my name. Can someone please help me out?

--- answers.microsoft.com
3. Avast deepscreen stops users to uninstall Avast.
I'm trying to uninstall Avast antivirus from past 6 hours and avast deepscreen keep stopping me to do this task. Is there anyone who can help me on this issue?

--- www.dell.com
4. Other errors like "there is an error" stop the Avast uninstall process.
Windows Defender VS Avast: Which One Is Better for You
How to Uninstall Avast
How to get rid of Avast radically? You can adopt the following measures.
Method 1. Uninstall Avast in Control Panel
This method is the most common one. You can try it and see whether it works. Here is the guide:
In Windows search box, type "control panel".
From the result list, click Control Panel app to open it.
Click Uninstall a program under Programs
Find Avast program, right-click it and click Uninstall.
Method 2. Uninstall Avast with Its Uninstaller
In most cases, software will come with its uninstall.exe attached. If you can't uninstall this software in Control Panel, you can try opening this software installation location to find this uninstaller program and then run it. Or you can try deleting its installation folder directly.
If you can't find the Avast installer program or you can't delete its installation folder, you can download avastclear.exe from Avast official site, start Windows in Safe Mode, open (execute) the uninstall utility, browse for the folder where Avast is installed, click Remove, and then the content of the folder you choose will be deleted.
Then, restart your computer to see whether the problem is solved.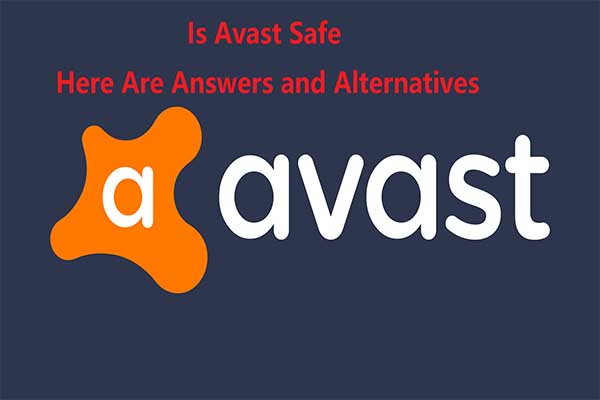 Have you encountered any issues with Avast? Recently, the topic – "is Avast safe" is heatedly discussed. What's the answer and alternative?
Method 3. Change Folder Owner
If you already have the administrator rights but you can't delete Avast folder still, you can try this method. According to some users' saying, this method can delete any folder that requiring administrator rights.
Right-click the folder and choose Properties.
Skip to Security tab and choose Advanced
In the Advanced Security Settings window, you can see the folder's owner. Beside the owner, there is the Change Click it to change the folder's owner.
In the new window, in the third box, enter your user name and click Check Names. Or you can click Advanced button and choose your user name. Then, click OK
Check "Replace all child object permission entries with...". Then, click OK
Then, you can delete this folder without requiring administrator rights.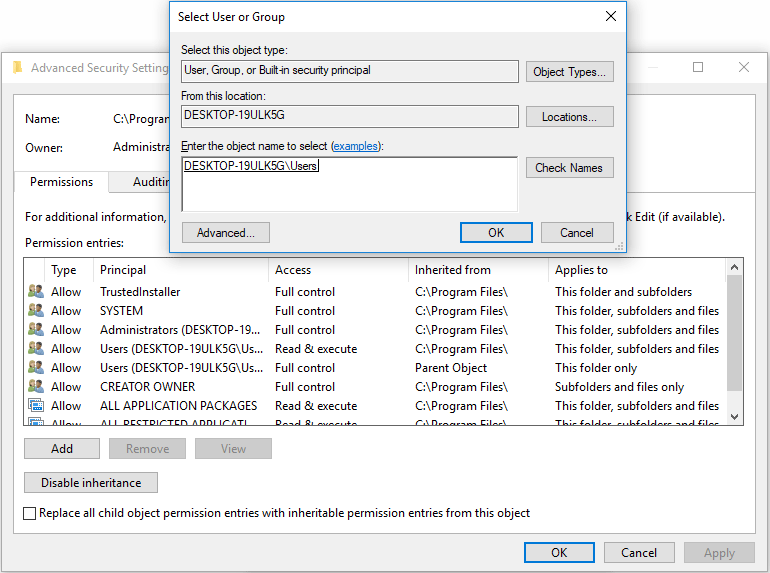 Method 4. Disable Deepscreen Option in Avast
If the Avast deepscreen stops you uninstalling this software, you can disable the deepscreen option in Avast in advance. Here is the guide:
Open Avast antivirus.
Click Menuin the main user interface of Avast Antivirus and then select Settings.
In the Settings window, navigate to General tab and you should uncheck Enable DeepScreen
However, for the newest Avast version, you may be unable to find this option. In this case, you can try disabling the Self-Defense option in General - Troubleshooting tab.
If all the above methods don't work for you, you can try using reliable third-party software to uninstall Avast.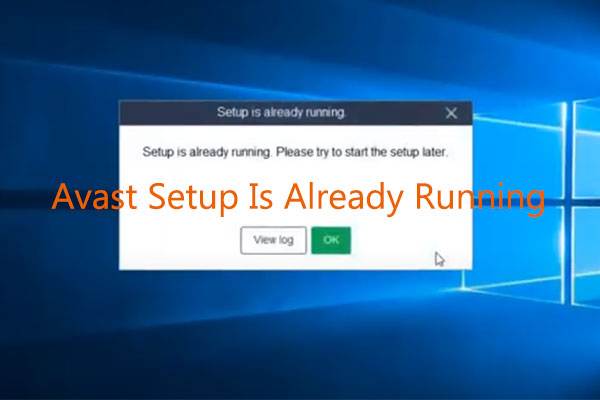 This post offers 5 solutions to "Avast setup is already running" error. You can follow them to solve the problem.