Blizzard Battle.net is one of the most popular game platforms. Recently, some players got an error "can't connect to Battle.net" on this platform. To solve the problem, MiniTool Partition Wizard puts together some solutions in this post.
Blizzard Battle.net is an Internet-based online game platform developed by Blizzard Entertainment. It also includes the social networking service, digital distribution, and digital rights management.
In the Battle.net app, users can buy, download, and play various games released by Blizzard, such as Hearthstone, Heroes of the Storm, Overwatch, etc.
Unfortunately, some users received the following error message while trying to connect to the Battle.net store or play games on the Blizzard launcher:
Can't Connect to Battle.net. Battle.net may be temporarily unavailable or your internet connection may be down. Please check your connection and try again.
Let's see an example.
Can't connect to Battle.net. I'm unable to connect to Battle.net or WoW right now. My internet is working fine but even if I use the wow.exe launcher it just gets stuck on connecting.https://eu.forums.blizzard.com
In addition to WoW, the mentioned error could also happen on Diablo 2 and other games. If you are bothered by the same problem, try the following fixes to solve it.
Fix 1: Restart Your Router
As the error message shows, the problem that games such as Diablo 2 can't connect to Battle.net could occur due to network issues. To troubleshoot the problem, you can try restarting your router or modem.
Please unplug the power cable from your router or modem. Wait for at least 2 minutes and then reconnect the power cable. After that, you can connect your computer to the internet and check if the problem disappears. If it still exists, you should move on to the next solution.
Fix 2: Flush DNS and Reset Winsock
To solve network issues, you can also try flushing DNS and resetting Winsock settings. Here are the detailed steps.
Step 1: Press Win + S to open the Windows Search utility. Then search for Command Prompt. Right-click it and select Run as administrator.
Step 2: In Command Prompt, input the following commands one by one and press Enter after each.
ipconfig /flushdns
ipconfig /registerdns
ipconfig /release
ipconfig /renew
netsh winsock reset
When all the commands are executed, you can restart your computer and check if Battle.net works well without the problem that WoW or Diablo 2 can't connect to Battle.net.
Fix 3: Update Your Device Drivers
There might be compatibility issues if your drivers are outdated or corrupted. When you get the Battle.net not connecting error, you'd better update your drivers, especially the network driver and graphics card driver. You can click here to learn about how to update device drivers.
Fix 4: Allow Battle.net Through Windows Defender Firewall
Windows Defender Firewall does protect your computer from being attacked by viruses. However, sometimes it blocks some harmless applications from connecting to servers, which causes the Battle.net not connecting error. In this case, you need to modify the Windows Defender Firewall settings to allow the game platform through Firewall.
Step 1: Go to Control Panel > System and Security > Windows Defender Firewall.
Step 2: Click Allow an app or feature through Windows Defender Firewall.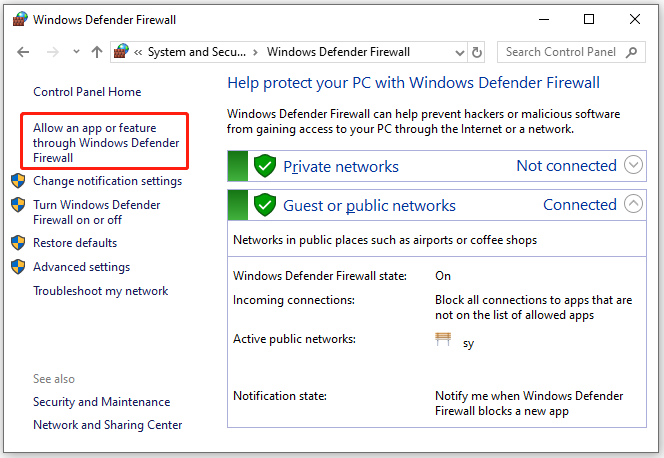 Step 3: In the following window, click the Change settings button. Then scroll down to locate Battle.net or Blizzard client, and check the boxes under both Private and Public networks.
Tip: If you don't find the target in the list, you need to click Allow another app > Browse. Then navigate to the installation folder of the Battle.net app and select the Battle.net executable file. After that, click Add to add the item to the list.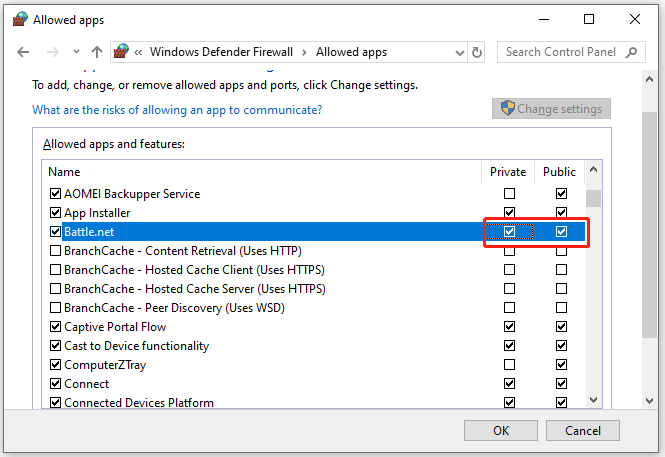 Step 4: Click OK to save the changes you have made.
If you are using any third-party software, you might also need to disable it temporarily.
Besides, software conflicts could also lead to the error "can't connect to Battle.net". If you are running any other programs in the background, go to Task Manager and close them.
If all the above methods fail to solve the problem, you might need to reinstall the Blizzard Battle.net app.