Both Dropbox and Box are cloud-based document management systems (DMS) designed to enable business users to securely share documents, files and other content from anywhere and at any time. But some people may don't know how to choose between them. In this post, MiniTool Partition Wizard explains Box vs Dropbox to you.
Box vs Dropbox: Price
Dropbox offers three versions: Standard ($15 per user/month, with a minimum of three users), Advanced ($25 per user/month, with a minimum of three users) and Enterprise.
The Standard version offers 5 TB of space for secure storage, 120-day versioning, advanced security measures (like HIPAA compliance, sharing permissions and two-factor authentication), and advanced collaboration and productivity tools (like Dropbox Paper, Microsoft Office 365, smart sync and team folder)
The Advanced version offers unlimited storage space and Standard version's features. In addition, it adds features like Dropbox Showcase, SSO, and phone support during business hours.
As for the Enterprise version, it provides customizable solutions with individualized support to help administrators manage at scale. Therefore, the price may vary depending on the solution you choose.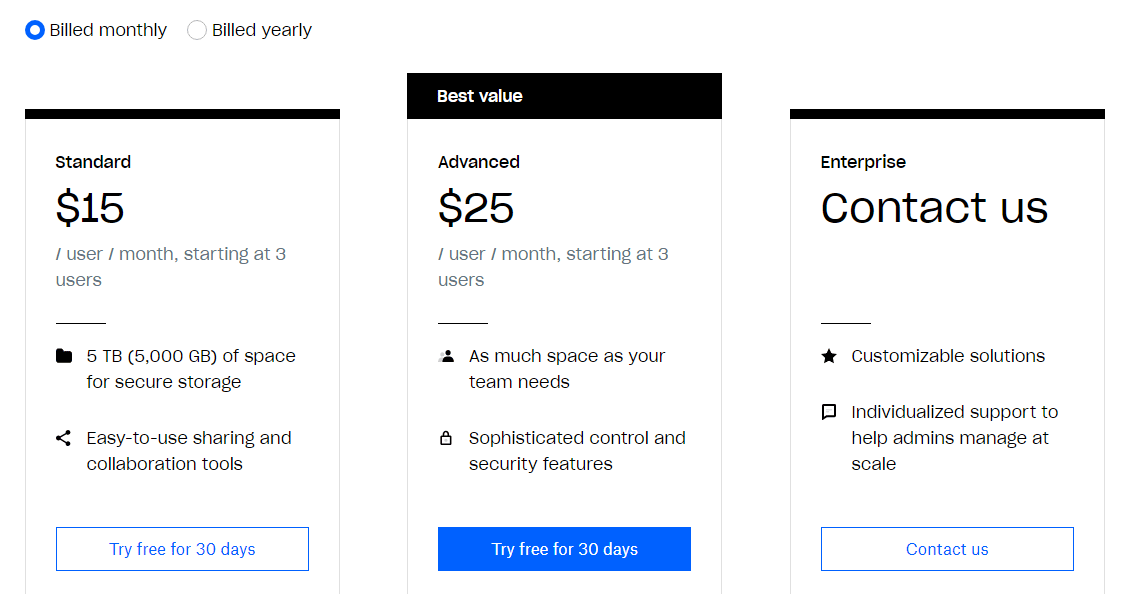 Box Business offers four versions: Starter ($5 per user/month, with a minimum of three users), Business ($15 per user per month, with a minimum of three users), Business Plus ($25 per user per month) and Enterprise ($35 per user per month).
The Starter version caps the number of users at 10, the storage space at 100GB, and the maximum file size at 2GB. It offers standard business support, SSL and at-rest encryption, user management, versioning, 25,000 API calls per month and desktop and mobile access. It's a good fit for smaller teams.
The Business version does not put an upper limit on the number of users, increases maximum file size to 5GB, increases the amount of API calls per month to 50,000, and offers advanced security features, such as Active Directory, SSO and mobile security controls. In addition, it adds data loss prevention, custom branding and the ability to form and manage user groups.
The Business Plus version adds advanced admin controls and unlimited external collaborators. in addition, it offers optional features like Box Governance, Box KeySafe and Box Zones.
The Enterprise version raises the API calls per month to 100,000 and adds full content visibility and management, unlimited integrations, including DLP and eDiscovery, and workflow automation. It also improves your security with password policy enforcement, document watermarking and device trust.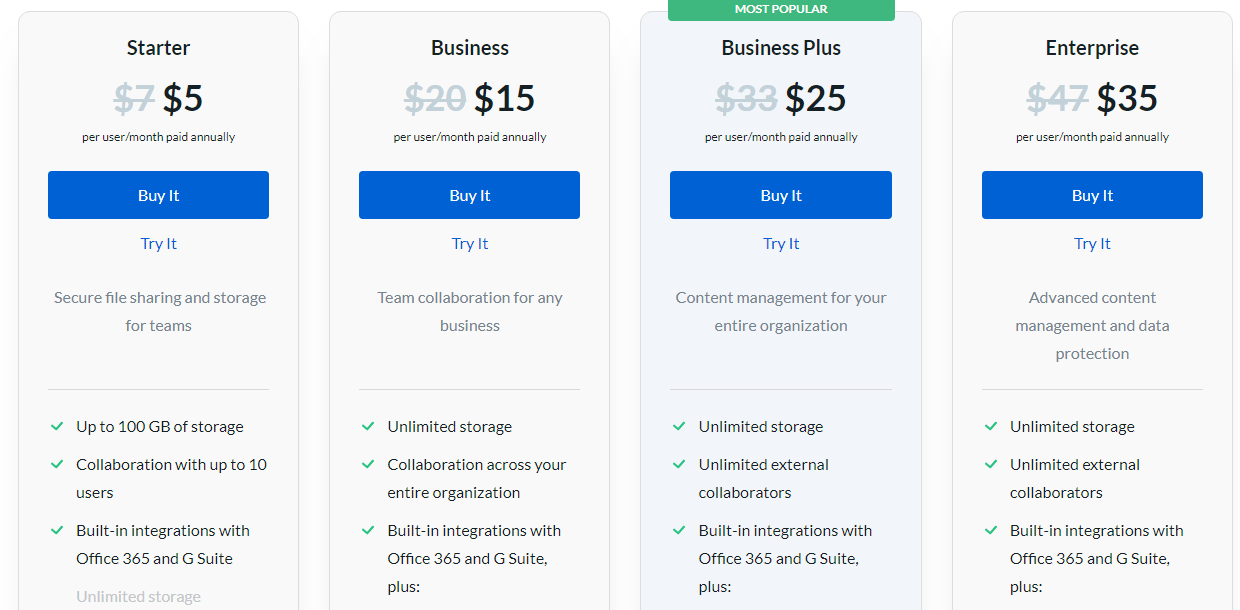 Box vs Dropbox: Sync
Dropbox invented the common model of sync, which consists of a system tray icon and a special sync folder. The system tray icon lets you access settings and your sync folder. Anything you put in that folder gets synced to the cloud.
Dropbox Business uses one of the fastest block-level sync algorithms on the market. Another advantage is a feature called "smart sync", which lets you configure your content so that it's only stored online, while still showing it in your Windows File Explorer or macOS Finder.
As for Box, it follows the common model of sync that Dropbox developed lacks block-level sync. Therefore, its sync speed is slower.
Is Dropbox Not Syncing in Windows 10? Here's How to Fix It!
Box vs Dropbox: Sharing
Dropbox Business offers a central team folder that employees can access. You can create subfolders and limit access to them to individuals or groups. You can also share files by creating links pointing to files or folders.
To protect your files, Dropbox Business allows you to set links to expire, protect them with a password, and restrict access by outsiders. In addition, you can also restrict users from sharing content outside of your business.
As for Box, it allows your employees to share files by links and you can protect links with passwords and assign expiry dates to them. But it doesn't place restrictions on licensed users so they can share files and folders with other licensed users at will. If you enable the appropriate permission, they can share with people outside of your organization, too.
How to Password Protect Dropbox Folder – 3 Ways
Box vs Dropbox: Productivity Apps
Dropbox Business offers Dropbox Paper, which lets you take notes and insert videos, images and other media. In addition, it integrates with Microsoft Office, which enables you to use Office Online or Office 365. It also has third-party integrations like Zapier, IFTTT, Airtable, Asana, HelloSign, and draw.io.
Box offers Box Notes, a native note-taking app. It integrates with Office 365 and Google's office suite. In addition, it offers a huge selection of third-party apps like DocuSign, Adobe Sign, Asana, Trello, AppSheet, Kanbans, AgileScrum Pro, and more.
Comparing the two services, Box offers more productivity apps.