Summary :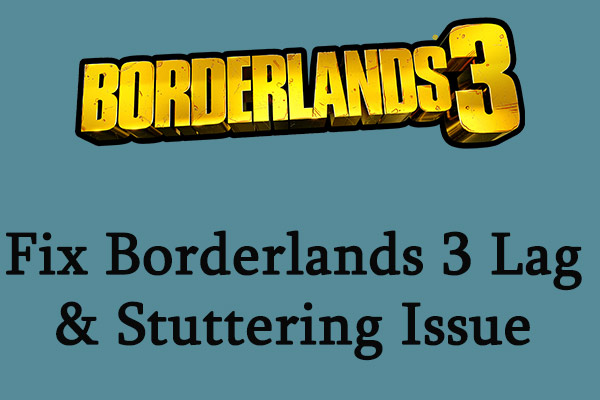 Borderlands 3 lag and stuttering issues have been reported by many players. If you are experiencing the same problem, this article should be helpful for you. Here, MiniTool Partition Wizard develops a simple guide to help you get through the problem step by step.
Borderlands 3, released on 13 September, 2019, is an action role-playing first-person shooter video game developed by Gearbox. You can run Borderlands 3 on your PC, PS4, Xbox One, and Apple macOS. Having experienced Borderland 1 and 2, many players would like to play Borderlands 3 for its smoother movement and better gameplay.
However, many players are facing Borderlands 3 lag issue that has greatly reduced their gaming experience. It is really a frustrating problem for shooting game players, as the character might be shot to death quickly when the lag and stuttering issues comes up with the game.
The game lag and stuttering issues might be caused by either network or frame rate (FPS) problem. If you come across Borderlands 3 stuttering and lag in both online and offline modes, then the frame rate problem is very likely the culprit of the issue and you should take actions to increase your FPS.
If you encounter the issue only when you are playing the game online, your network should be responsible for it. In this case, you can follow the methods displayed below to fix Borderlands 3 lag and stuttering issue.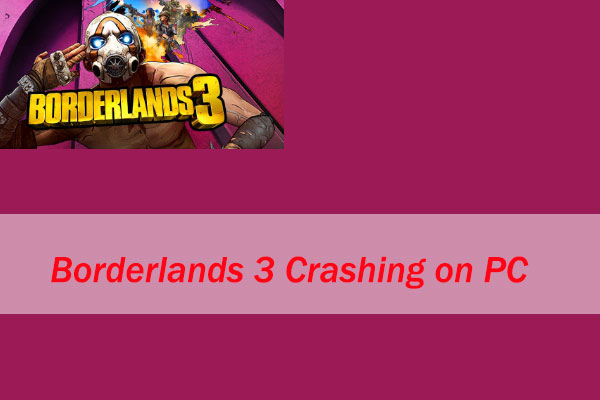 Are you facing Borderlands 3 crashing on PC? Here are top five fixes to solve the problem. They are quite easy and you can have a try.
Fix 1: Reconnect Your Network
At first, you can disconnect your network connection and connect it again after a while. If reconnecting network doesn't help, you can go to restart your modem and router, which might be helpful if you haven't managed them for a long time.
After restarting modem and router properly, you can check if you can play the game smoothly. If Borderlands 3 stuttering issue still exists, move on to the next fix.
Fix 2: Renew IP Address
It has been reported that renewing IP address can resolve Borderlands 3 lag and stuttering effectively. Here's how to perform the operation.
Step 1: Press Windows + R to open Run window.
Step 2: Input cmd in the editable box and press Ctrl + Shift + Enter to run Command Prompt as administrator.
Step 3: Type the following commands and press Enter after each to release and renew your IP address.
ipconfig /release
ipconfig /renew
Step 4: After the renewal of IP address is completed, input the command ipconfig /flushdns and press Enter to flush DNS cache.
Fix 3: Use Google Public DNS address
Another easy method to fix Borderlands 3 lag issue is to use Google Public NDS address. You can make it referring to the following instructions.
Step 1: Right-click the network icon in the Taskbar and choose Open Network & Internet settings.
Step 2: Click Change adapter options to access Network Connections settings. Right-click the network connection you are using and choose Properties.
Step 3: Under Networking tab, check Internet Protocol Version 4 (TCP/IPv4) and click Properties.
Step 4: Under General tab, check Obtain an IP address automatically and Use the following DNS server addresses options. Then, enter the Google Public DNS address:
Preferred DNS server: 8.8.8.8
Alternate DNS server: 8.8.4.4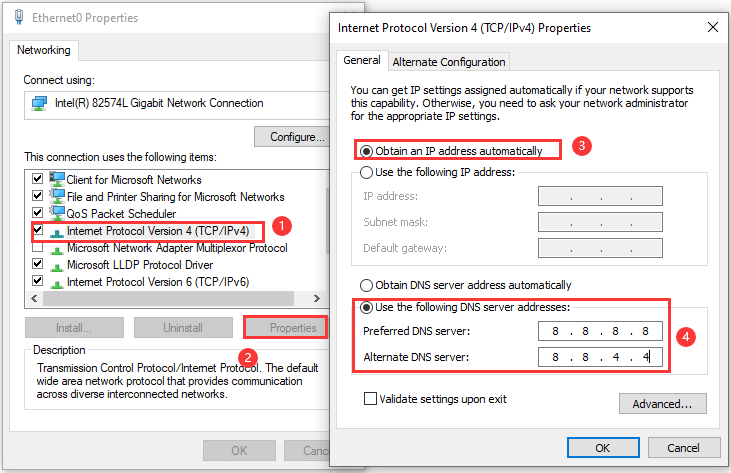 Step 5: click OK to save changes.
Fix 4: Close Processes Using Many Network Resources
If too many processes that require network resources are running in the background, you network will definitely slow down and lead to some lag and stuttering issues in certain programs. So, you should go to disable some processes using many network resources.
To do that, just follow the steps below:
Step 1: Invoke Run window, input resmon and click OK to launch Resource Monitor.
Step 2: Under Network tab, you can view the network resources usage of listed processes. Right-click the process you want to close and choose End Process.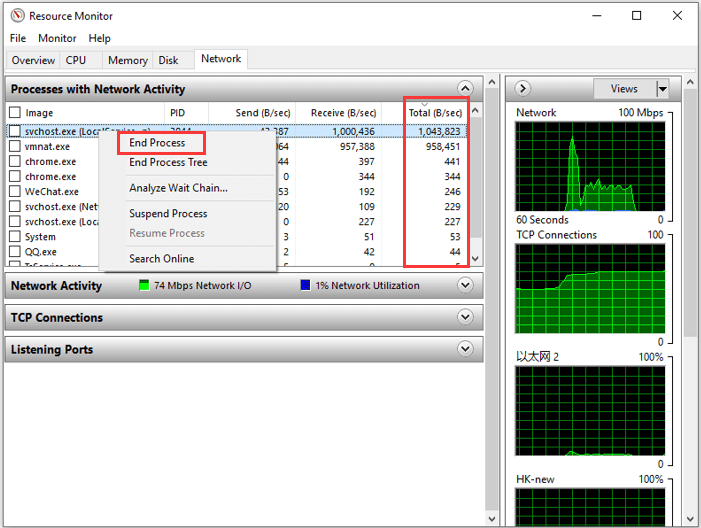 Step 3: Click End process again in the pop-up window to confirm the operation. Then, repeat the operation to disable other processes that are using too many network resources.
Fix 5: Use Ethernet Connection
As you know, the wireless network is no so stable. If you are playing Borderlands 3 on your computer in a place far away from the router, the Wi-Fi signal might no be strong enough to support the normal functioning of the game and thus trigger Borderlands 3 lag issue.
Therefore, if you encounter Borderlands 3 stuttering and lag issues while playing the game with Wi-Fi, perhaps you can try using Ethernet connection instead.