Summary :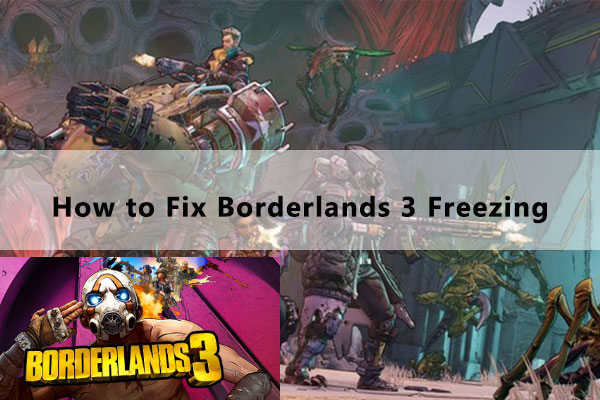 It is common to see crashing or freezing issues during a video game-play. In this post, MiniTool Partition Wizard introduces Borderlands 3 freezing issue and puts together some solutions. You can have a try when you encounter the problem.
Borderlands 3 is an action role-playing first-person shooter video game. It is a sequel to Borderlands 2. Available on a lot of game platforms, including macOS, Stadia, Microsoft Windows, PlayStation 4, PlayStation 5, Xbox One, and Xbox Series X/S.
Some players said that they love the game and it's wonderful. However, some players reported that their Borderlands 3 keeps freezing during the gameplay. Why does this problem occur? How to fix it? Don't worry. You will get the answers in the following contents.
Solution 1: Run the Game as Administrator
An easy way to solve Borderlands 3 freezing is to run the game as an administrator. Here are the detailed steps.
Step 1: Right-click the shortcut for Epic Games Launcher icon on the desktop and select Properties.
Step 2: Select Compatibility tab and check Run this program as an administrator.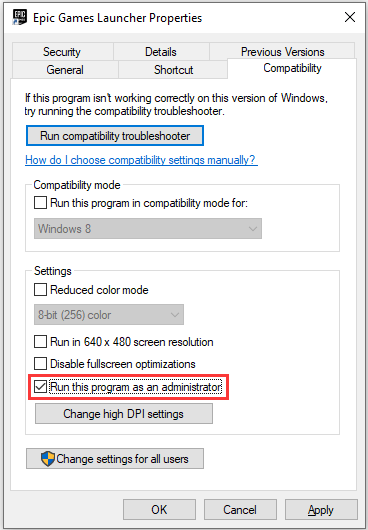 Step 3: Click Apply and OK to save the changes.
Then launch Epic Games Launcher and open your Borderlands 3 from the launcher and check if it works properly. If your Borderlands 3 keeps freezing again, you need to try the next solution.
Solution 2: Verify the Game Files
When there are corrupted or missing game files, you might also encounter Borderlands 3 freezing issue. To troubleshoot the problem, you can verify the game files in the Epic Games Launcher.
Step 1: Open Epic Games Launcher and go to Library.
Step 2: Click the Settings icon for Borderlands 3.
Step 3: In the pop-up menu, select VERIFY.
Then the launcher will scan for problematic game files and try to repair them. You need to wait patiently until the process is finished. Then you can run the game and check if the freezing issue has been solved.
Solution 3: Close Background Programs
When you are bothered by Borderlands 3 freezing, you should also check if there are other programs running in the background. They might take many resources and lead to Borderlands 3 stuttering and freezing. In this case, you need to close these background applications that you don't use currently.
You just need to press Shift + Ctrl + Esc to open Task Manager. Then select each app under the Processes tab and click End task. After closing all the unnecessary tasks, you can restart your Borderlands and check if it runs properly.
Solution 4: Update Windows
Microsoft keeps releasing updates for new features and bug fixes. If your Borderlands 3 keeps freezing, you should also try updating Windows to solve the problem.
Step 1: Press Win + I to open Windows Settings.
Step 2: Select to Update & Security.
Step 3: In the left pane, select Windows Update. In the right pane, click Check for updates. Then follow the onscreen instructions to download and install available updates.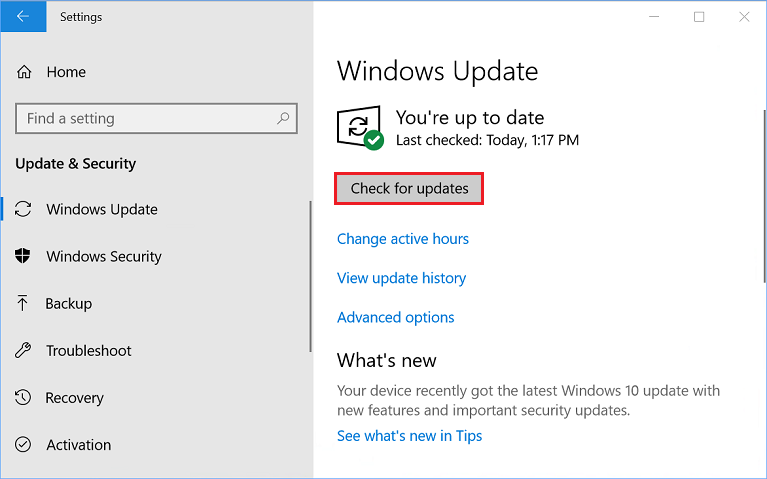 After updating Windows, you can restart your PC and play the game.
Solution 5: Increase Virtual Memory
When the memory of your PC is running out, Windows will move data stored in the RAM to a file on a hard disk – paging file that is also referred to as virtual memory. If the size of your virtual memory is not large enough for temporary storage, you will encounter various problems on your PC.
Fortunately, you can adjust the virtual memory to solve the problem. If you don't know how to do it, you can refer to the following post: Is Virtual Memory Low? Here Is How to Increase Virtual Memory!
Solution 6: Reinstall the Epic Games Launcher
If all the solutions failed to solve the Borderlands 3 freezing issue, you might need to reinstall the Epic Games Launcher. But you need to pay attention that you will lose the games that are downloaded from the launcher if you reinstall it. If you are sure about the operation, you can follow the steps below to uninstall the software.
Step 1: Open Control Panel.                         
Step 2: Select View by: Category from the upper right corner. Then click Uninstall a program.
Step 3: In the following window, right-click Epic Games Launcher and select Uninstall.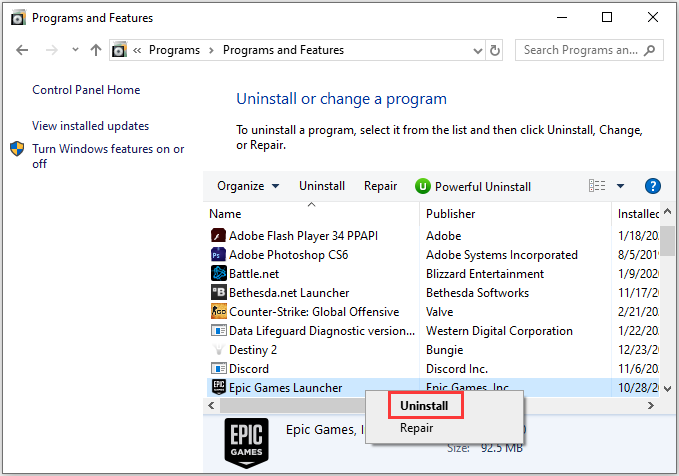 Step 4: Follow the onscreen instructions to finish the uninstallation.
Then you can download and install Epic Games Launcher again. When Epic Games Launcher opens, reinstall Borderlands 3 and check if it works properly.