What can you do if you are experiencing Black Ops 4 crashing issue on PC? In this article, MiniTool Partition Wizard puts together some feasible solutions from players who receive the same issue. Don't miss this post if you're bothered by the crashing issue in Black Ops 4.
Call of Duty: Black Ops 4 is a multiplayer first-person shooter video game that was developed by Treyarch and published by Activision. It was released worldwide on October 12, 2018, and it is available on multiple gaming platform, including Microsoft Windows, PlayStation 4, and Xbox One.
Recently, some players complain that Call of Duty Black Ops 4 keeps crashing on Windows and they cannot play the game at all. Commonly speaking, the Black Ops 4 crashing issue may come up due to corrupted video card driver, overclocking, improper in-game settings, and other factors.
If you are facing the same problem, you are at the right place. In the following contents, you will learn about 5 possible solutions that may help you get rid of the issue. But before you try the following methods, you should check your computer specifications to make sure the device meets the system requirements of the game.
Now, let's check out these solutions one by one.
Note: Game developers release patches regularly to fix certain known issues and improve games. So, you should also install the latest patch and always keep your game up to date.
Fix 1: Disable Overlay
In most cases, the Black Ops 4 crashing PC issue is caused by the overlay. If you are using an application that has the overlay feature, such as Discord, you are likely to encounter the problem. So, try disabling it.
Here's how to disable overlay in Discord.
Step 1: Launch Discord, click the Gear icon to open the user Settings menu.
Step 2: Under the APP SETTINGS, click Overlay.
Step 3: In the right pane, toggle off the switch next to Enable in-game overlay to disable it.
Fix 2: Stop Overclocking
Commonly, computer's CPU comes from the factory set to run at a certain maximum speed. But some game lovers would like to overclock their computer to make the CPU and memory run at speeds higher than the official speed grade.
It is true that overclocking can improve game performance to a certain degree, but it may undermine the game's stability and trigger certain problems, such as Black Ops 4 crashing in our case. Therefore, if your Black Ops 4 keeps crashing while you are overclocking, stop it and set back to the default speed.
Fix 3: Check the In-Game Graphics Settings
To get better gaming experience, players tend to set the in-game graphics settings to high. If your hardware can't meet the requirements, high graphics settings are very like to lead to crashing issue during gameplay. So, you can try setting these settings to low, which will cause a small loss in FPS and visual clarity.
Besides, some users recommend disable V-Sync and playing game in windowed mode. You can also have a try.
Fix 4: Scan and Repair the Game
As you know, Call of Duty: Black Ops 4 PC is not available on Steam and it comes to Blizzard's Battle.net only. If Black Ops 4 keeps crashing on PC, perhaps you can perform a game repair in Blizzard.
Just follow the steps below:
Step 1: Launch your Blizzard program.
Step 2: Click GAMES tab and find your Call of Duty Black Ops 4.
Step 3: Click Options and choose Scan and Repair from the drop-down menu.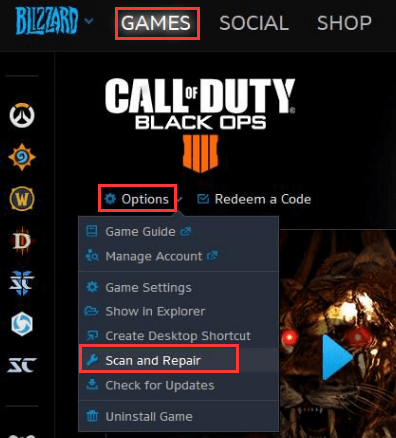 After completing the process according to the onscreen instructions, restart your computer and launch the game again. Now, you should be able to play the game without the crashing issue.
Fix 5: Update Video Card Driver
Outdated or corrupted video card driver could also interfere with the proper functioning of your game and even trigger crashing issue. In this case, you should go to update your video card driver to the latest version.
On a Windows PC, you can update your driver in Device Manager, and here's a simple guide.
Step 1: Press Windows + R to invoke Run dialog. Input devmgmt.msc and click OK to open Device Manager.
Step 2: Expand the Display adapters, right-click the target driver, and choose Update driver from the context menu.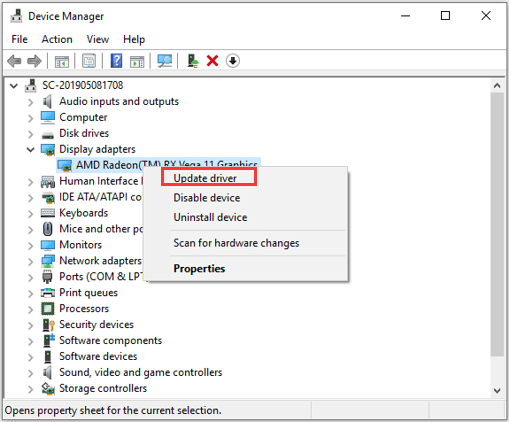 Step 3: Choose Search automatically for updated driver software option and proceed with the onscreen steps.
Once it's done, you can go to enjoy the game again, and the Black Ops 4 crashing PC issue should have been resolved.