Is your battery icon missing on Windows 10? Don't worry! MiniTool offers you 3 solutions to solve this problem. Keep reading and take one solution according your condition.
For some reason, when I go to settings, "Turn system icons on or off" and then try to turn 'power' on so that I can see how much battery power I have left, it won't let me change the setting…Can anyone help me? — answers.microsoft.com
Many users reported that they had encounter battery icon missing Windows 10 problem. This makes them worried because they are afraid that the computer will run out of power without warning and they'll lose all of their work.
Then, how to solve Windows 10 battery icon missing problem? Please keep reading to get the answer.
When you find battery icon missing from taskbar windows 10, the first thing you should do is to check whether it is simply hidden. To do that, please select the up arrow to the left of the system tray to reveal the hidden system tray icons.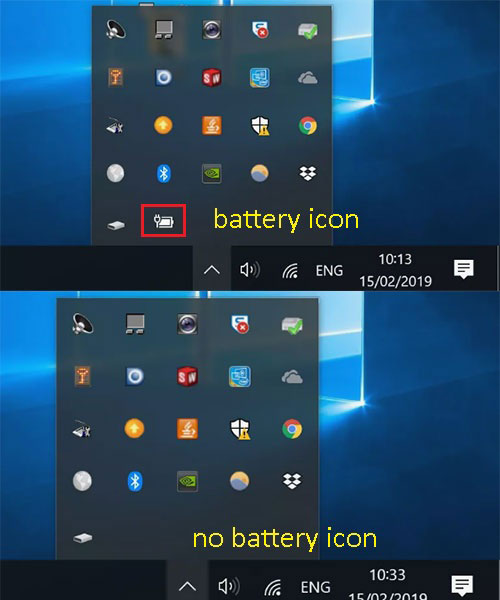 Then, you will get a result: either you can find the battery icon in the hidden system tray or you can't.
If you get the first result, you should take Fix 1. If you get the second result, you should try Fix 2 or 3.
Step 1: Open Taskbar settings. You can do that through the following two ways.
Right-click anywhere on the taskbar to bring up a shortcut menu and then select Taskbar settings.
Click Windows icon at the lower left corner, and then go to Settings> Personalization > Taskbar.
Step 2: In the Taskbar settings, you should find the Notification area and then choose Select which icons appear on the taskbar.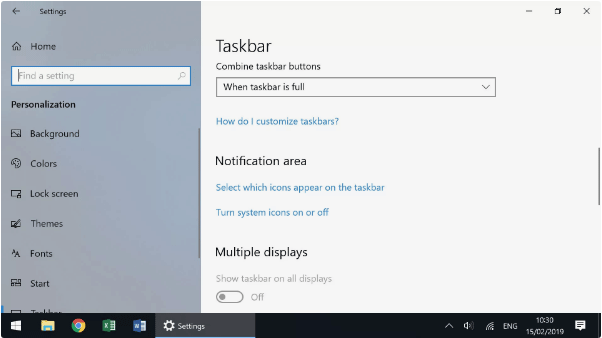 Step 3: Scroll down to find the battery icon named Power from the list. Then, switch its toggle to On. If the power toggle is switched to Off, the battery icon will not appear on the taskbar.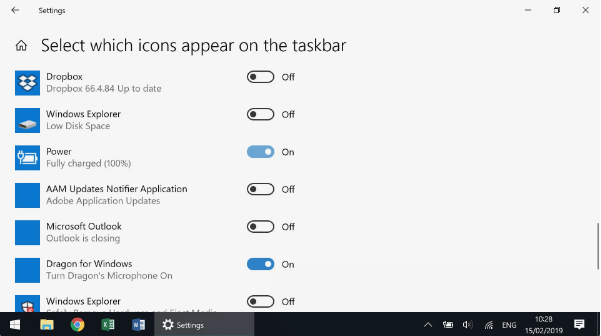 Fix 2. Enable the Battery Icon
If you don't see battery icon when you select the up arrow, it is very possible that the battery icon is disabled. To add it back, you should enable it through the following steps:
Step 1: Open the Taskbar settings and find the Notification area again. Then, select Turn system icons on or off.
Step 2: Similarly, scroll down to find Power and then switch its toggle to On.
In the vast majority of cases, the battery icon missing windows 10 is caused either by hiding icon or by disabling icon. In these cases, the above two methods will work and make battery icon appear again.
Fix 3. Disable and Re-enable Battery Hardware
If the above methods don't work, you should try this one. This method has helped many users solve Windows 10 battery icon missing problem. As for how to do that, please refer to the following steps:
Warning: Ensure your computer is connected to external power before you start this process.
Step 1: Press "Windows + X" keys simultaneously and then choose Device Manager from the shortcut menu.
Step 2: Expand Batteries category and you will find two items here: Microsoft AC Adapter; and Microsoft ACPI-Compliant Control Method Battery.
Step 3: Right-click them and choose Disable Device one by one.
Tip: When disabling them, a window may pop up warning that disabling this device will cause it to stop functioning. Just click Yes button to continue.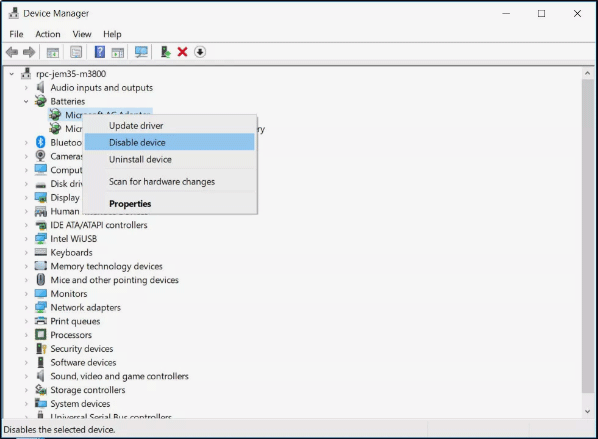 Step 4: After disabling all the battery devices, you should re-enable them again. To do that, you just need to right-click each of them and select Enable device.
Step 5: Restart your computer and the battery icon should appear.