Apex Legends is a free-to-play shooter game. Unfortunately, you might encounter various problems while playing the game. In this post from the MiniTool Partition Wizard website, you can learn some solutions to Apex Legends error code 30005.
Apex Legends, a free-to-play battle royale-hero shooter game, was first released in February 2019. Nowadays, this game is available on a lot of platforms, including Microsoft Windows, PS4 (PlayStation 4), PS5 (PlayStation 5), Xbox One, Xbox Series X/S, Nintendo Switch, Android, and iOS.
Apex Legends is quite popular among game lovers. By April 2021, this game had approximately 100 million players.
It is a wonderful game. However, similar to other games, Apex Legends might also come with errors or problems sometimes. Error code 30005 is one of the most common ones. This error code often appears when users are trying to launch Apex Legends, and it usually comes along with an error message "CreateFile failed with 32" or "StartService failed with –2145452015".
Why does Apex launch error 30005 happen? How to fix the error? If you encounter the same error code, you can try the following solutions.
Solution 1: Delete the EasyAnticheat.sys File
An Epic Game is usually installed along with an anti-cheat program. Apex Legends error code 30005 indicates that the Easy Anti-Cheat program stops working. Some users have solved the problem by deleting the EasyAnticheat.sys file. You can also have a try.
Step 1: Press Win + E to open File Explorer.
Step 2: Navigate to your Apex Legends installation folder and find the folder where Easy Anti-Cheat is installed.
Step 3: Right-click the EasyAnticheat.sys file and select Delete.
Step 4: Restart your Apex Legends.
If the error code 30005 still exists, you can move on to the next solution.
Solution 2: Repair Corrupted Game Files
Corrupted or missing game files could also prevent Easy Anti-Cheat from working properly, leading to Apex Legends error code 30005. In this case, you should check and repair your game files.
Step 1: Navigate to the Anti-Cheat folder in File Explorer and run the EasyAntiCheat.exe file.
Step 2: Select Apex Legends.
Step 3: Click the Repair option.
Then the program will check and repair problematic game files automatically. You just need to wait until the process is finished and restart Apex Legends.
Solution 3: Disable Your Antivirus Program Temporarily
Antivirus programs are used to protect your PC from viruses and dangerous threats. However, sometimes the antivirus program might detect your game file as a threat by mistake, which could also be one of the reasons for Apex Legends error code 30005.
In this case, you can try to disable your antivirus program temporarily and check if the error code disappears. Alternatively, you can also add your Easy Anti-Cheat program to the exclusion list.
Solution 4: Reinstall Apex Legends
If all the solutions above failed to solve the Apex launch error code 30005, you might consider reinstalling the game.
There are many ways to uninstall Apex Legends. You can use the Control Panel, App Settings, or a professional third-party uninstaller program. Here I take Control Panel as an example.
Step 1: Press Windows + S to open the Windows Search utility. Then search for Control Panel and open it.
Step 2: Select View by Category from the upper right corner. Then click Uninstall a program.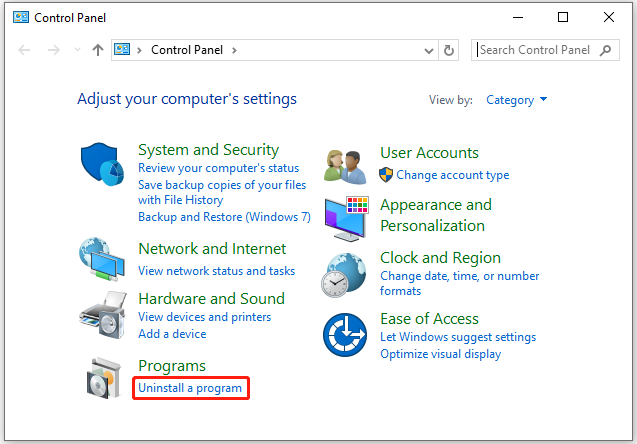 Step 3: Right-click your Apex Legends and select Uninstall. Then follow the on-screen instructions to uninstall the game.
Step 4: Download Apex Legends and install it again on your PC.
After reinstalling Apex Legends, you can run the game and check if it works properly.