Summary :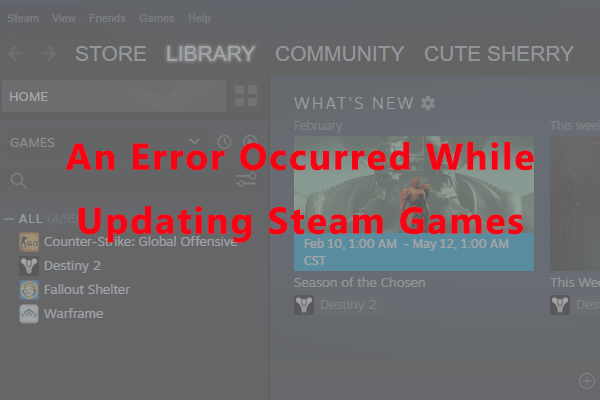 Steam is one of the most popular game platforms. It could be annoying if you encounter any errors on it. In this post, MiniTool Partition Wizard introduces some solutions to the problem that an error occurred while updating Steam games. If you are bothered by the same error message, you can try them one by one to solve it.
Steam is one of the largest video game platforms for PC. It is developed by Valve and has been quite popular among game lovers. On this platform, users can download and play some games for free while some others require to be paid. And they can update installed games via Steam when there are available updates.
Unfortunately, some users report that they failed to install updates as an error message pops up: An error occurred while updating [game title]. And it could be followed by one of the following information:
Unknown error
Corrupted download
App running
Content file locked
Corrupt content files
…
Reasons for this error could be various but you can try the following solutions one by one to solve it.
Solution 1: Clear Steam Download Cache
Steam allows users to clear download cache to clear the locally cached data and create new data later. This might help you to fix the problem that an error occurred while updating Steam games. And you can follow the steps below.
Step 1: Open Steam application.
Step 2: Click the Steam option from the top toolbar and select Settings.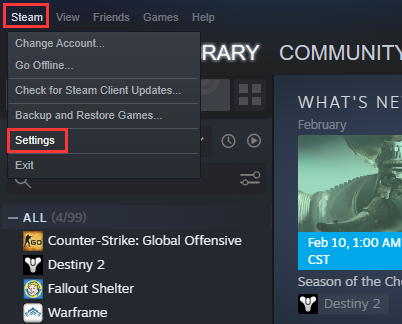 Step 3: In the left pane, choose the Downloads category.
Step 4: In the right pane, click the CLEAR DOWNLOAD CACHE button.
Tip: The servers in a specific region might have some issues and lead to problems like Steam an error occurred while updating corrupt content files. You can also try changing the Download Region to fix any server related errors.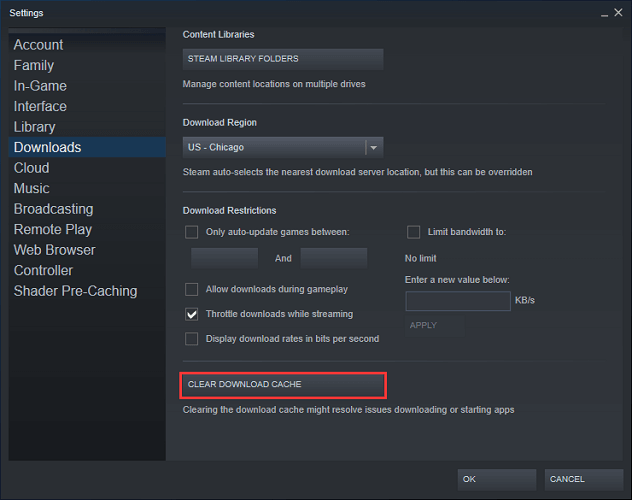 Step 5: In the pop-up window, click OK to confirm the operation.
When the process is finished, you can restart Steam and try updating the same game again to check if the problem has been fixed.
If the error still pops up, you might need to check if there are some issues related to the Steam Library Folder where the installation and updates are stored. You just need to navigate to Steam > Settings > Downloads again and click the STEAM LIBRARY FOLDERS button in the right pane. Then right-click the Library where you install the problematic game and select Repair Library Folder.

Solution 2: Verify the Integrity of Game Files
Corrupted game files could also cause Steam an error occurred while updating games. To troubleshoot the problem, you can use Steam to scan and repair your game files.
Step 1: In Steam, go to LIBRARY to view your installed games.
Step 2: Right-click the game you need to update and select Properties.
Step 3: In the following window, select the LOCAL FILES tab and click Verify integrity of game files button.

Step 4: When all files are successfully validated, you can click CLOSE and restart Steam.
Solution 3: Move Steam Games to Another Drive
Steam allows you to install games on different drives. If the problem is with your current library folder or the drive, you can move your game files to a different drive and try installing updates to solve the problem.
Our previous post has introduced a detailed tutorial and you can refer to it to move your game to another drive: 3 Methods to Help You Move Steam Games to Another Drive.
Solution 4: Disable Antivirus or Firewall Temporarily
Your antivirus programs would monitor your network activity to protect your computer. However, it could also lead to problems sometimes. When you encounter the issue that an error occurred while updating Steam games, you should also try disabling your antivirus program and check if it works.
If the error disappears after disabling the program, you can enable your antivirus and add Steam and the game to the exception list. You might also need to allow your game through Windows Firewall.