Error 0xc00d36b4 is an error code that you might receive while you are trying to play a music or video file in Windows 10. In this post, MiniTool Partition Wizard puts together some solutions to the annoying issue for you.
In daily work or entertainment, a huge number of users play a lot of video or music files on a PC. However, some of them report that they get an error 0xc00d36b4 sometimes when they open a media file. The error code usually comes with a message similar to "Can't play. This item is in a format we don't support. Please choose something else.
As you might encounter, the error 0xc00d36b4 could happen on various media apps, such as Windows Media Player, Groove, Xbox, etc. How to fix 0xc00d36b4 error? Here are some possible solutions.
Solution 1: Check Your Media File Format
If the format of your music or video file is not supported by the media app you are using, you would fail to open the file and receive error 0xc00d36b4. As the default media player on Windows 10, Windows Media Player supports various file formats, such as MP3, AAC, FLAC, WAV, WMA, 3GP, and so on. Similarly, Groove Music also supports formats like M4A, AC3, and AMR in addition to the above formats.
Therefore, when you get 0xc00d36b4 error, you should visit the support page of your media app and check its supported media formats. If the format of your file is not supported by this app, you can use a converter to change its format or try another media player.
Recommended article: The Top 8 Must-have Anything to MP3 Converters.
Solution 2: Disable the Copy Protection in Windows Media Player
Some Windows Media Player users have fixed the 0xc00d36b4 error by turning off the Copy Protection feature. You can also have a try by following the steps below.
Step 1: Press Win + S to open the Windows Search utility. Then search for Windows Media Player and open it.
Step 2: When you get the main interface of this app, click Organize > Options.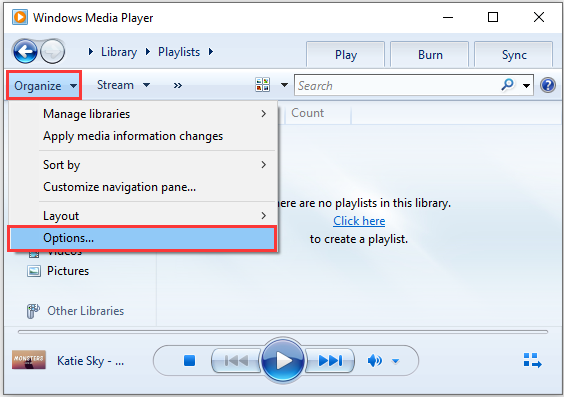 Step 3: Select the Rip Music tab and uncheck the option Copy Protect Music under the Rip settings section.
Tip: If the option is unavailable on your PC, you should move on to the next solution.
Step 4: Click Apply and OK to save the changed settings.
Then you can close Windows Media Player and try to play the problematic file again.
Solution 3: Reinstall Windows Media Player
Another way to solve the video or music error 0xc00d36b4 is to reinstall Windows Media Player. Here are the detailed steps.
Step 1: Open Control Panel.
Step 2: Select View by: Category and click Uninstall a program.
Step 3: When you get the window for installed programs and features, select Turn Windows Features on or off.
Step 4: In the pop-up window, scroll down and expand the Media Features. Then uncheck the feature Windows Media Player. In the pop-up window, click Yes to confirm the operation.
Step 5: Click OK to save the changes.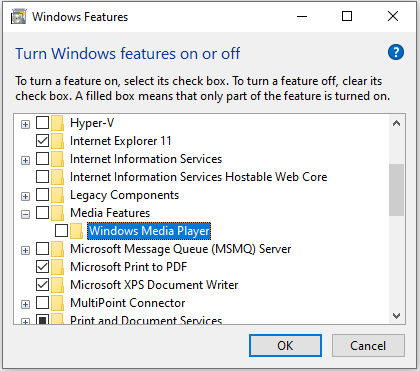 Step 6: Restart your PC and turn on the Windows Media Player feature in Control Panel.
Restart your PC again and then you can check if the error 0xc00d36b4 has been fixed.
This error could also be caused by missing codecs on the player. In this case, you need to find and download the missing codec packs. If you have installed any codec application such as K-Lite and Nero, you might need to reinstall it.