The error code 0x80073CF3 may come out from time to time when you are downloading or updating apps using Microsoft Store. To help you solve the error, this post from MiniTool Partition Wizard introduces some possible methods. You can have a try.
The Microsoft Store error code 0x80073CF3 is a common error that occurs when you install new apps or update current apps. It can be caused by various factors and the following are some of them:
Poor or unstable Internet connection
Temporary glitches
Corrupted cache of Microsoft Store
Corrupted temporary files
Outdated Windows version
…
What can you do to solve the error code: 0x80073CF3?  You can first restart Microsoft Store and your Windows PC to see if the error disappears. If not, you can try these solutions below.
Solution 1: Temporarily Disable Antivirus
Sometimes, the Windows Defender Firewall and third-party antivirus software you installed on your computer may recognize the process of downloading or updating apps as a thread by mistake and stop it. As a result, you will receive the Microsoft Store error code: 0x80073CF3.
In this case, to bypass the error, you need to temporarily disable antivirus programs on your Windows PC.
Note:
Once the antivirus software on your PC is disabled, you are likely to meet certain virus attacks. Therefore, you'd better enable it as soon as you fix the error.
Solution 2: Run the Windows Store Apps Troubleshooter
The Windows Store Apps troubleshooter is a Windows built-in utility that can help you repair most issues related to Microsoft Store apps. Hence, you can try running the troubleshooter when you run into the Microsoft Store error 0x80073CF3.
Step 1: Press Windows + I to open Windows Settings and then select Update & Security.
Step 2: Go to Troubleshoot. Then click Additional troubleshooters from the right side.
Step 3: In the next window, scroll down to find and click Windows Store Apps. After that, click Run the troubleshooter.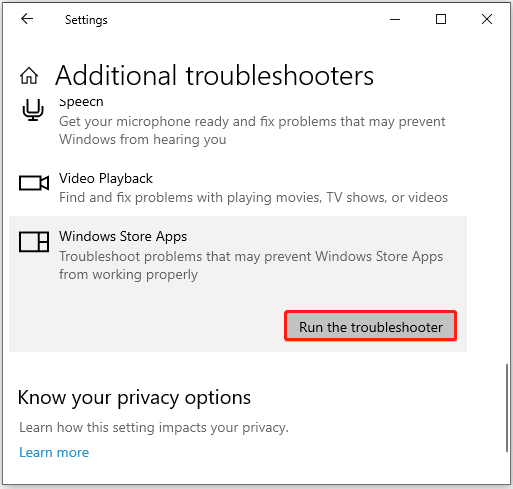 Step 4: Your system will start to detect problems associated with Microsoft Store apps. If any issues are found, you need to follow on-screen instructions to repair them.
After the process finishes, restart Microsoft Store and check if the error is resolved.
Solution 3: Clear the Microsoft Store Cache
The corrupted cache on your computer can also lead to Microsoft Store error code 0x80073CF3. On this occasion, it's recommended to resolve the error by clearing the Microsoft Store cache.
Step 1: Press Windows + R to open the Run dialog.
Step 2: Type wsreset.exe in the text box and then click OK.
Step 3: After that, the Microsoft Store cache on your computer will be deleted.
Once the process completes, Microsoft Store will open automatically. You can try the operation that displayed you the error before again to see if it is fixed.
Solution 4: Reset Microsoft Store
Another way that may help you solve the Microsoft Store error code 0x80073CF3 is to reset this app. To do this, follow the steps below.
Step 1: Open Windows Settings and select Apps.
Step 2: In Apps & features, click Microsoft Store and then click Advanced options under it from the right side.
Step 3: In the next window, select Reset in the Reset section.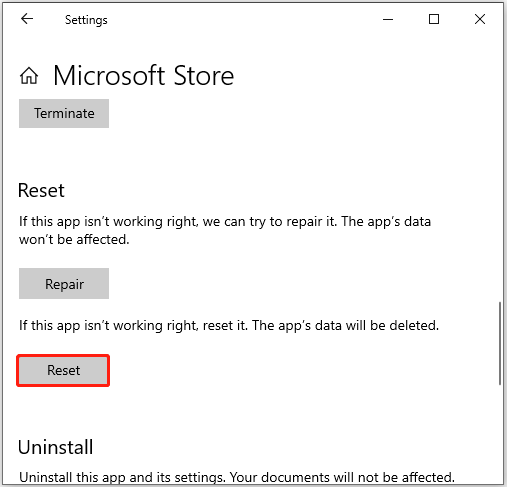 Once you reset Microsoft Store, restart your computer to check if the error is removed.
Solution 5: Reinstall Microsoft Store
If the error 0x80073CF3 persists after you try other solutions, it may indicate there is something wrong with the installation of Microsoft Store. In this case, you should try reinstalling Microsoft Store to get rid of this error.
All these solutions listed in this post are available. You can follow them one by one until you fix the Microsoft Store error 0x80073CF3. If you have any other good solutions to the error, you can share them with us in our comment part.
If you are interested in MiniTool Partition Wizard, you can visit its official website to learn detailed information on this excellent partition manager. You will be surprised that you can use the tool to perform so many operations, such as creating/deleting/formatting/resizing partitions, converting disk to GPT/MBR, migrating OS to SSD/HD, etc.