If you encounter the Zoom error code 1001 and looking for the solution to this error code, then this article from MiniTool Partition Wizard will help you to do so. We have explained the possible reason for this error code with easy solutions.
Zoom error code 1001 means you are using an email address that does not belong to your Zoom account. This error code may appear on your screen if you have another Zoom account outside of your current organization (school or university). This error code is primarily displayed for university or school users rather than business users.
Well, how to fix Zoom error code 1001? Please keep reading.
Solution 1: Try Reconnecting with Your Organization's Zoom Account
If you're getting Zoom error code 1001, you can try reconnecting, but using a different method. The steps you must follow are described below:
Step 1: Log out of all Zoom accounts associated with your email. To do this, open a browser and go to this site.
Step 2: Sign in with the Zoom account provided by your organization or institution. The link should be something like: https://[school/domain].zoom.us/signin. After successfully logging in, you will receive a confirmation email sent to your organization's Zoom account.
Step 3: Open the confirmation email and click it. This will soon reveal a button Switch to a new account.
Step 4: Click the button and agree to the terms and conditions.
Step 5: Restart the Zoom application and check for error code 1001 Zoom error pop-ups.
Applying this workaround should fix the problem, but if it still occurs then you can use the next workaround.
Solution 2: Update Your Zoom app
It is a good practice to update any application from time to time as it prevents many bugs and increases the usability and security of any application. Therefore, you should also update your zoom application from time to time. Here are the steps to update the Zoom app:
Step 1: Open the Zoom app.
Step 2: Click your profile icon in the upper right corner of the zoom window. A drop-down menu will pop up.
Step 3: Scroll down and click Check for Updates.
Solution 3: Disable Your Antivirus Software (If Available)
Disabling your antivirus software can easily prevent Zoom from errors, as it isolates many Zoom files, and as a result, you can get error codes on the screen. If you don't know how to do this, read our full guide: How to Disable Antivirus on Windows 10 Temporarily.
Solution 4: Reinstall the Zoom App
If the above methods didn't work for you, then uninstalling and reinstalling the app might solve your problem. To do so, here is the guide.
Step 1: Open the Control Panel.
Step 2: Navigate to Programs > Programs and Features.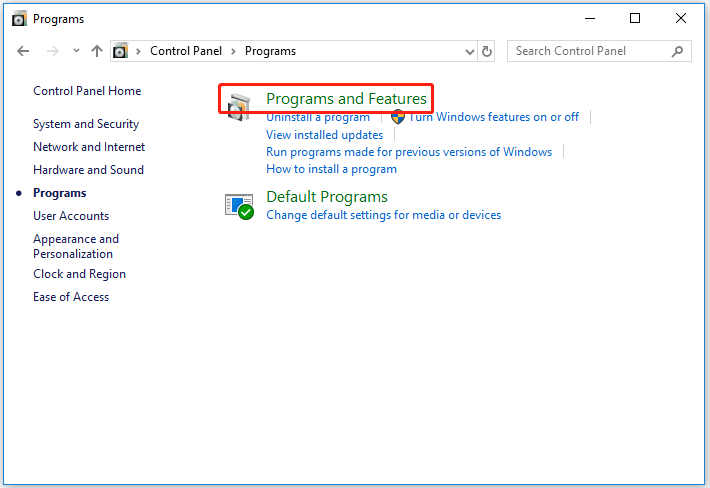 Step 3: Locate Zoom and click on the Uninstall button next to Organize.
Now, wait a while until the uninstallation finishes. Then restart your computer and install the application again.
Bottom Line
In this post, we tell you how to fix Zoom error code 1001. I believe this post may help you to do that. And if you have any ideas about the subject, write them down in the comment area below.