Zoom is a cloud-based video conferencing service developed by Zoom Video Communications. However, some users experience the Zoom video filters not showing issue when they launch this program. How to fix this issue? Well, this post from MiniTool Partition Wizard will tell you the answer.
Zoom is a cloud-based video conferencing service that lets you create visual meetings with others and features video filters. In a video meeting, Zoom video filters can be helpful if you don't want others to see the background around you. What's more, filters can make you look prettier and more attractive.
However, some users reported that the Zoom video filters not showing up issue appears on their computer. Why are Zoom video filters not showing? Possibly because the video filter is turned off in the Zoom profile settings, or using an older version of the Zoom app. If you also encounter this issue, you can follow this article to fix it.
Before attempting any fixes below, please make sure you are not accessing the service through a browser. Because Zoom filters don't work on web browsers. Therefore, you will need to switch from the web client to the Zoom desktop app. Download the Zoom app for Windows from the official website and install it. Then, log in to your account and try the video filter.
Then there are 3 ways to fix the Zoom video filters not showing issue. You can try them one by one until the issue gets solved.
Way 1: Install the Latest Version of Zoom
Installing the latest version of Zoom is an effective fix reported by users. So, you need to completely uninstall the old Zoom and then download the latest version. This will clear any corrupt or missing files from Zoom and fix errors.
Step 1: Press the Win + S keys to open the Search box. Then type control panel in the box and press Enter to open the Control Panel window.
Step 2: Set Control Panel View by Category and click on Uninstall a program.
Step 3: Locate the Zoom app and right-click on it, and click on Uninstall.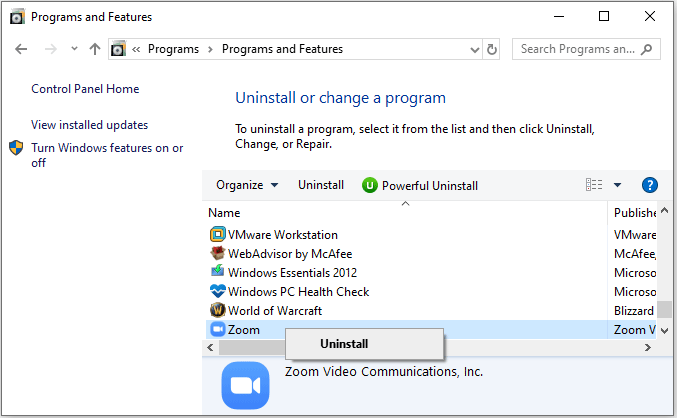 Step 4: Go to the Zoom official website. Then download and install the latest version.
Once done, relaunch Zoom and check if the Zoom video filters not showing issue disappears.
Way 2: Turn on the Video Filters in Zoom Settings
By default, the video filter option on your Zoom account is turned on. If a video filter is accidentally turned off, you won't be able to see it. To turn on the filter in the zoom settings, please refer to the following steps:
Step 1: Go to the official Zoom website and log in.
Step 2: Click on the Settings > Meetings > In Meeting (Advanced) option.
Step 3: Next to the Video filers section, make sure you have turned on this option to allow you to apply filters to the videos.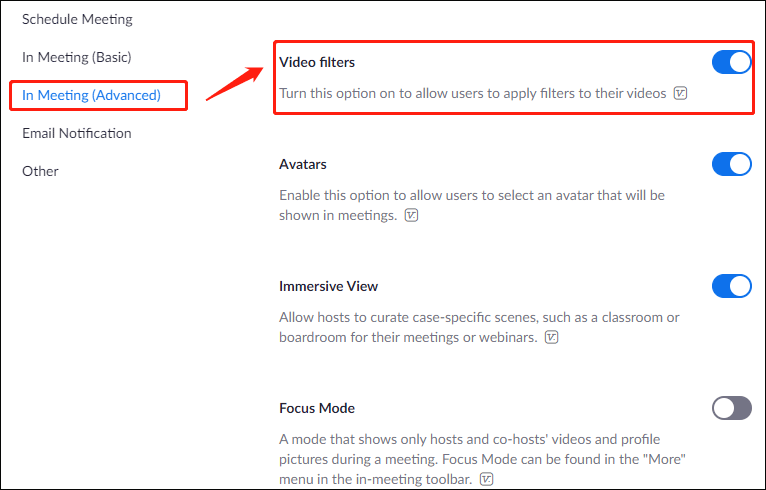 After that, launch Zoom and use video filter feature.
Way 3: Create an Account on Zoom
Even without an account, you can still join a Zoom meeting. However, this may be the reason for your inability to access the video filter function issue. So, you need an account to log into Zoom to customize your experience. You can create an official Zoom account by visiting this website and clicking Sign up for an account. Once done, log into your newly created account and try to access the meeting's video filter.
Bottom Line
To sum up, this article has introduced how to fix the Zoom video filters not showing up issue. If you have any question to this article, you can share it in the following comment zone.