X3DAudio1_7.dll file belongs to DirectX. Once there is something wrong with this file, you may fail to launch some programs. In this post, MiniTool Solution offers some ways to solve X3DAudio1_7.dll errors like X3DAudio1_7.dll missing, X3DAudio1_7.dll not found, etc.
About X3DAudio1_7.dll Errors
X3DAudio1_7.dll is one of the files contained in the DirectX software collection. DirectX is an important component of Windows 10, which is used to manage the tasks related to videos, games, graphics programs, etc.
Sometimes, when you launch a program, especially a game or graphics program, you may see one of the X3DAudio1_7.dll error messages listed below:
The file X3DAudio 1_7.dll is missing.
Dll was Not Found.
Dll Not Found.
The program can't start because X3DAudio1_7.dll is missing from your computer. Try reinstalling the program to fix problem.
How to solve X3DAudio1_7.dll missing or not found errors? Here are some solutions.
Solution 1: Restart Your Computer
X3DAudio1_7.dll not found could be a fluke and you may fix it by a simple restart. If you haven't restarted your computer, try it immediately after you close all the running tasks.
Then you can launch the program where X3DAudio1_7.dll is missing error appears again to check if the problem has been removed.
Solution 2: Upgrade Your DirectX to the Latest Version
If the program is still stopped by X3DAudio1_7.dll missing error after you restart the computer, you may need to consider updating DirectX to remove the error.
For Windows 10/8.1/8, you can update the DirectX to the latest version by updating Windows. Just go to Settings > Update & Security > Windows Update, and then click Check for updates.
Tip: You can press Win + I to open Settings quickly.
For Windows 7/Vista/XP, you need to download the update package from the official website to update the DirectX.
You can click here to get more information about how to install the latest DirectX.
By installing the latest version of DirectX, problematic DLL files in DirectX installation will be replaced with new ones. Just restart your computer and then check if X3DAudio1_7.dll missing or X3DAudio1_7.dll not found is gone.
Solution 3: Reinstall the Program
As the error message indicates, you can try reinstalling the program that gives the error to fix X3DAudio1_7.dll missing.
Step 1: Press Win + R to invoke Run window. Then type appwiz.cpl and click OK to open Programs and Features.
Step 2: Right-click the program and select Uninstall.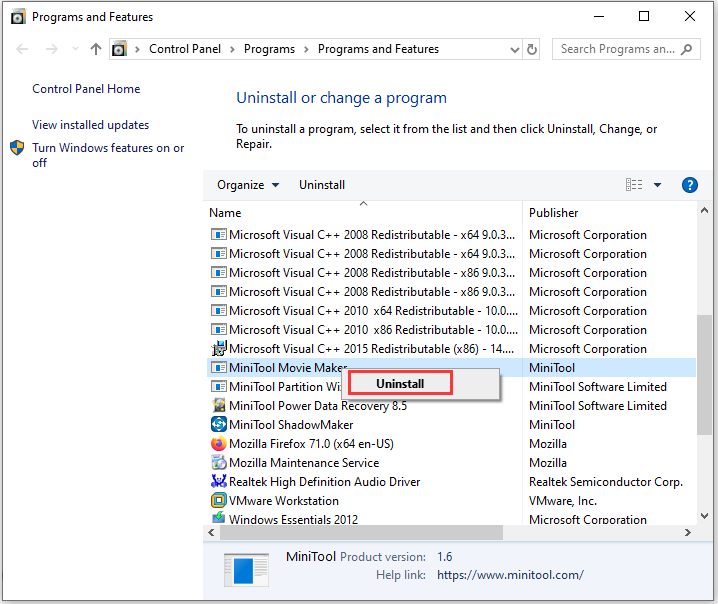 Step 3: In the pop-up window, click Yes to confirm the operation and then follow the onscreen instructions to finish the process.
Then you can restart your computer and install the program. After that, launch it and check if errors like X3DAudio1_7.dll is missing appear again.
Solution 4: Copy the File from Another Computer
You can also fix X3DAudio1_7.dll missing or not found error by copying the file from another computer. You can use a USB flash drive to do it.
Step 1: Find another computer that runs the same operating system as yours, including the versions (Windows 10/8/7) and architectures (32-bit/64-bit). You can check the information by visiting Settings > System > About.
Step 2: On that computer, press Win + E to open File Explorer.
Step 3: Go to the path C:WindowsSystem32 and copy the X3DAudio1_7.dll to your USB flash drive.
Step 4: Connect the USB drive to your computer. Then copy and paste the X3DAudio1_7.dll file to the same location (C:WindowsSystem32).
Now you can check if this solution works.