When you try to update Windows 10, you may encounter the update error code 0x8007001f. this is triggered by audio driver issues on your PC and prevents you from updating Windows 10. How to fix it? Don't worry. this article from MiniTool will show you how to fix the error with effective methods.
When the error code 0x8007001f occurs, you are unable to install the latest Windows updates, which cause inconvenience. And you may wonder: what causes Windows update error 0x8007001f?
Well, the reasons for error 0x8007001f are not that complicated. This error could be caused by third-party software conflicts. Besides, if there are critical driver issues appeared on your PC, you could also encounter the error. How to fix error code 0x8007001f? The following will show you some effective fixes with detailed steps.
Now you can follow the steps below.
Fix 1. Temporarily Disable Antivirus Software
There are users reported that both Norton and McAfee can cause the error 0x8007001f when installing the latest Windows update. And it is possible that other antivirus programs can also lead to the update error.
In this case, you can temporarily disable the antivirus software during the Windows update. After the update is completed, you can enable the antivirus software again to protect your PC from virus.
Fix 2. Uninstall Audio Drivers
If the audio drivers on your computer are outdated or corrupted, you may encounter the error code 0x8007001f. You can try uninstalling and reinstalling the faulty audio drivers on your computer to fix the error.
Here are detailed steps on how to uninstall and reinstall the audio drivers on your PC.
Step 1. Right click Windows Start menu and choose Device Manager from the menu.
Step 2. Locate to Sound, video, and game controllers and expand it.
Step 3. Choose your audio device and right-click it. Choose Uninstall device.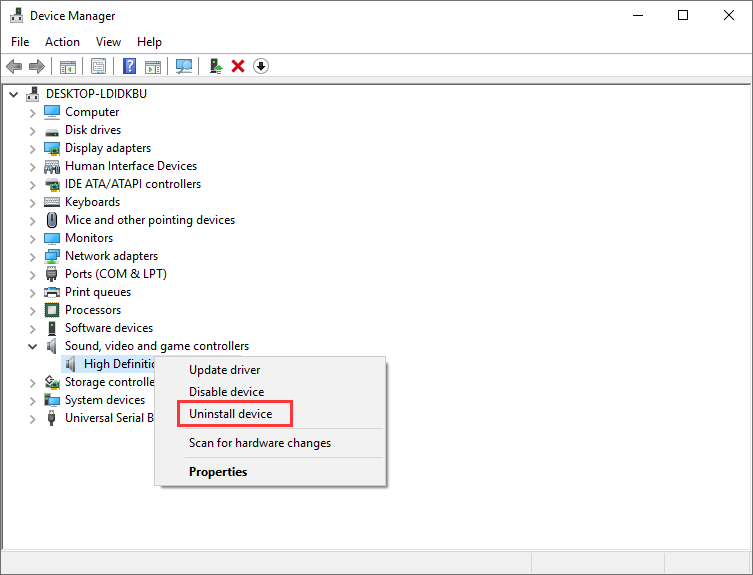 Step 4. Click Uninstall in the pop-up window to confirm your operation.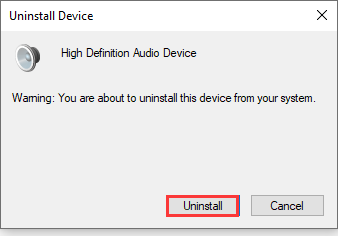 After that, you can download the latest drivers for your audio device by visiting the sound card manufacturer's website and then install the latest Windows update.
Fix 3. Fix Corrupted System Files
Corrupted system files can lead to Windows update issues such as 0x8007001f. So to fix the problem, it is necessary to scan and fix corrupted system files on your PC.
Step 1. Input cmd in the Windows Cortana search box. Right click the best match and select Run as administrator.
Step 2. Input the following command to fix corrupted system files and press Enter.
dism.exe /Online /Cleanup-image /Restorehealth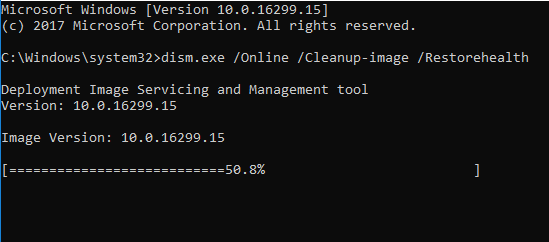 Step 3. When it is finished, type the following SFC command to repair system files and press Enter.
sfc /scannow
Now the corrupted system files should be repaired, you can try updating Windows again and check if the error 0x8007001f disappears.
Fix 4. Perform a Clean boot
As I mentioned before, error 0x8007001f could be caused by software conflicts in Windows 10. How to indentify if this is the reason? Well, you can perform a clean boot to check if the error is caused by third-party software or a service. Here are steps.
Step 1. Press Windows log key and R key on the keyboard to bring up the Run dialog box.
Step 2. Input msconfig and press Enter.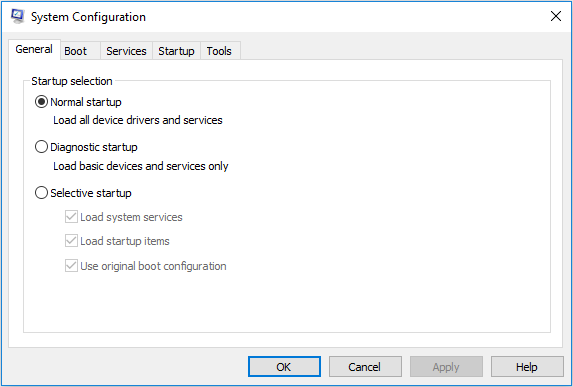 Step 3. Click the Services tab. And check Hide All Microsoft Services and click Disable All.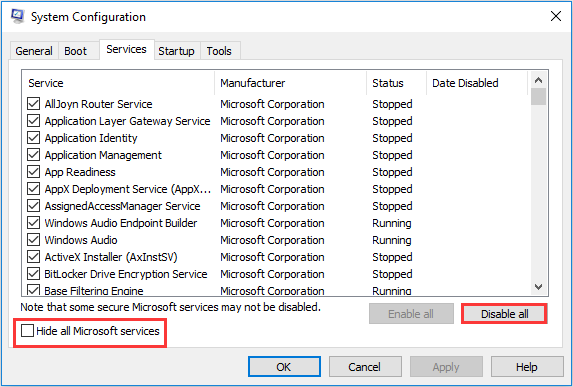 Step 4. Locate to the Startup tab and click Open Task Manager.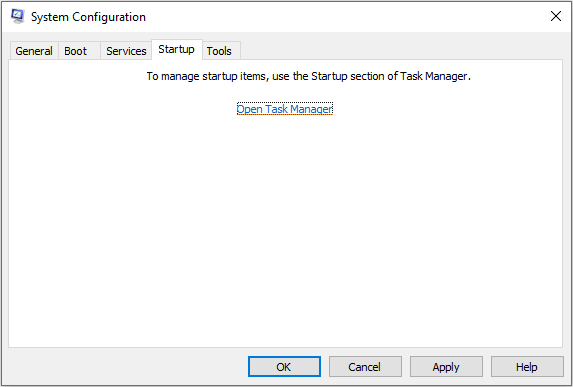 Step 5. Now select each task and click Disable.
Step 6. Restart your computer.
Fix 5. Update Windows 10 with Windows Media Creation Tool
If the above fixes cannot help you bypass the error code 0x8007001f you can choose to get the latest Windows update via Windows Media Creation Tool.
Step 1. Download Windows 10 Media Creation Tool form Microsoft's official website.
Step 2. Run the Media Creation Tool. To run this tool, you need to be an administrator.
Step 3. On the What do you want to do page, select Upgrade this PC now, and then click Next.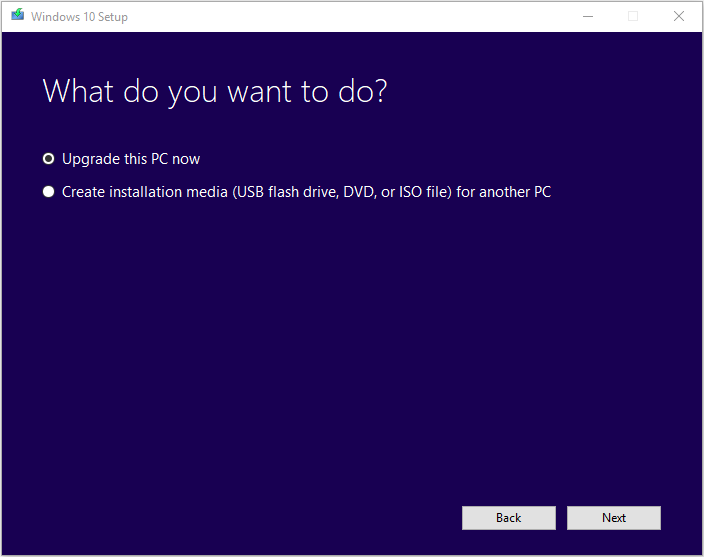 Step 4. Then Media Creation Tool will download some files for updates and then check your PC. Just wait patiently.
Step 5. On Ready to install page, choose Change what to keep, and thus you can select what to keep by yourself.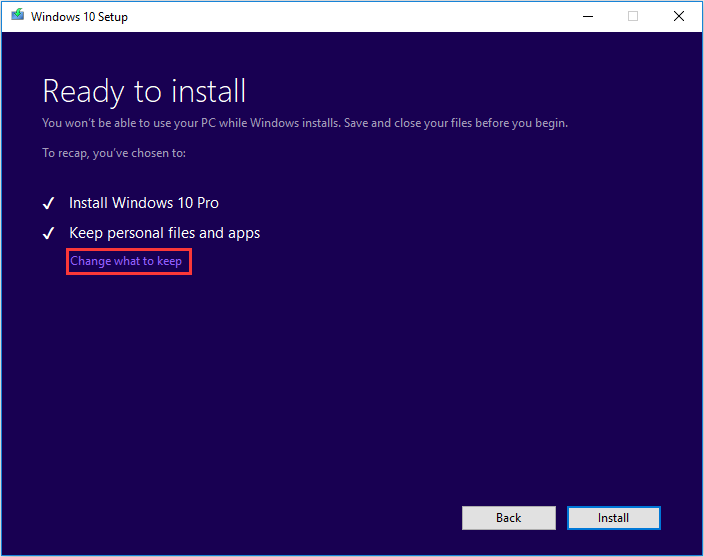 Step 6. Choose Keep personal files and apps and click Next.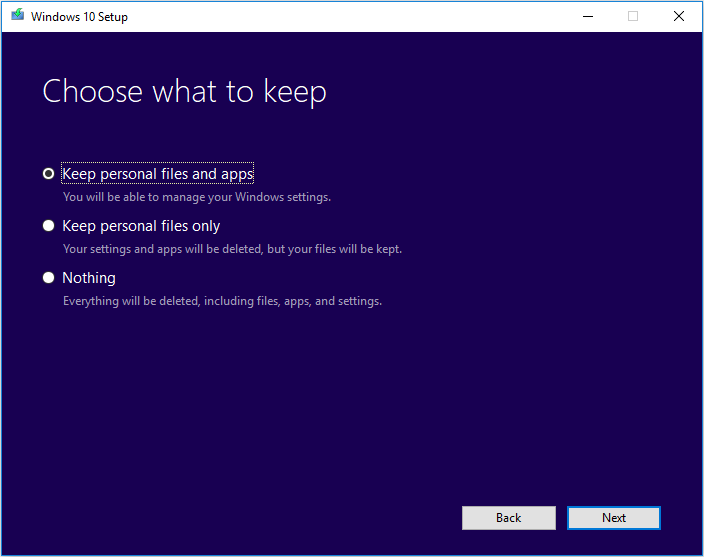 Step 7. Click Install and let it to complete the setup.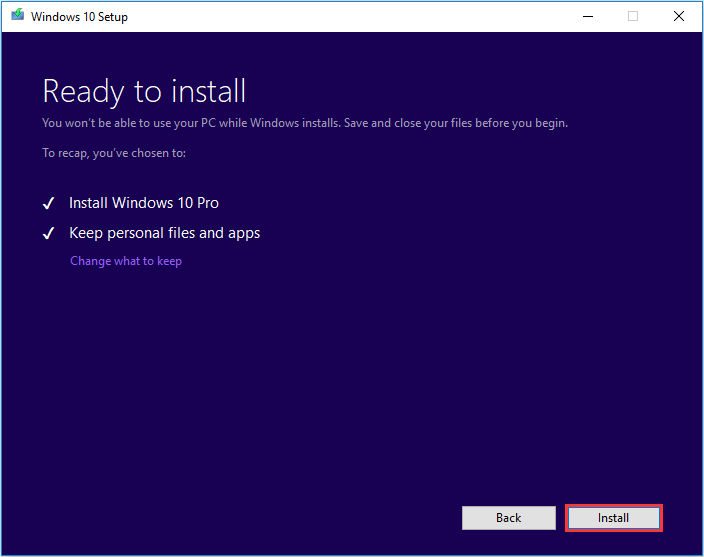 Conclusion
After reading this post, have you fixed the Windows update error 0x8007001f? Which methods works for you? If you have better solutions, please don't hesitate to share with us. We are glad to have you to share it with us.