As a reliable business operating system, Windows Server 2016 offers end-user with many new and upgraded features such as Hyper-V, Windows containers and so much more. To make you install and use this Windows Server smoothly, we decided to assist you with this post.
Windows Server 2016 Requirements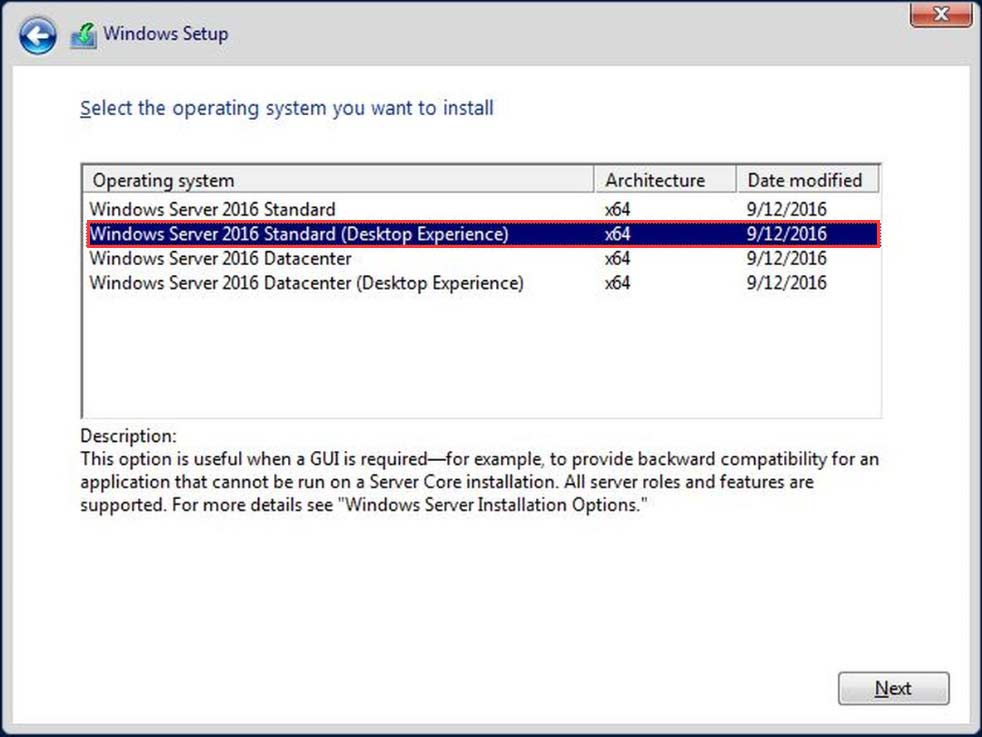 Windows Server 2016 can be used to set up, manage, and maintain business Servers. It provides a smaller and faster graphical interface for enterprises and individuals when running Microsoft based services.
In addition, Windows Server 2016 bears considerable cybersecurity and data breach prevention capabilities. These features such as security auditing, access privilege control, and active detection are designed to prevent proprietary data from particular aggressions that target business.
However, it is also crucial to meet the Windows Server 2016 requirements before installing and using it. There are Windows Server 2016 hardware requirements as follows:
If you want to run Windows Server 2016 smoothly, you need to meet a minimum of AMD64 or 1.4GHz EMT64 Processor. 
At the same time, the processor is required to be compatible with x64 instruction set architecture and support the security features such as NX Bit and Data Execution Prevention.
Also, it should work with CMPXCHG16b, PrefetchW, and LAHF/SAHF and support at least Second Level Address Translation: Extended Page Table (EPT) and Nested Page Tables (NPT).
1. RAM
As for Windows Sever 2016 requirements, you should meet the following RAM requirements:
With the Desktop Experience feature, the storage capacity 512 GB and 2GB of RAM for Windows Servers are required.
ECC type or similar technology.
If your virtual machine (VM) has the minimum hardware parameters and is attempting to install WS2016 on the VM, the setup is likely to fail.
To avoid this failure, 800 MB of RAM or more should be allocated to the VM you intend to install WS2016 on and run the setup. After completing this installation, you can reduce the RAM of VM to 512 MB.
Also, you can change the booting process of Windows Server 2016 by pressing the key Shift + F10. In the pop-up window, you can call out the Diskpart.exe command prompt to create the desired installation partition. Then type the Wpeutil createpagefile /path=X:pf.sys command and hit enter to create the installation partition.
2. Disk Controller and Disk Space
It is recommended that you use PCI Express compliant as a disk controller.
You also need to note WS2016 does not support ATA/IDE/PATA/EIDE for boot, page, or data. As for the core installation. You need to meet a minimum disk space of 32 GB. And if you want to install Graphical User Interface, an additional 4 GB is required.
3. Network Adapter
In addition to the above Windows Server 2016 requirements, a suitable Network adapter is also required. Microsoft suggest you to meet the following basic Windows Server 2016 requirements:
Set up PCI Express Compliant as your network adapter
A Gigabit adapter with 1 Gbps throughput
Make sure your Ethernet Adapter support PXE (Pre-boot Execution Environment).
You may also be interested in How Much SSD Storage Do You Need? – Get Answer Now.
4. Other Windows Server 2016 recommended hardware requirements
If you want to install WS2016 from a DVD media, please make sure your computer has a DVD driver.
A UEFI 2.3.1c-based system, Graphic device, Trusted Platform Module, keyboard, internet access, and firmware supporting secure boot are also required.
A Microsoft mouse and a monitor with high-resolution can help you to make the installation process smooth and successful.
After completing the installation, you need to collect some usefulsecurity tipsto protect your Windows server.
Right now, all server requirements for Windows Server 2016 are told to you. You can try to install the Windows Server 2016.
How Much Does a Windows Server 2016 Cost?
The price of a Windows Server 2016 depends on its various versions. At present, there are three major versions of Windows Server 2016 including Windows Server 2016 Essentials, Standard, and Datacenter. In a nutshell, its cost a range from $95/month up to $345 a month.
You may also like how to Upgrade Windows Server 2008 before Support Ends.