Have you upgraded your computer to Windows 11, the latest operating system? Microsoft released Windows Insider Preview build 22471 recently. You can download and install it to get some bug fixes. For more details, please refer to this post from MiniTool Partition Wizard.
Windows 11 Insider Preview Build 22471 Was Released to the Dev Channel
Since Windows 11 was announced on Jun 24, 2021, Microsoft keeps releasing several Insider Preview builds for Windows 11 users. The next builds always come with some bug fixes and might be certain new features. Therefore, it should be a good choice to download and install the latest Windows 11 Insider Preview build.
On October 4, 2021, Microsoft released Windows 11 Insider Preview Build 22471 to the Dev Channel. According to Microsoft, previous Dev Channel builds from the RS_PRERELEASE branch will expire on October 31, 2021. And it is recommended to update to the latest Dev Channel build 22471 to avoid hitting this expiration.
Changes and Bug Fixes in Windows 11 Insider Preview Build 22471
As mentioned, Windows update usually comes with improvements and bug fixes. So does Windows 11 Insider Preview Build 22471. In this Windows 11 update, TabletInputService has been renamed as TextInputManagementService. This build includes the following bug fixes:
For taskbar: Fixed the issue that the hidden icons in the taskbar have sharp corners instead of rounded corners sometimes; fixed the issue that the Desktops pop-up context menu was dismissed instead of moving focus down the menu while using the down arrow.
For File Explorer: Fixed the issue that File Explorer crashed sometimes while closing File Explorer windows.
For input: fixed the issue that voice typing failed with an error message sometimes; mitigated a race condition that might cause textinputhost.exe to crash on startup; fixed the issue related to the touch keyboard in "Kana" key mode for the Japanese IME.
For Windowing: fixed the issue that apps got stuck in a minimized state after disconnecting an external monitor and resuming the system from sleep; now Windows Terminal will be opened in the foreground instead of the background after typing wt in the Run dialog.
Fixed a network issue happening while running certain traffic optimization software.
Fixed the issue that leads to some devices unable to update to a newer build with the error code 0xc1900101.
The "reboot needed" dialog for Windows Update was changed to now say Windows 11.
Fixed a DWM crash appearing while enabling a contrasting theme.
Fixed the issue on ARM64 PCs where some apps failed to change display language if they were installed before upgrading to Windows 11.
Fixed the issue that a lower memory priority was used when File Explorer is launched from an elevated process.
In addition to the above-fixed bugs, there are still some know issues waiting for solutions in Windows 11 Insider Preview build 22471. You can keep an eye on the Windows 11 Update in the future.
How to get Windows 11 Insider Preview Downloaded and Installed
The full name of the latest build is Windows 11 Insider Preview 22471.1000 (rs_prerelease). Microsoft has moved the Dev Channel back to receiving builds from the active development branch (rs_prerelease) and you should know that the final release of Windows 11 will not include the changes in this build.
If you are a Windows 11 Insider in Dev Channel, you will receive Windows 11 Insider Preview build 22471 automatically as long as you don't delay the Windows Update manually. If you don't receive the update, you can go to Windows Settings > Windows Update to check for updates manually.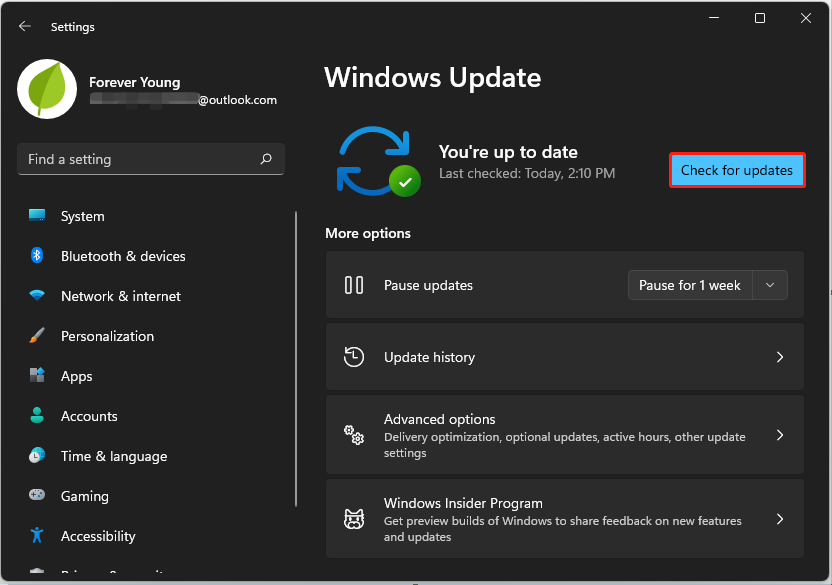 Windows 11 Insider Preview ISO for 22471 is not available on the official website of Microsoft yet.