Windows 10 19H2 Build 18362.10006 is recently released by Microsoft. Compared with Windows 10 19H2 Build 18362.10005, this new build comes in some features that will be introduced in this article in detail.
Windows 10 19H2 Build 18362.10006
In this month, Microsoft released the first 19H2 Build Insiders in the Slow Ring with build 18362.10000.
A few days later, Microsoft said in an updated blog post that they released a new Windows 10 19H2 Build for Insiders (Windows Insider is an open software testing program by Microsoft) in the Slow Ring. The new build ticks the build number up to 18362.10006.
The benefit of being in the Slow Ring is that computer users will still receive new updates and features on the Development Branch. However, this build is only available to a subset of testers. This means that not everyone in the Slow Ring will get this update.
Features of Windows 19H2 Build 18362.1006
Speaking of this new build, it is necessary to talk about the previous build – Windows 10 19H2 Build 18362.1005.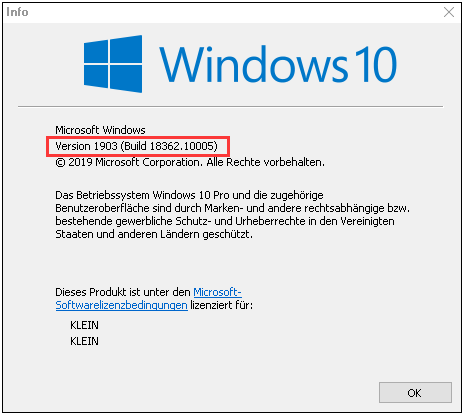 This build was also released to Insider in the Slow Ring with some new features and changes. However, none of these new items was available since Microsoft was using the build to test the new CFR system. This way, new features will be available for some from the beginning, and only later for everybody.
Compared with the Build 18362.10005, the Build 18362.1006 comes in the following shines:
A fix allows OEMs to reduce the inking latency based on the hardware capabilities of their devices instead of being stuck with latency caused by selecting on typical hardware configuration by operating system.
A change enables the third-party digital assistants to voice activate above the Lock screen.
Windows containers need matched host and container version, which restrict customers and limits Windows containers from supporting mixed-version container pod scenarios.
Key-rolling or Key-rotation feature enables secure rolling Recovery passwords on MDM (Mobile Device Management) managed to ADD devices upon on-demand requestsfrom in-tune/MDM tools. Each of the two features can help prevent accidental recovery passwords disclosure as part of manual BitLocker driver unlock by users.
These four listed features are also included in Windows 10 19H2 Build 18362.10005, but they are off by default in this build.
We can see that Microsoft is taking a steady method to the features that it is planning for the 19H2 release. The 19H2 is expected to be relatively minor when it is compared to the previously Windows 10 release. Furthermore, this way of testing allows Microsoft to more granularly control the flow of feedback.
If you are enrolled in the Slow Ring, you can test Windows 10 19H2 18362.1006 out now. As for the Fast Ring Insiders, they are currently testing Windows 10 10H1 which is expected to release in the first half of the next year.
Final Words
In a nutshell, computer users should keep in their mind the following three items:
Windows 10 19H2 Build 18362.1006 is now available to Insiders in the Slow Ring.
This is a minor update to the 18362.10005 that released in this month.
Windows 10 19H2 Build 18362.10006 activates all the new features that were off by default in 18362.10005, but it is only available to a subset of Insiders.