Windows 10 automatically update is a common issue among Windows users. As a Windows user, if you are not accustomed to using the newest version of Windows and you want to roll it back, you may wonder how to uninstall Windows 10 updates. MiniTool tells all.
What Is Windows Rollback
Windows rollback (go back to a previous version of Windows) is the process of reverting your current Windows operating system to the previous version without the new installed updates.
Usually, when you turn on the computer, you'll find Windows automatically installs updates. For those users who don't like Windows update, Windows rollback can be a great help.
Why Rollback Windows 10 Update
Most of the time, Windows update is good to users, because these patches fix bugs, enhance the operating system stability, protect computers from attacks of the latest virus and security threats, and offer better user experience.
However, Windows update also could break your computer.
Recently, the latest Windows 10 updates have caused a series of problems. According to users, updates will greatly degrade some games' performance and cause graphics and mouse issues.
Thus, if you've installed the latest version of Windows 10, and then noticed graphics and mouse issues, you are not alone.
Microsoft said the next update will solve this problem. In the meantime, Microsoft suggested affected users uninstall the latest updates to revert back to the previous version.
Why need to roll back Windows 10 updates? Some responsible reasons are listed below.
Some apps and devices are not compatible with the new Windows version after the update.
File loss and drive loss after the update.
Blue screen of death after the update.
Performance degradation after the update.
Graphics and mouse issues after the update.
As you can see, installing a Windows update may bring you lots of trouble. To make things easier, downgrading to the previous version may suit you best.
How to Roll Back or Uninstall Updates on Windows 10
Note:
Windows 10 rollback is only available in 10 days. If you missed the opportunity of Windows 10 rollback, you can reinstall Windows 10.
Before doing Windows 10 rollback, you need to back up important files to avoid data loss. 
Step 1: Press 'Win + I' to run the Settings app, then click Update & Security to access its main interface.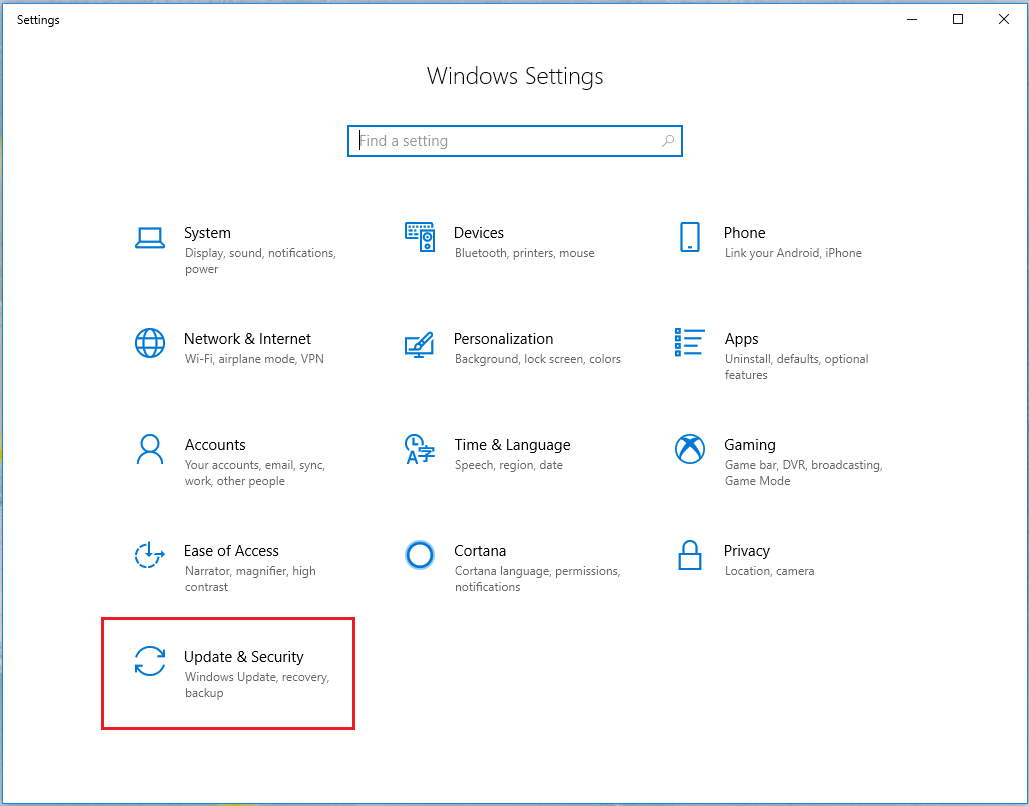 Step 2: Navigate to Recovery from the left panel and then click Get started under Go back to the previous version of Windows 10.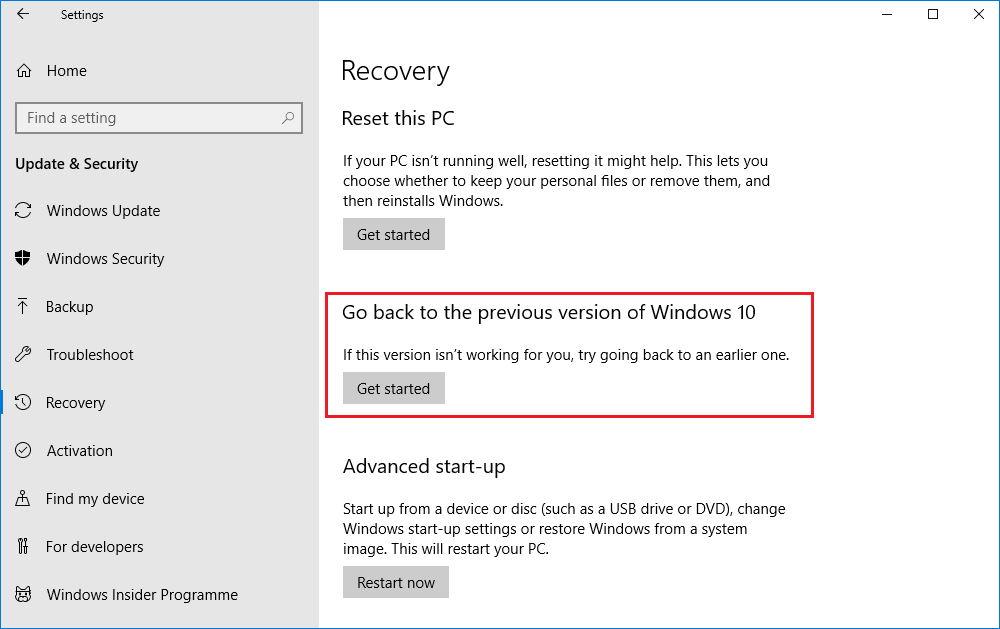 Step 3: The process starts and you will be asked a few questions. Mark your answer and click Next to go on. Please remember when you go back, you lose all changes that are available in the last updated version.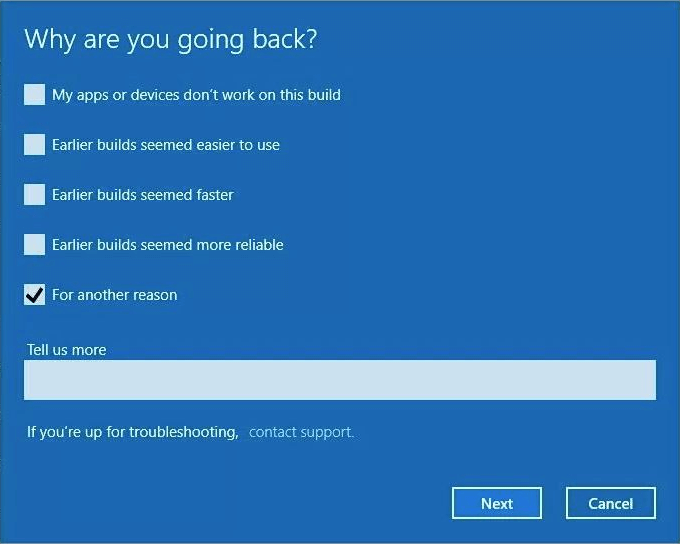 In addition, Windows 10 will offer you another chance to check for updates, please make your own choice. Besides, make sure you know the account password for your previous Windows version.  
After rolling back Windows, you may find Windows still automatically update. If you are tired of Windows update and want to keep the current version of Windows, disabling Windows 10 update is your first choice.
Windows 10 Rollback Loop/Stuck, How to Fix?
While most of the time, you are able to go through the Windows rollback process successfully. However, many users also reported that their Windows 10 rollback stuck could happen.
In this point of view, I would like to share some useful solutions.
Solution 1. Force Shut Down
According to the users' report, when the rollback process is stuck, the hard drive indicator does not show any indicator. But after a forced shutdown, the hard drive indicator is active again and the rollback would continue.
Solution 2. Leave Your Computer Running for a Couple of Hours
Sometimes the rollback process can take longer. So, it is better to leave your computer there and wait for the rollback process to finish patiently.
Solution 3. Run Command Prompt
If Windows rollback loops, you might be able to fix it by running a couple of commands. And since you are getting stuck in the rollback process, you have to shut down your computer first.
Then follow the steps below:
Step 1. Restart your Windows 10 for several times while it is still booting to enter WinRE.
Step 2. When you are presented with a couple of options, choose Troubleshoot > Advanced Options > Command Prompt.
Step 3. Run the following commands.
chkdsk c: /f
bootrec /fixmbr
bootrec /fixboot
bootrec /rebuildbcd
bcdboot c:windows /s c:
Solution 4. Reinstall Windows 10
If all of the above solutions are not help, you have to reinstall Windows 10. Since a complete reinstall will delete all your files in the C drive, I sincerely recommend that you should back up files in the C drive first.
Then, please follow this guide to reinstall Windows 10: Detailed Steps and Instructions to Reinstall Windows 10.
Conclusion
Reading here, I guess you already know: what is Windows rollback, and how to start Windows 10 rollback to return to the previous version if the new updated version does not suit your taste.
I also give you suggestions for Windows rollback loop. If you are getting stuck in rollback Windows 10 update, just give the solutions a try.