It has been a few months since Microsoft released its new operating system, Windows 11. And a huge number of Windows 10 users have upgraded to Windows 11. To help you know more about Windows 11, I'd like to introduce how to view weather info in Windows 11 taskbar in this post from the MiniTool Partition Wizard website.
About Windows 11
Windows 11 was first announced by Microsoft on June 24, 2021, as the successor to Windows 10. Since then, Microsoft has released a variety of Windows 11 Preview Builds so that Windows Insiders can have a try. This new operating system was officially released to the public on October 5, 2021, which excites a lot of users.
As the successor, Windows 11 is based on Windows 10 but has a lot of differences from Windows 10, with a brand new outlook and various new features. You might be confused sometimes while using this operating system even you are a fan of Windows 10.
Don't worry. We are keeping updating tutorials to help you know better about Windows 11. And in this post, we are going to figure out how to view weather info in Windows 11 taskbar quickly.
The New Weather Widget for Windows 11 Taskbar
In the latest Windows 11 Insider Preview Build 22518 to the Dev Channel, Microsoft updated the entry point for widgets on the taskbar, including the weather widget. The entry point is located on the left side of the Windows 11 taskbar by default.
Make sure you have installed the latest Windows 11 updates and then you can hover over the entry point to access the weather widget.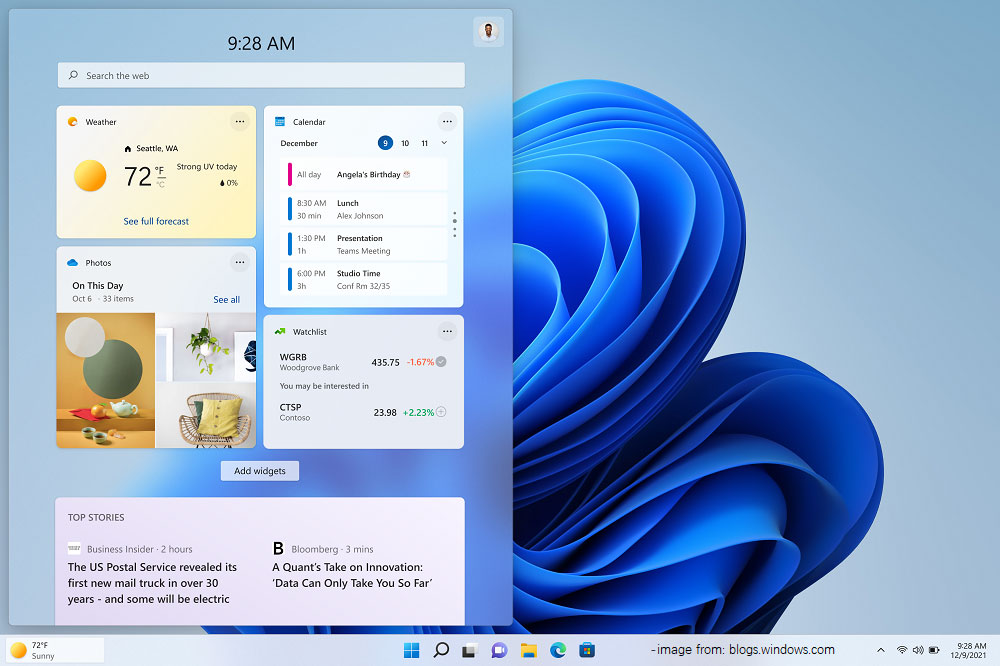 If you don't see the weather widget at the taskbar, you need to press Win + I to open Windows Settings and go to Personalization > Taskbar > Taskbar items. Then make sure the Widgets feature is turned on. When you want to remove the weather widget from the taskbar, you just need to go to the same settings and toggle off the Widgets feature.
View Weather Info in Windows 11 Taskbar via Third-party Tools
If you can't receive the build 22518 or you don't want to spend time waiting for the updating process, you can view weather info in Windows 11 taskbar with a third-party tool. Please pick a reliable and professional one while you are choosing a third-party tool.
Here I'd like to take Weather Bar and WeatherBug as examples. They are both free and useful tools that can be used to view weather info in Windows 11 taskbar.
Try Weather Bar as a Weather Widget in Windows 11
Weather Bar is a weather program available on Windows, macOS, and Linux. It allows you to view current weather conditions as well as 15-day forecasts. And this program supports 10 languages, such as Chinese, English, French, Japanese, Portuguese, etc.
According to the developer, this program has not been tested for Windows 11, and it might not work on Windows 11 in some cases. But it is free to try.
To download this program, you can visit its official website and click the Download icon.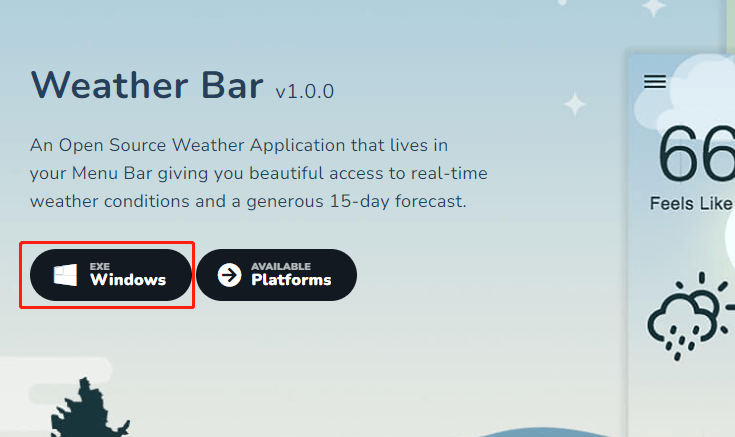 After downloading Weather Bar, run the setup file and follow the on-screen instructions to install it.
Then you can launch the application and use it to view weather info in Windows 11 taskbar. And you can click the temperature icon to expand a window that displays more details. In Weather Bar, you can click the three-line icon at the upper left corner to change location and preferences settings.
Tip: The Weather Bar icon on the taskbar usually shows in white text. To see it clearly, you might need to change your system theme to a darker one.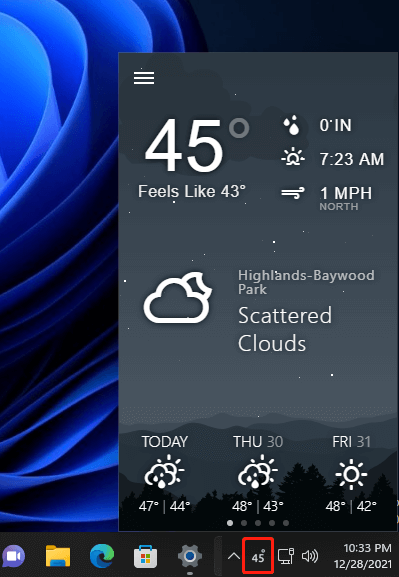 Try WeatherBug as a Weather Widget in Windows 11
Compared with Weather Bar, WeatherBug seems to be more powerful. WeatherBug provides current and extended local and national weather forecasts, news, temperature, live radar, lightning, hurricane alerts, etc. You can download and install the app from its official website.
Once the app is installed, you will be able to see the weather info in Windows 11 taskbar.