In daily life, most users would check in with the weather before they go out or while planning a travel. If you are using a Windows PC, which desktop weather app will you choose? Here, MiniTool Partition Wizard puts together some applications for you and you can consider them.
It is always wise to check the weather forecast before going out or planning a trip, so you can prepare an umbrella or extra clothes in advance. You have a lot of access to the weather forecast in such an era that information technology develops rapidly. In this post, I put together some desktop weather apps and you can have a look.
Option 1: MSN Weather
MSN Weather is a desktop weather app provided by Microsoft. It has been pre-installed on Windows 10 and you can find it by pressing Win + S and searching for it.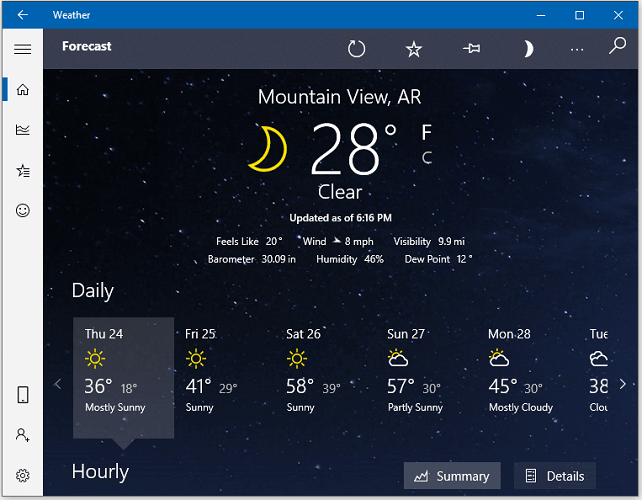 With this app, you can view the current conditions and a 10-day extended forecast that includes the weather and temperature. You can also view the Day details which tell you the time of sunrise, sunset, moonrise, moonset, moon phase, humidity, precipitation, and other information about the weather during the day.
In addition to the weather forecast for recent days, you can also check historical weather information that shows the monthly weather patterns include the temperature, rainfall, and snow days.
Option 2: Forecast
Forecast was published by Alexander Wilkens and released on June 14, 2011. It is available on PC and mobile devices, supporting 17 languages.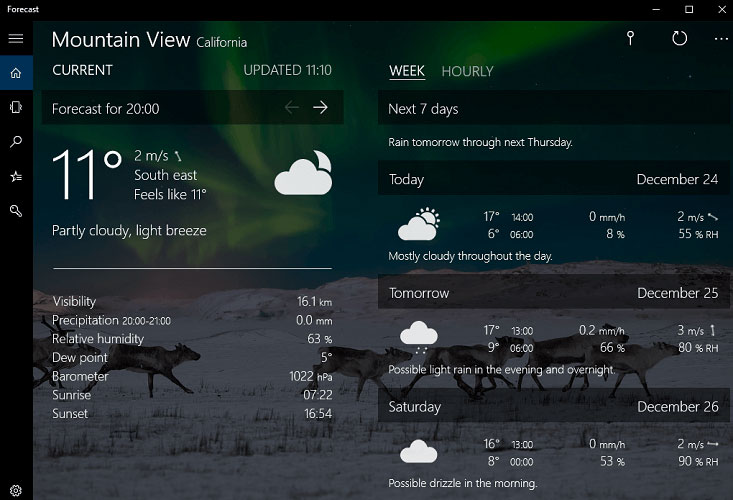 This app provides detailed current weather conditions for locations all over the world, and you can also view the weather forecast for the entire week. It is designed with the Location Aware feature which detects your location and automatically downloads your weather. By the way, you can configure the app appearance with both color and image themes available.
You can download the app in Microsoft Store after paying $1.49. If you are not sure whether you like it, you can download the Free Trial version to have a try.

Option 3: 8-Bit Weather
If you are a game lover or pixel fan, you might prefer 8-Bit Weather which combines the nostalgic cool of pixelated graphics with the latest up-to-date weather information. You can get it free from Microsoft Store.
In the 8-Bit Weather app, you can check the current climate conditions and a 7-day forecast as well on an iconic videogame canvas. To download and run this app, your PC needs to meet the following minimum system requirements:
OS: Windows 10 version 10240.0 or higher, Windows 8 Mobile, Windows 8.1
Architecture: x86, x64, ARM, ARM64
Option 4: Weather Radar Pro
Weather Radar Pro is an app developed and published by Robert Firth. It was first released on April 4, 2013. You can get this app in your Microsoft Store and install it on up to 10 Windows 10 devices. By the way, it requires at least $2.49.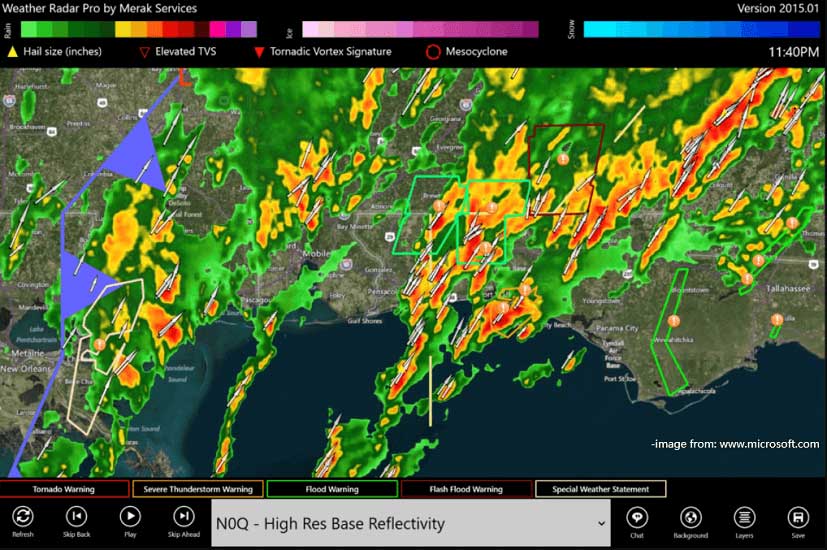 This app offers animated weather radar and you can view global temperature data, sea-level pressure, global hurricane tracking, cloud overlays, storm attributes, possible tornados, and other climate information. Weather Radar Pro covers the United States, Europe, and the Eastern Caribbean. It might be a little bit complicated for common users, but you will like it if you are interested in meteorology.