Are you bothered by "We couldn't create the Outlook data file" error? Take it easy. MiniTool Solution gives you 3 methods in this post. You can fix this error by yourself with the given instructions.
As one of the most popular email clients, Microsoft Outlook can help users manage emails from multiple account. However, while adding various different emails to Outlook, you may fail to add a new email and receive the error "We couldn't create the Outlook data file".
It's worth mentioning that this issue appears only when adding the Gmail account. Microsoft Outlook works well if you add other email providers.
Reasons for This Error
You may wonder why Outlook couldn't create data file. There are two main reasons for this error.
Outlook bug: This is the most common cause of this error. This bug in Microsoft Outlook prevents users from adding accounts from the option of Add Account. In this case, you can switch to another method of adding account.
Simplified Account Creation feature: As a newly added feature, it comes up on the start of Microsoft Outlook. However, the mentioned problem might appear if you use this feature. Sure, you can fix the issue simply by disabling it.
Note: If you don't get proper permissions from your email provider side, you cannot add email account to your Outlook as well. Thus, please make sure that you have allowed Outlook from your Gmail.
Solution 1: Use Manage Profiles
As Outlook has a bug that prevents you from adding accounts via Add Account option, you should consider trying an alternative way to add accounts. You can add accounts using the Manage Profiles option if Outlook couldn't create data file.
Step 1: Open Outlook.
Step 2: Click File from the top left corner.
Step 3: In Info section, click Account Settings and choose Manage Profiles from the drop-down menu.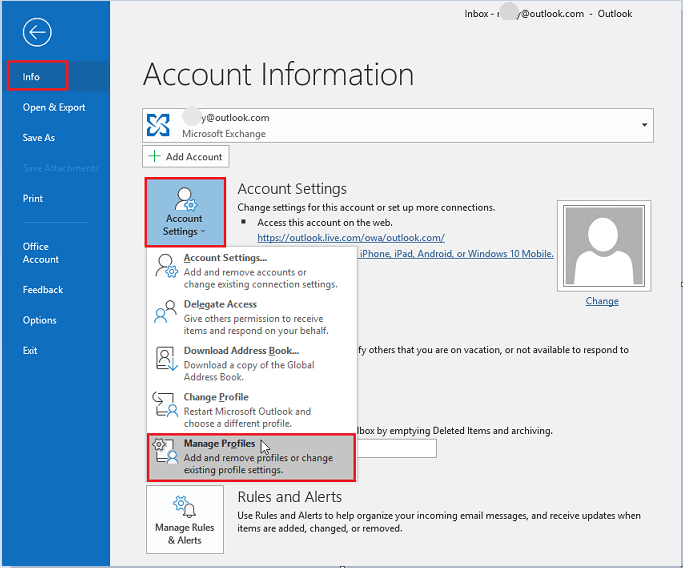 Step 4: In the pop-up dialogue box, choose Email Accounts.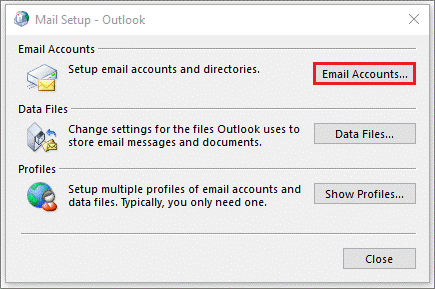 Step 5: In the Account Settings window, click New under E-mail tab. Then, you will be required to input some information for the new email account. Just follow the onscreen instructions to complete adding a new account.
Solution 2: Use Mail Option
This is an alternative method of Solution 1. You can also use Mail option to add a new account if "We couldn't create the Outlook data file" error appears.
Step 1: Open Control Panel.
Step 2: Choose Small icons from the drop-down menu of View by option
Step 3: Locate and double-click Mail.
Step 4: You will get the same window in Step 4 of Solution 1. From now on, the steps to add a new account are the same as Solution 1 and you can refer to the instruction above to finish this operation.
Solution 3: Modify Registry Editor
If you are using Simplified Account Creation, you can disable this feature to remove the mentioned problem by modifying your Registry Editor.
Tip: Before you modify Registry Editor, don't forget to back up the current Registry state. Just click File > Export to save the copy of the current state to a certain location.
Step 1: Press Windows key and R at the same time to invoke Run window.
Step 2: Input regedit and click OK to open Registry Editor.
Step 3: Expand the following folders one by one to locate Setup key. Alternatively, you can copy the following path and paste it in the address box.
ComputerHKEY_CURRENT_USERSoftwareMicrosoftOffice16.0OutlookSetup
Step 4: Right-click any empty space from the right pane. Select New and hit DWORD (32-bit) Value.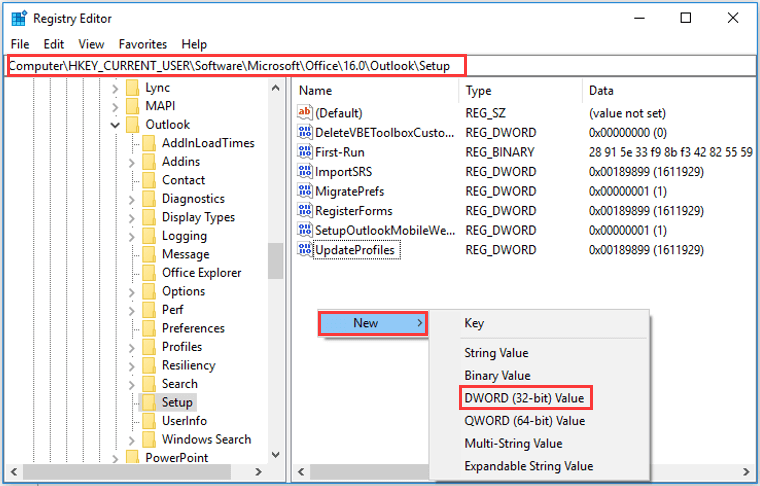 Step 5: Now, name the new entry as DisableOffice365SimplifiedAccountCreation and press Enter.
Step 6: Double-click the new key and set its Value data as 1, and then click OK.
In this way, you have disabled Simplified Account Creation successfully. You can close Registry Editor and try to add new accounts again.