Call of Duty: Warzone is a popular video game. Unfortunately, many players encountered Warzone error code 48 while trying to log into or play this game. To solve the problem, MiniTool Partition Wizard puts together some solutions here.
Call of Duty: Warzone is a battle royale video game published by Activision Publishing, Inc. It is available on various platforms for free, including Microsoft Windows, PlayStation 4, PlayStation 5, Xbox One, and Xbox Series X/S.
It is an attractive game. However, some users complained that they received Warzone error code 48 when they tried to log into or play the game. It happened on both Windows PCs and game consoles. And the error code 48 usually comes with the following massage:
DOWNLOAD FAILED.
Download has failed. Do you wish to retry?
If issues persist, please contact activision support quoting the error code.
What can you do when you receive this error code? Follow the tutorial below.
Fix 1: Restart Your PC or Game Console
When you encounter Warzone error codes, the first thing you can try is to restart your game device, such as the PC, PlayStation console, or Xbox console. It can solve some common and simple problems with the device.
In addition, to troubleshoot network issues, you can also restart your router. You just need to disconnect the power cable and wait for about 5 minutes. Then reconnect the power cable and check if the Warzone error code 48 disappears.
Alternatively, you can try another network, such as a mobile phone's hotspot.
Fix 2: Install the Latest Update for Warzone
Game developers keep releasing new updates for bug fixes or improved features. Usually, when you launch Warzone, it will check for updates and download and install them automatically. However, if Warzone failed to apply an update, you might receive the Warzone download failed error code 48.
To fix the error, you can try checking for updates manually with the Battle.net client on PC, a game platform where you can manage Call of Duty: Warzone. And here are the detailed steps.
Step 1: Close Warzone and run Battle.net.
Step 2: Select Warzone from your game list. Then click the Settings icon next to the Play button.
Step 3: In the pop-up window, select Check for updates.
After that, you just need to wait patiently until the updating process is finished. Then you can launch your Warzone and check if it works properly.
Fix 3: Disable Antivirus Temporarily
Sometimes, antivirus programs might prevent game updates from downloading or installing, which may lead to Warzone error code 48 eventually. In this case, you can try disabling your antivirus program temporarily to solve it.
Warning: Once you turned off your antivirus program, your PC might face viruses, malware, or some other threats. Therefore, after you solve the problem, you'd better re-enable your antivirus.
Fix 4: Reinstall Call of Duty: Warzone
If you have tried all the solutions above but the Warzone error code happens again and again, you might need to consider reinstalling the game. Please note that the reinstalling process usually takes several hours, depending on your Internet speed and the game size. Therefore, please make sure that you want to have a try before you start reinstalling.
Here is how to reinstall the game on Windows PC.
Step 1: Open Control Panel and select view by Category.
Step 2: Click Uninstall a program.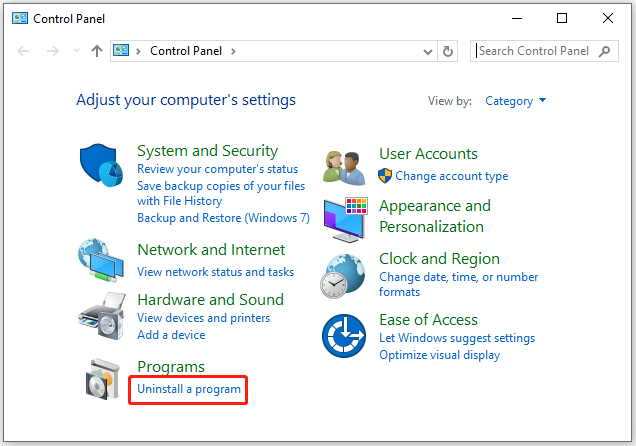 Step 3: In the list of installed programs and features, right-click Warzone and select Uninstall. Then follow the on-screen instructions to finish the process.
Tip: You can also uninstall the game in the Battle.net application.
Step 4: Download and install the game from its official website or Battle.net.
Then you can run this game and check whether the error code has been removed.