It could be really annoying to see Warframe update failed error while you're trying to install the latest version of Warframe, one of the most popular online games. Don't worry. MiniTool Solution provides 3 solutions in this post.
Warframe is a popular third-person online action game. You have to run the latest version of the game, as you cannot play the game if it is outdated. However, you may encounter Warframe update failed error while downloading and installing the latest Warframe.
Here are some solutions to update failed Warframe. You can have a try if you're facing the problem.
Solution 1: Repair Your Microsoft Visual C++ Redistributables
Warframe update failed error could be caused by faulty Microsoft Visual C ++ Redistributables installations. So, you can try fixing the problem by repairing the installations.
Step 1: Press Win + S to open Search. Type control panel and select Control Panel app from the search results.
Step 2: Select View by: Category and then click Uninstall a program.
Step 3: Find Microsoft Visual C ++ Redistributable package and right-click it. Then choose Change.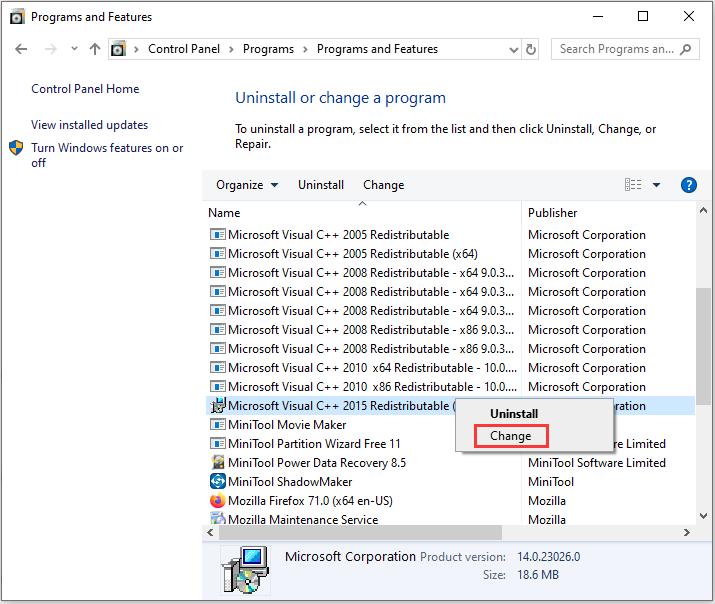 Step 4: In the pop-up window, choose Repair and follow the onscreen instructions to finish the process.
There might be several different versions of the Microsoft Visual C ++ Redistributable utility, and you need to make a note of them and repeat Step 3 and Step 4 to repair each one of them.
Once it's done, you can try updating Warframe again to check if this solution works for you.
If update failed Warframe still exists, you need to try the next method.
Note:
This error might also be caused by other corrupted system files. To solve the problem, you can also run
System File Checker
to check and repair corrupted system files.
Solution 2: Reset LAN Settings
If you have changed certain settings of your Internet connection to suit other programs, you should try resetting the LAN settings to fix Warframe update failed.
Step 1: Open Internet Explorer by searching for it. Then click the Settings icon on the top right corner.
Step 2: Select Internet options to open the list of connection related settings.
Step 3: Switch to Connections tab and click LAN settings.
Step 4: Check Automatically detect settings and make sure the option Use a proxy server for your LAN is unchecked.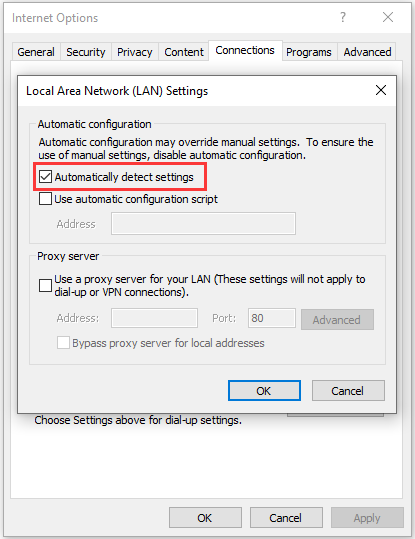 Solution 3: Reset the Game's Cache
The game keeps its cache inside its installation folder. You can try resetting the game's cache to solve Warframe update failed error. If you are using Steam, reset the game's cache by following the steps below.
Step 1: Open Steam. Then click Library tab and locate Warframe in the list of your games.
Step 2: Right-click Warframe and select Properties. Choose LOCAL FILES tab and click BROWSE LOCAL FILES.
Step 3: Right-click Cache.Windows folder and select Rename. Then rename the folder to Cache.Windows.old and press Enter.
Note: If you don't have Stream, you can locate the cache folder of Warframe manually.
Then you can try updating Warframe again to check if this solution works for you.
If you have tried all the solutions above but still receive the same error message, you can try the following ways:
Reinstall DirectX
Run the game's launcher with administrative privileges to install the update
Scan your computer for malware