Some players have reported the Valorant crashing issue on the forum. If you come across the same problem while playing Valorant, don't worry. This article from MiniTool Partition Wizard provides some feasible solutions that may help you get out of trouble.
Valorant is a free-to-play multiplayer tactical first-person shooter game developed and published by Riot Games. It was officially released for Microsoft Windows on June 2, 2020. As a new game, it has attracted a number of game lovers, but some players reported the crashing issue during game.
The Valorant crashing PC issue could appear due to various reasons. The good news is that you can fix the frustrating problem effectively by yourself. Here're some feasible solutions, and you can work your way down the list until Valorant works properly again.
Fix 1: Close Unnecessary Processes and Set Valorant to High Priority
At first, you need to close all the unnecessary programs when you are playing the game, because these processes may consume many resources (like CPU and Memory) and lead to Valorant crashing issue. To close processes, you need to:
Right-click the Start button and choose Task Manager.
Under the Processes tab, select the item that uses too many resources and click End task
Repeat the operation to close all the unnecessary processes.
Alternatively, you can also change the priority settings for Valorant. Just keep the game open and navigate to the Details tab of Task Manager. Then, right-click the Valorant process and choose Set priority > High.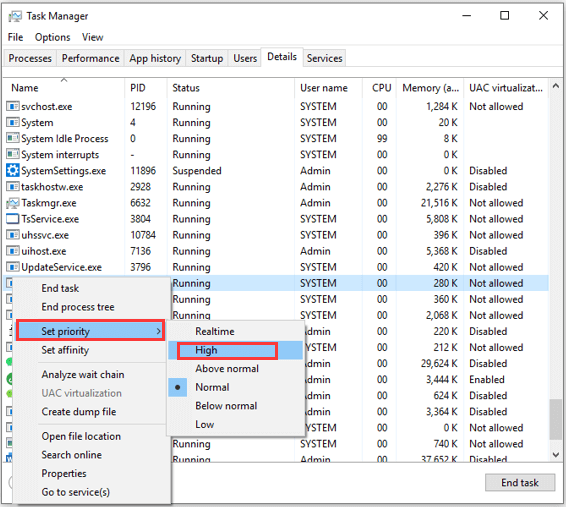 Fix 2: Update Your Windows
Windows regularly releases updates that may contains new features or bug fixes for some known issues, and some users have solved Valorant crashing issue by updating the Windows to the latest version. If you haven't updated your Windows for a long time, it's time to check and install updates for your Windows.
Step 1: Press Windows + I to open Settings app.
Step 2: Go ahead to Update & Security > Windows Update.
Step 3: Click Check for updates button in the right pane.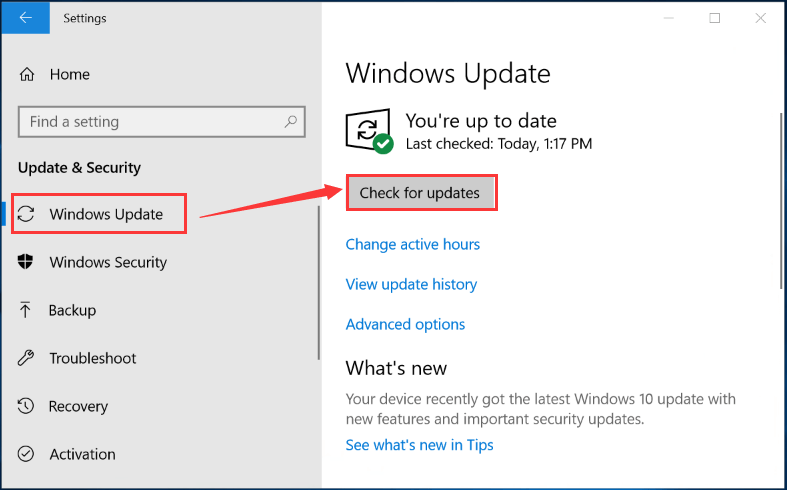 Then, your computer will find, download, and install all the available updates for you. Once it's done, restart your computer to check if you can play Valorant smoothly without the crashing issue.
Fix 3: Update Graphics Card Driver
In most cases, the game crashing issue is related to the graphics card driver. If your graphics card driver is outdated or corrupted, you are very likely to encounter Valorant crashing PC issue. So, updating your graphics card driver to the latest version may help you get rid of the issue.
Here's a simple guide:
Step 1: Right-click the Start button and choose Device Manager to open it.
Step 2: Double-click Display adapters to expand the category.
Step 3: Right-click your graphics card driver and choose Update driver option.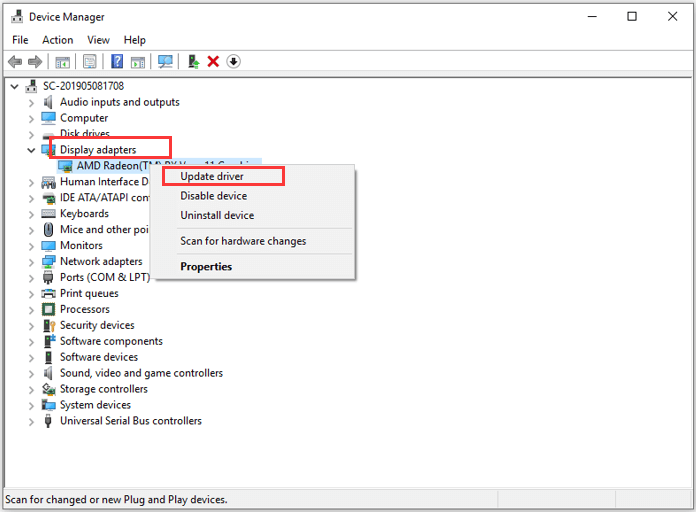 Step 4: Choose Search automatically for updated driver software option to continue. Then, you Windows will search your computer and the Internet for the latest driver software for your device.
After installing any available updates, restart your computer and launch Valorant to see if the crashing issue is fixed.
Fix 4: Disable Antivirus
In addition, some antivirus applications may mistakenly regard Valorant as a potential risk and prevent the game from running properly. If you are using antivirus to protect your computer when the Valorant crashing issue appears, you can try disabling the application temporarily.
If the game can run properly again after disabling it, you can add Valorant to the exception list of the antivirus or just keep it disabled when you are playing the game. If Valorant keeps crashing, just move on to the next solution.
Fix 5: Clean Boot Your Computer
Apart from the antivirus apps, some other programs may also conflict with Valorant and lead to the crashing issue in the game. To figure out the problematic program, you can clean boot your computer by following the steps below.
Step 1: Press Windows + R to invoke Run window. Input msconfig and click OK button to open System Configuration.
Step 2: Click the Services tab, check Hide all Microsoft services option, and hit Disable all button.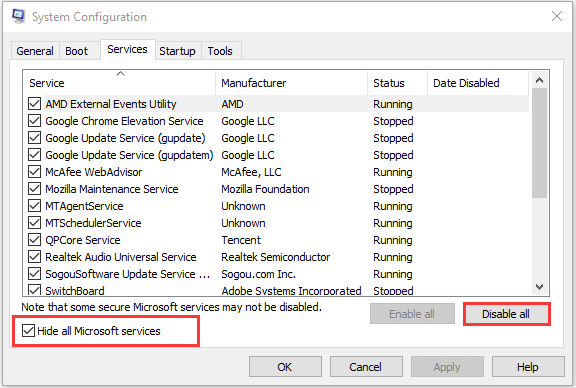 Step 3: Switch to the Startup tab and click Open Task Manager. In the pop-up window, disable all your installed programs.
After that, restart your computer and check if Valorant crashing issue is resolved. If you are able to play the game without any problems, you can reenable these programs one by one to figure out the problematic one and keep it disabled or uninstall it from your computer.