Summary :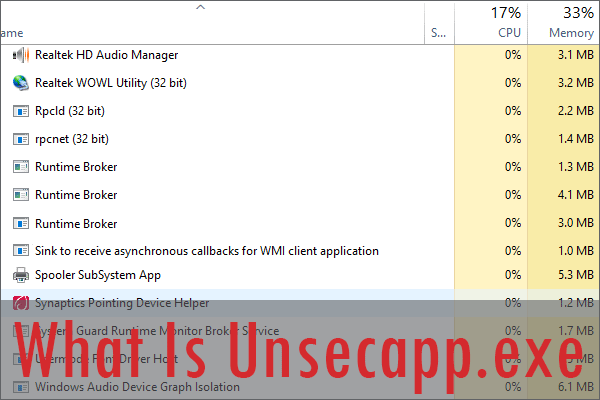 Many Windows users notice the unsecapp.exe Sink to receive asynchronous callbacks for wmi client application process on their computer but don't what it is. This post from MiniTool will show you some detailed information about the unsecapp.exe.
When you open task manager, have you ever seen the unsecapp.exe Sink to receive asynchronous callbacks for WMI client application process running in the background? What is it? Is it a virus? You must be confused. Don't worry. The following will give you brief introduction about the unsecapp.exe process.
What Is Unsecapp.exe
Unsecapp.exe is also known as Sink to receive asynchronous callbacks for WMI client application, which is a software component of the Microsoft Windows operating system. It is a part of the WMI (Windows Management Instrumentation) subsystem which helps to facilitate the communication between a program running on your PC and a remote server.
When a program needs to use WMI, unsecapp.exe is automatically started, serving as a conduit for synchronizing information between the system and the remote computer. Unsecapp.exe t is an essential Windows component, so you shouldn't remove it.
After knowing what unsecapp.exe is, you must be curious about the Windows Management Instrumentation. What is WMI? Please keep on reading.
WMI, also known as Windows Management Instrumentation, is a set of extensions to the Windows Driver Model that works together to support the infrastructure for managing data and operations on Windows-based operating systems.
It allows software developers to write scripts and programs to manage and query devices, user accounts, windows services, and other internal aspects of the OS. It is important for the Windows systems.
You may be interested in this post: Fix WMI Provider Host (WmiPrvSE.exe) High CPU Usage Windows 10
Is Unsecapp.exe a Virus
As mentioned before, the genuine unsecapp.exe file is an important software component of Microsoft Windows, so unsecapp.exe is not a virus. However, a virus could be named as unsecapp.exe and by using use the same file name, it can escape virus detection. In this case, unsecapp.exe could be virus.
How to identify if the unsecapp.exe file is the genuine one or a virus with the same name? Well, you can check its file location.
The genuine unsecapp.exe file should be located in C:\Windows\System32 folder (normally C:\Windows\System32\wbem), it is the genuine one. You can search if the unsecapp.exe is in the System32 folder by using the search box. If it is, the unsecapp.exe file on your PC is not a virus.
If you find the unsecapp.exe is not in the System 32 folder, it could be a virus. At this time, you should run a virus scan as soon as possible. If necessary, backup the important files on your PC immediately to prevent it from virus attack.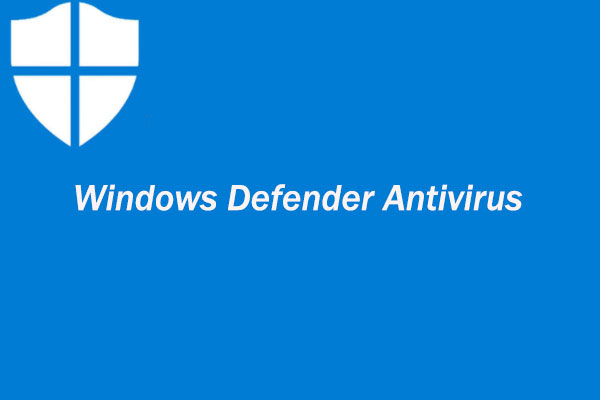 To schedule a scan in Windows Defender Antivirus, you need to use Task Scheduler. And you can find the step-by-step guide in this post.
Can I Disable Unsecapp.exe
You can disable the unsecapp.exe service but it is not recommended. The unsecapp.exe process is necessary for the Windows OS. If you disable the service, you will prevent computers from using WMI when they need it, which will greatly impact the performance of the operating system.
In addition to affecting Windows' use of WMI infrastructure, it will also impede the functionality of any third-party applications configured to using WMI programming.
So, you shouldn't disable the unsecapp.exe service. You should consider the unsecapp.exe as an important part of your system.
Conclusion
After reading this post, now you should know what unsecapp.exe is. If you have different opinions about the unsecapp.exe Sink to receive asynchronous callbacks for WMI client application process, you can share it with us by leaving a comment in the following comment zone.